TheWiSpy Black Friday 2021 Sale! Get Mega Discounts on All Products
Posted in Events and Deals by Mike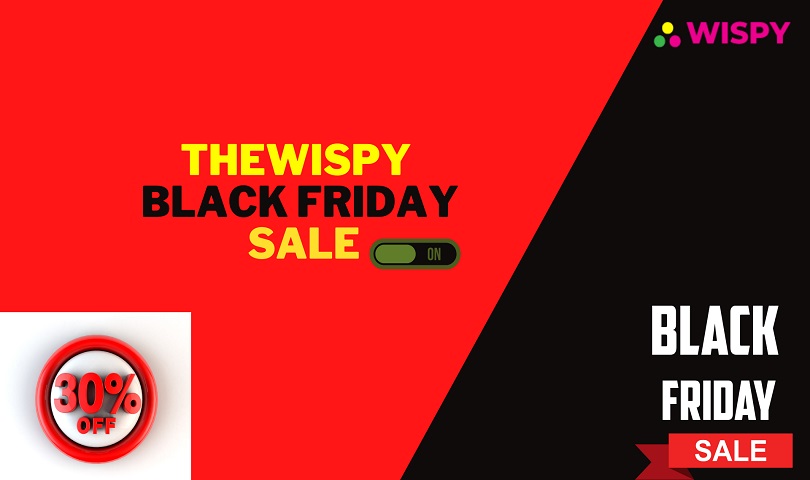 Black Friday is the most anticipated sale around the US. And TheWiSpy is here offering huge discounts on Black Friday 2021 Sale. It is a one-time opportunity to avail of Flat 30% off on all TheWiSpy subscriptions. Use the coupon code and unleash mega discounts on Android spy, mobile tracker, parental control, and employee monitoring solutions.
Black Friday – A Glimpse of History:
Black Friday originated from a financial crisis that occurred a day after Thanksgiving on September 24, 1869. It took place when two notoriously heartless Wall Street financiers worked closely and bought a major portion of the nation's gold with a game plan to control the price and sell the gold at astonishing profits. Unfortunately, their cruel intentions bankrupted everyone resulting in a huge breakdown for Wall Street investors.
Here is another story that links to Black Friday.
Retail sales went red after an entire year of loss. But the day after Thanksgiving turned out to be a blessing as shoppers spent tonnes of money on holiday shopping marking the sale status black from red.
In the 1950s, huge numbers of suburban shoppers and tourists deluged into Philadelphia one day before the big Army football game. Philadelphian cops marked the day as Black Friday as much chaos happened that day.
Today, Black Friday symbolizes a premium shopping period on which online and physical stores offer huge discounts to their customers.
TheWiSpy Black Friday sale is only a day away. Users worldwide can use the discount voucher to avail of a flat 30% off on TheWiSpy subscriptions.
Let's now discover the deals and discounts offered by TheWiSpy.
TheWiSpy Black Friday Sale! Get Mega Discounts on All Products
With the annual holiday season approaching, everyone is ready to make the most of the Black Friday sale. First Christmas, then New Year, we all have a big list of presents we need to purchase for our loved ones.
Black Friday is a perfect shot to grab mega offers and shop the best products at super discounted prices.
Here is a glimpse of TheWiSpy's Black Friday discounts.
TheWiSpy Basic Package:
TheWiSpy basic package provides spy tools to monitor standard cell phone activity. You can remotely monitor calls, SMS messages, app activity, photo gallery, GPS location, contacts, calendar events, and other regular mobile phone actions.
Black Friday Sale:
1-Month Subscription: $13.99
3-Months Subscription: $20.99
6-Months Subscription: $34.99
TheWiSpy Premium Package:
TheWiSpy premium plan is for advanced monitoring. It provides exceptional features of camera and microphone bugging. Camera spy allows secret photo capturing. It also enables hidden mode video recording. The surround recording feature functions with remote commands. You can enable the target device's microphone and record real-time conversations secretly.
Thus, the premium TheWiSpy's subscription is an upgrade of the basic plan with advanced spy tools.
Black Friday Sale:
1-Month Subscription: $20.99
3-Months Subscription: $34.99
6-Months Subscription: $55.99
TheWiSpy Platinum Package:
The platinum package is a super luxury plan with advanced features like social media monitoring, email spy, call blocking, screen recording, geofencing, etc. The platinum subscription is designed to combat internet addiction among kids. It offers Facebook Spy, WhatsApp Spy, Viber Spy to help parents monitor the social space of their children.
Black Friday Sale:
1-Month Subscription: $34.99
3-Months Subscription: $55.99
6-Months Subscription: $83.99
Black Friday 2021 – Shopping Tips from TheWiSpy:
Shopping for tech products such as apps and software has always been tricky, especially for technology newbies. But, just like shopping for other goods, tech purchases also require some of your attention.
Following are a few tips to help you do cyber shopping this Black Friday.
Don't Fall for Lucrative Tactics:
It is a marketing strategy to lure customers with fancy words. People can't resist the buying urge, especially when phrases like "limited time offer" or "50% off only until midnight" are written on the product. Unfortunately, many brands manipulate the retail price and offer fake discounts to grab the attention of consumers.
That is why, if you need to buy something from the Black Friday sale, make sure to do a bit of research to get an idea about the actual and discounted price.
 Read Product Description Carefully:
While purchasing an app or a product online, make sure you pick the right version of the program, and the same goes with physical shopping. In the tech world, apps support specific operating systems. For instance, TheWiSpy only works on Android 4.0 and above versions, which means that the app does not support earlier versions of Android. Similarly, if you are purchasing another software, make sure to check its compatibility against your target device before investing money in it.
 Wait! There is Cyber Monday As Well:
The shopping season does not end with Black Friday. Instead, the first Monday after Thanksgiving holds massive discounts, known as Cyber Monday. Though brands offer clearance sales on Cyber Monday, it is still a great chance to get your desired products at a discounted price.
How to Avail TheWiSpy Black Friday Discount?
TheWiSpy is offering Black Friday discounts via coupon codes. If you are already a subscriber of TheWiSpy, then you'll receive the discount voucher by email. If not, you can check the official website and get the promo code.
Here is how you can get TheWiSpy at a discounted price;
Visit the website www.thewispy.com.
Register or log in if you are already a user of TheWiSpy app.
Click on pricing and choose the suitable TheWiSpy package.
Now, click on the "Buy Now" button from TheWiSpy's pricing page.
Upon checking out, enter the coupon code BlackFriday-21, and proceed with the purchase request.
TheWiSpy will charge 30% less price on any purchase you make.
Enjoy limitless monitoring remotely.
Summing Up:
The day after Thanksgiving is Black Friday, popularly known for great discount offerings by major and minor brands worldwide.
Black Friday has its history, a dark one. Perhaps that is the reason the day is named "Black Friday." This Black Friday, TheWiSpy brings premium discounts for its customers worldwide. Use the promo code BlackFriday-21 and get TheWiSpy app at a discounted price.