It's Turkey Time! Celebrate Thanksgiving 2021 Traditionally with TheWiSpy
Posted in Events and Deals by Mike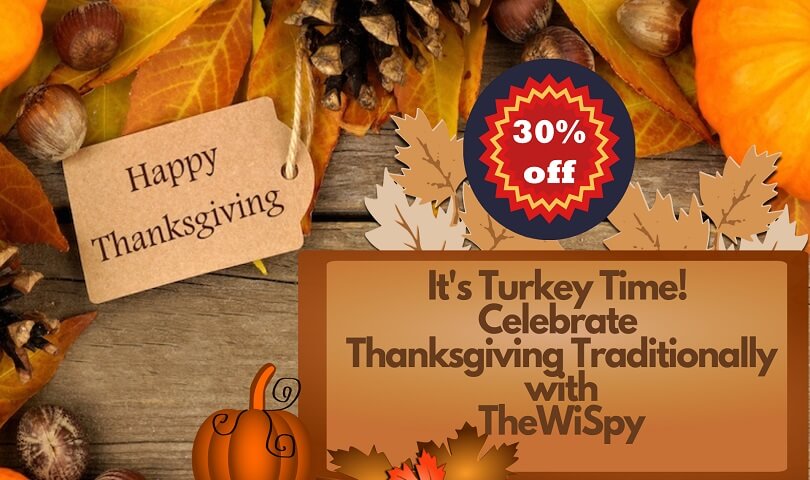 Thanksgiving day is a special occasion for all of us, a day to be grateful for every blessing we receive throughout the year. Every family celebrates Thanksgiving differently, but the traditions in each one home remain the same.
Thanksgiving 2021 – Don't Forget the Traditions:
Thanksgiving 2021 is coming on Thursday 25th November. Folks throughout the United States will commemorate Thanksgiving 2021 in different ways. Some may be stuck at work, and some will be lucky to rejoice with their family and friends.
Despite the location, Thanksgiving is a day full of traditions, and people worldwide celebrate this auspicious occasion conventionally.
Here are Thanksgiving traditions to lighten up the holiday.
The Feast:
Thanksgiving is unaccomplished without a family feast. It is a tradition to gather and prepare meals for Thanksgiving day for folks and friends. Common Thanksgiving meals include Turkey & stuffing, cranberry sauce, cornbread, mashed potatoes, and sweet potatoes.
The Wishbone:
Cracking Turkey's wishbone is another tradition of Thanksgiving. Wishbone breaking includes two people, both holding the bone from one end, making a wish. Then, the wishbone is pulled from both sides; whoever gets the bigger wishbone part gets their wish.
The Parade:
The Macy's Parade is watched all over America. It includes huge helium balloons, musical performances, marching bands, and floats, etc.
The Help:
Thanksgiving is all about showing gratitude and helping others. The best way to celebrate Thanksgiving is by volunteering to distribute food and clothes to those in need so that everyone gets a chance to be thankful to God.
The Football Match:
Families organize outdoor games on Thanksgiving, and the most popular sport on Thanksgiving day is football.
Thanksgiving 2021 is almost upon us. But, unfortunately, parents get so busy preparing feasts, decorating homes, and organizing games that kids get neglected with all the family gathering stuff.
Children nowadays spend Thanksgiving Eve watching movies at home or going outside with friends to enjoy the festivities.
One way or another, leaving kids on their own is risky, especially during festive events like Thanksgiving. So, instead of juggling between your kids' activities and house chores, parents can get a parental control app and enjoy Thanksgiving in serenity.
First, let's discuss how Thanksgiving can be a threat to your loved ones?
How Can Thanksgiving be Dangerous?
Thanksgiving may look like a calm event; people get injured while preparing meals or decorating their homes. Or we can say that Thanksgiving is a prime time to encounter fire accidents.
Here are some of the dreadful accidents that frequently happen on Thanksgiving Eve.
Car Accidents:
The family gathering is the essence of Thanksgiving. People travel from different states to meet their loved ones. Unfortunately, car accidents are common on Thanksgiving day due to poor weather conditions and loads of traffic. Perhaps, Thanksgiving comes second after New Year's Eve in car accident fatalities.
Fires:
Thanksgiving is incomplete without Bar-be-que and roasted turkey. But, unfortunately, people get severe burns because of fire accidents while preparing mashed potatoes, cranberry sauce, pumpkin pie, and other Thanksgiving meals.
Food Poisoning:
Thanksgiving is the time to feast on Turkey, Pumpkin Pies, Cranberry Sauce, and Mashed Potatoes. But, overeating can cause food poisoning, especially when the food is undercooked.
Football Injuries:
Playing football is a Thanksgiving tradition, and football injuries are mostly seen this time of the year.
Serious Crimes:
Thanksgiving could be daunting if your loved ones encountered a serious crime. Theft, robbery, burglary, and even abduction are grave offenses that can occur to anyone during the holiday season.
Accidents can happen to anyone, but as a responsible parent, you can secure your kids and family from such horrifying incidents.
Just be vigilant, and you can protect your family and celebrate a secure Thanksgiving Day.
In the following section, we will discuss some safe yet traditional ways to celebrate Thanksgiving 2021.
5 Tips to Evade Accidents on Thanksgiving:
Over the course of festive holiday history, Thanksgiving has been the most special event for all Americans. Regrettably, however, some misfortune and accidents can steal away the thunder of this joyful event.
Don't worry. We are about to discuss some precautionary measures to stay safe and protected on Thanksgiving day.
Travel in Day Time:
It is always best to travel long routes in the daytime. Roads get very busy one or two days before festive holidays. Don't risk your trip by traveling at night. Also, make sure to carry emergency supplies with you while traveling.
Checklist these emergency items before traveling for holiday trips.
Jumper Cables
Flashlight
First-aid Kit
Energy Bars
Tire Pressure Gauge
Bottled Water
Triangle Reflectors
LED Flares
The day before Thanksgiving is the day when most traffic accidents occur on American roads. That is why it is important to keep a safety kit with you to avoid accidents or help other people.
Never Leave the Grill or Stove Unattended:
Fire accidents can be disastrous. We know it is exhausting to prepare loads of meals on Thanksgiving, but never leave a grill or stove unattended in negligence. Make sure to place smoke sensors in the kitchen or anywhere you cook. Smoke alarms will notify you about excessive smoke that would help you to control the fire incident beforehand.
Properly Cook the Meals:
All your hard work will go in vain if your guests get food poisoning. So, prepare meals with complete attention and don't forget to check if the meal is properly cooked. Try to cook meals at the right temperature. You can set timers for each meal so that the food will not get underdone or overdone, just perfect.
Keep a First-aid Kit while Playing Sport:
Sport can be rough, so one must prepare to get minor injuries while playing football or any other game on Thanksgiving. Thus, it would be a smart move to keep a first-aid kit with you while playing outdoor games. In case someone gets a serious injury, take them to the hospital immediately.
Install a Parental Control App on Kids' Phones:
Thanksgiving is full of excitement, especially for children. They eat yummy food, meet friends, and play their favorite games. But, in all the chaos, parents forget to keep track of their teens' and tweens' activities. For instance, teens can spend hours while being couch potatoes watching movies, or kids can encounter strangers while playing outside.
There are many threats ready to daunt kids on Thanksgiving day.
Don't worry; you can still save your kids with an ultimate digital parenting solution – TheWiSpy parental controls.
Parents can get a parental control app and monitor the whereabouts and mobile actions of their children remotely. Moreover, parents can restrict apps and games usage by setting screen time on kids' mobile devices.
Conclusion:
Thanksgiving is a time to celebrate with loved ones. Yet, lamentably, while juggling with Thanksgiving preparation and keeping up with parenting, parents get confused about what to do.
Children hurt themselves playing in the backyard or worse by meeting strangers on the roads. Parental control apps like TheWiSpy are an all-in-one solution to celebrate Thanksgiving in serenity. It helps parents to manage house chores and monitor their children simultaneously.
Are you ready to celebrate Thanksgiving Day with your loved ones?