Get Tricks and Treats With TheWiSpy – Halloween's Gift Is Here
Posted in Events and Deals by admin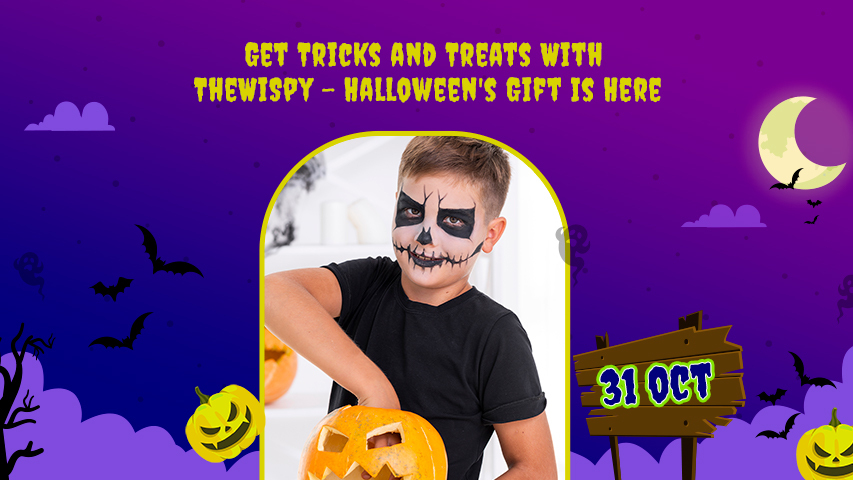 We won't sugar-coat the fact that Halloween is all about candies for you and your family. Halloween is here, and we want to assure everyone is secure and your trick-or-treaters return home safely. We know October 31 is the date marked on every kid's calendar but that red mark on the calendar may bring danger to your kid's life. According to the study, 82% of parents do not give a monitoring look to their kids on Halloween day. Some tricks are not just done for fun purposes but they can bring real threats. We bring a pack of goodies for you but before revealing it you must know how 31st October can bring vicious tricks for your kid. 
5 Dangerous Halloween Tricks That Can Be Played on Your Kid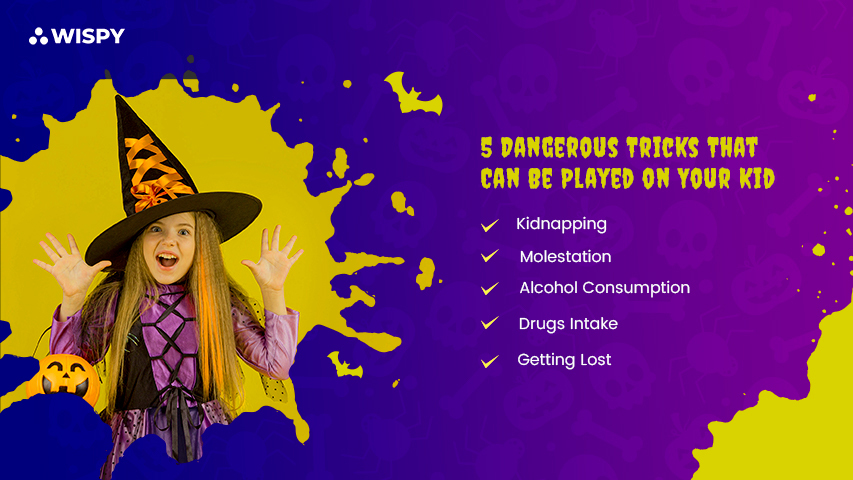 Your kid can be molested or kidnapped as kids always look for treats and sweet candies. Anyone can take advantage of it. 

If your teenager is going to a Halloween party then there is a chance someone forces him/her to drink or smoke.

Your teenager might act cool in front of their friends and may get drugs.

Someone can trick your daughter to drink alcohol and may rape her.

Your kid may lose his way returning home.
How to Guard Your Kid on Halloween Day?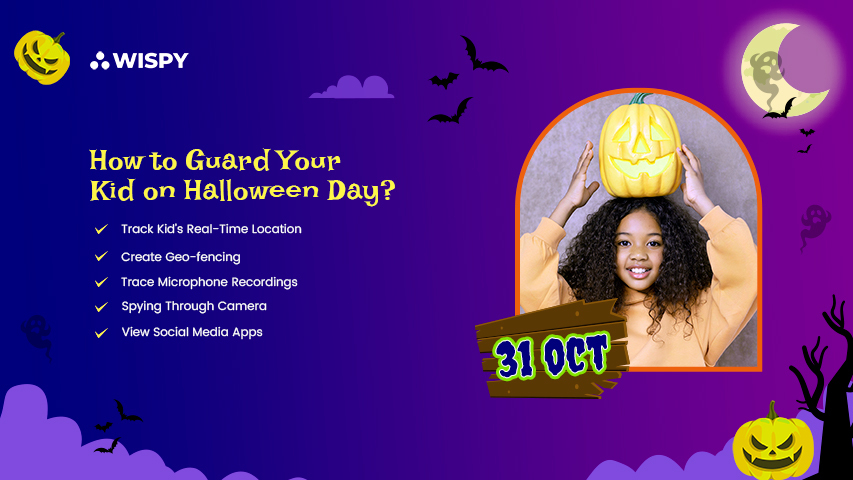 Track Kid's Real-Time Location
By utilizing GPS or Wi-Fi location tracking technology and simplifying it with virtual boundaries to guarantee that your child abides by a predetermined limit, you can secure their safety. In this way, you would be able to know the places your kid is visiting. Moreover, you would be able to know about the time spent by your kid in every place.
Create Geo-fencing
Kids may lie to you about their visit as Halloween is all about visiting scary places. You should make sure not to let them wander around as much as you can because many kids want to do so without thinking. Create a virtual boundary and whenever they cross it, TheWiSpy will notify you immediately.
Trace Microphone Recordings
It is not the ghost that makes us frightened but humans too. Parents need to not only keep looking at their location but they need to be with them at every step. We know it is not possible in the case of teenagers as they do not allow parents to be with them. You can be with them remotely and listen to their all surroundings with TheWiSpy microphone spy feature. If you get any hint of drug consumption or if your daughter is facing molestation, you can save them in no time. 
Spying Through Camera
There is a chance your child is not violating any boundaries and hanging with their friends. Are you sure they are having sweets and candies? You can spy easily with TheWiSpy spy camera. Open it and know with whom your kid is, identifying their faces as listening to voices is not enough.
View Social Media Apps
You can enjoy your Halloween without stressing about your kid's plan. We know kids use chemical paints on their faces and they can get themselves fitted and uncomfortable dresses just to follow the trend. You would be able to know about their plans as kids share them with friends. View their social media apps and save them from any wrong decisions.
Halloween's Tips for Kids & Parents:
Face Paints
Use organic paints and let your face breathe without any irritation or allergies.
Favourite Character 
Dress up according to your favourite character. Become another Maleficent, Hecate, or Blair 
Enlighten Pumpkins
Light up your creative pumpkin near your doorstep and let people see your Halloween creativity.
Halloween's Desert
Surprise your guest with tasty caramel apples, pumpkins hand pies, and Halloween layer cake. Do not forget to cook your favourite food.
How to Trick or Treat With Precautions?
Look for a costume that is unique and notified by everyone and make your Halloween memorable.
If your children enjoy dressing up in dark costumes, think about adding some luminous tape to their clothing and shoes to make them a little more apparent.
The right face mask is very important because it will add a glorifying look to your witch's personality. Design it in a way that your vision is clear and you can easily detect any coming tricks.
Consider starting your child's trick-or-treating trip a little sooner if they are little. They won't be out too late at night and will have plenty of time to collect sweets.
It may be fatal to consume candy that appears to have been tampered with. It is also difficult to see hidden risks in the darkness, especially if you are wearing a mask.
TheWiSpy's Halloween Treat for All of You: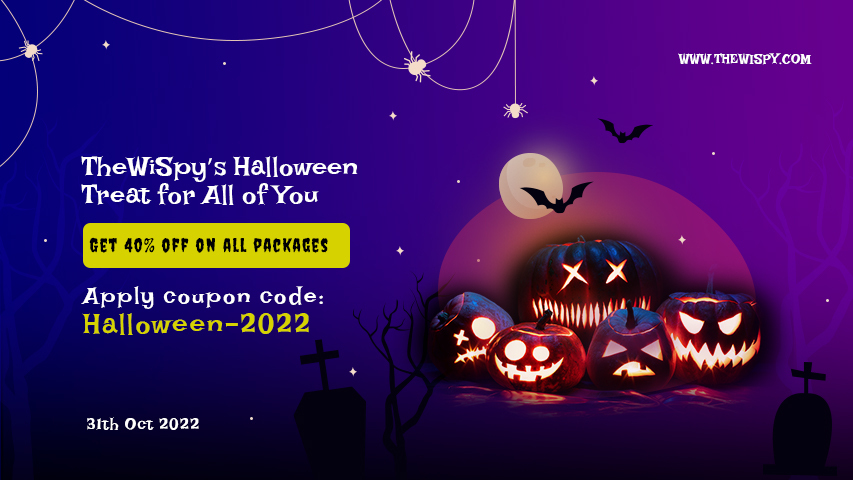 Your wait is over, your gift is with us. Take your treat with zero tricks.
Get 40% off on all packages. Choose your favourite package and enjoy Halloween with TheWiSpy.
Apply coupon code: Halloween-2022
The people you care about may stay secure on not only Halloween day but throughout the year. Get your Halloween gift with one click. You can enjoy your Halloween and can undo your worries with TheWiSpy. Get your treat and play this safety trick on your child and you know what is the best part? You would not be traceable because TheWiSpy's all features work secretly in stealth mode. Remotely access each move and know who is playing tricks with your child.
Conclusion:
Halloween is a day to make spooky yet beautiful memories. You can gift your child their safety this Halloween. Enjoy your treat from TheWiSpy and let your kid play harmless tricks. Monitor your kid's move with us. TheWiSpy will help you whether you want to gather frightful treats, participate in spooky games, or even keep track of your children when they go trick-or-treating. Allow your child to set a Halloween trend and let the world see him. Celebrate your Halloween with our treat.