Kik Monitoring
Kik Messenger Spy App TheWiSpy Can
Ease Your Stress
The social media app Kik can take a toll on your soul and cause distress easily. The uncensored chats on Kik can have dramatic effects on children. A report suggests that children (10-16-year-old) exposed to violent or sexual content have suicidal thoughts 50% higher than others. Therefore, we need a cool Kik spy tool to monitor every chat.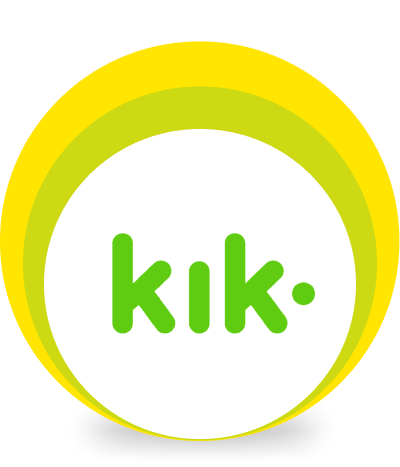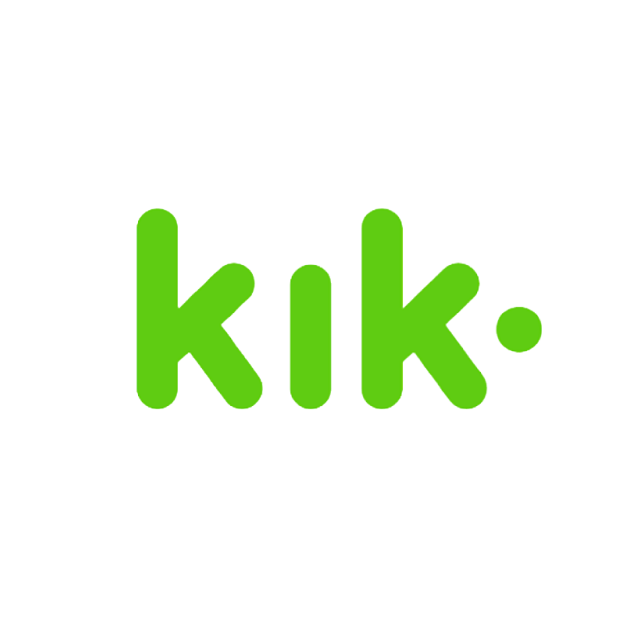 Kik Spy Tool for Android Keeps You Well-Informed
About All Activities
---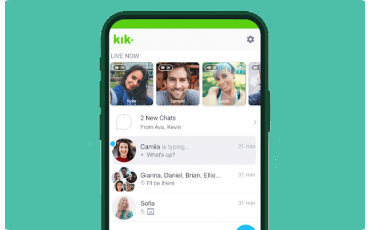 Read Kik Conversations
Kik spy app spills the beans of every conversation in the Kik messenger.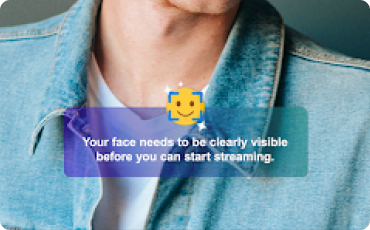 Get Detailed Kik Review Report
Use the remote spy Kik app and get a detailed report of all its actions.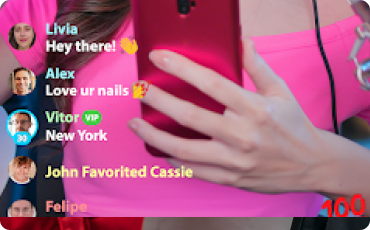 Quietly Spy on Kik Chats
Spy on Kik messages secretly without alerting the target users.
How to Spy on Someone's Kik
Account With TheWiSpy?
Find out the details in the comprehensive video.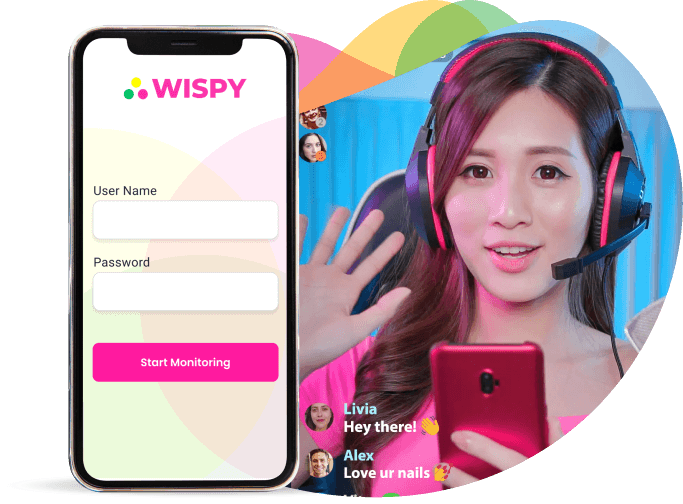 Kick Open the Gate to Kik
Messenger Through TheWiSpy
Kik chat spy TheWiSpy is a way to secretly retrieve the
exchange of chats.
Try it Now

★★★★★
90% Of Our User Are Totally Satisfied


Thewispy is Rated Great Based on
5,975 Reviews
What Is TheWiSpy Kik Messenger
Spy App?
---
---
Social media can quickly take over your happy emotions and cause sadness and depression. Kik hack and spy tool let you monitor from a distance.
Read all messages on the Kik app
Monitor the links and documents your employees share on Kik
View all shared multimedia files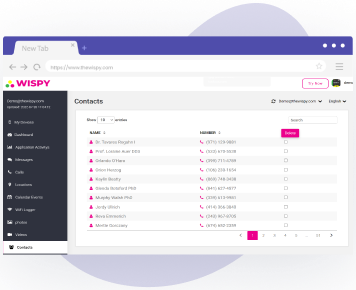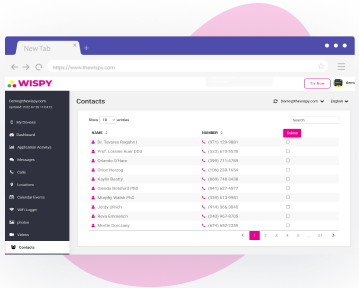 How to Spy on Kik Messenger
With TheWiSpy?
---
---
The Kik hack spy tool is the best way to keep tabs on everything shared without alerting the user. TheWiSpy is your number one helper when you need it.
View all emojis and stickers shared in a chat
Read all messages remotely
Follow which brand your child is following in promoted chats
Why Do You Need TheWiSpy App to
Monitor Kik Messenger?
---
---
If your child is under 15, they are likely to use Kik messenger. Such apps can trigger cyberbullying, and their effects are long-lasting. Monitor Kik and other apps with TheWiSpy.
The uncensored chat rooms in Kik can lead to sexually explicit content. Spy on Kik messages remotely with TheWiSpy.
Your employee may be using Kik messenger to share confidential documents. Kik messenger spy eliminates those risks.
70% of teens suffer from the shocks of lies and rumors. False rumors can throw them into the pit of depression. You can track their link to depression with the Kik spy app.
Your employee can harass their co-worker online on Kik. The use of a Kik spy tool can point out such criminal activities.
Try it Now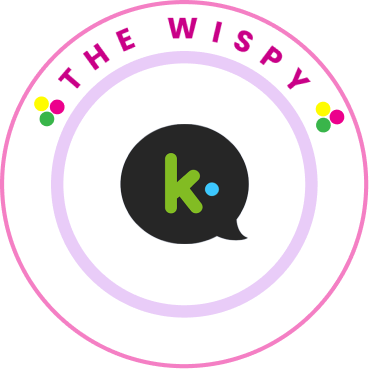 Not Satisfied Yet? We Have Got Answers to
All of Your Question
---
Are you still looking for relevant answers? See the options below to get more precise
details regarding TheWiSpy's functionality.

Compatibility
Compatibility is one of the major factors in selecting your monitoring app. All supported phone brands and models are mentioned in this section.

Installation Guide
Installation of TheWiSpy is uncomplicated and easy to use. However, all steps are mentioned in this section for the ease of our valuable consumers.

Dive Into FAQS
Are more questions popping in your head regarding TheWiSpy? Go ahead and enter this section as it holds multiple frequently asked questions.

Troubleshooting
Guide
Are you stuck at a point while installing the software? Or do you need any technical assistance? Our troubleshooting guide will help you at every step.

Connect With Customer
Support
Get instant access to our competent support team members. They are equipped with complete product knowledge. Click here for an immediate response.

TheWiSpy
Operations
TheWiSpy is the easiest and most seasoned app in the market. Know everything about TheWiSpy's functionality and uses.
Find the Truth Behind Kik Chats
Social media apps can control your moods and behavior. Keep your children safe by looking into how responsibly they use online apps. The Kik chat spy app TheWiSpy is a fantastic tool for tracking all activities and taking proper actions when required.
3 Easy Steps to Get Started
---


Register for FREE
Create a free user account on TheWiSpy website. Set up your TheWiSpy account and get registered.
Choose Your Favorite Plan
Opt for a subscription package that matches your needs. Pick from basic, premium, and platinum plans to start monitoring.
Monitor & Protect
Once you subscribe, you can log in to TheWiSpy control panel and start using mobile monitoring & parental control features.
TheWiSpy Is The Most Reliable App -
We Care About Your Privacy
---
---
We don't leave our customers hanging in a blank space. TheWiSpy is here at every step for support. Our team guarantees your satisfaction and, at the same time, keeps your data safe and secure.

Hidden & Concealed

100% Trustable

Live Chat Support
TheWiSpy Reviews from Real Customers
---

David Spinks
★★★★★
" I must say TheWiSpy has proven to be the best employee monitoring software I've ever used. Great features, functionality, and user-friendliness. It helped me monitor the staff team of my company more efficiently. "
Read more

Cary Alard
★★★★★
" Impressive parental control features. I always wondered how can I listen to calls my child receives which I can surely do with TheWiSpy. It has enabled me to remotely monitor and control my kid's online activities. "
Read more

Kelly Mulvihill
★★★★★
" WiSpy has helped me in monitoring my kids. Being a working woman it's hard to keep eye on digital activity of your kids especially teens. WiSpy has also provided me easy & remote access to my kid's phone. "
Read more
TheWiSpy's Latest Feed
Discover the most recent and advanced ways to spy on cell phones remotely.
Frequently Asked Questions
---
Yes, Kik messages are recoverable. Although, Kik servers don't store your messages. However, installing TheWiSpy app can save Kik chat history, which can be retrieved anytime you like.
Kik has been involved in many controversial child exploitation incidents. It is because of Kik's poor privacy controls. Nevertheless, you can install a protection layer of TheWiSpy to keep your child safe from such potential threats. TheWiSpy not only provides your child a shield against Kik Messenger but also from other various social media apps.
Yes, you can. The anonymous nature of this app makes it more vulnerable for young kids. Anyone can register without any verification on Kik Messenger. However, TheWiSpy is an umbrella that can safeguard your children. It sends daily reports to parents, and they can read all conversations easily.