Christmas Sale 2021 – A Guide to Smart Shopping for Christmas Eve
Posted in Events and Deals by admin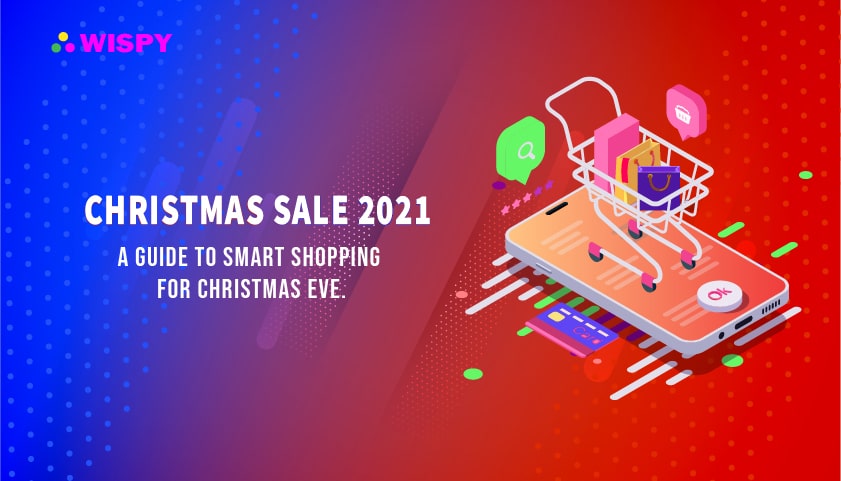 Tick Tock, Tick Tock!
The clock is ticking, and Christmas is just a few days away.
Have you bought Christmas presents for your dear ones?
If not, then you better hurry!
Christmas is a festive event with religious significance. In the modern era, we celebrate Christmas by illuminating houses, decorating Christmas trees, cooking Christmas meals, and greeting our loved ones with Christmas gifts.
Every year, Christmas sales offer huge discounts worldwide.
As the holiday season begins, big brands around the globe start selling their products and services at discounted prices. Thus, holiday season sales are the best opportunities for shoppers to purchase their favorite products at a lesser price.
Christmas shopping could be a complicated chore, especially when you have no idea what to buy.
Don't worry!
Here is a smart guide to help you with Christmas shopping 2021.
Christmas Sale 2021 – A Guide to Smart Shopping for Christmas Eve:
Christmas sale 2021 is live on the world's popular stores, including; Amazon, Target, Walmart, and many others. Likewise, online and physical stores out there are filled with plausible products; all you need to do is find the perfect gift for your kids, spouse, parents, and friends.
Christmas spending statistics show that over 60% of Americans prefer shopping for Christmas presents online. Moreover, as per the National Retail Federation estimation, Americans, on average, will spend nearly around $998 on gifts, decorations, and food.
It is straightforward to find perfect presents for your family and peers with Christmas sales online. But, it's not everyone's cup of tea to shop for quality Christmas presents at affordable prices.
Here is a guide to smart shopping for Christmas Eve.
1: Plan Christmas Shopping:
Christmas planning starts at the very beginning of the holiday season. We all plan how our next Christmas would have to be throughout the year. It's like, every year, we want to make Christmas more glittery than ever before by decorating our houses, trying new Christmas recipes, embellishing Christmas trees with pretty ornaments, and so forth.
While planning for Christmas, create a list and include names of people you want to surprise with Christmas presents. Of course, our parents, kids, and partners come first in that list, but you need to shortlist your friends and peers too. Now, you'd get a better idea of how many presents you'll be purchasing for Christmas.
Here is a word of advice, create a Christmas shopping list on your mobile phone or tablet, and keep updating if anything extraordinary comes to your mind.
2: Set Your Budget Limit:
The key to shopping smartly is to avoid overspending. In 2020, over 86% of millennials overspent money on holiday gifts. Christmas shopping is a fun activity, but spending all your savings on just one occasion is unthinkable.
The smart move is to set a budget limit for Christmas shopping. Setting a budget limit for holiday shopping and cutting your budget will not make you a penny-pincher. But, it will help you spend money intelligently. Make sure you shop for Christmas gifts during the sale season.
3: Create a List of Christmas Presents:
Now that you have set your Christmas budget, make a list of presents. Add Christmas presents in front of the recipient's name so that when you go shopping, you'd know what to purchase. Also, add up to 3 gift options per person. We call it a precautionary approach; hence, if you don't find one gift, you can go for the other one.
4: Look in on Websites of Top Brands:
Famous brands and top retailers launch Christmas sales at the beginning of December. Shopping from retailer shops has its own charm, but it is more feasible to avail premium discounts while sitting remotely.
Here is the list of Christmas discount deals offered by your favorite retail stores and brands;
Retail Stores:
Amazon – Up to 50% off (Clothing, Toys, Gadgets, Electronics, Gift Sets, etc.)
Walmart – Up to 50% off on Toys
Target – Up to 15-20% off on Christmas Deals
Best Buy – Up to $1k off on Gadgets and Electronics
Wayfair – Up to 70% off on December Deals
Home Depot – Up to 40% off on Appliances and Christmas Decor
Top Brands:
Adidas – 50% off on shoes and sportswear (discounts available on Amazon)
Nike – 20-40% discount on All Products.
Dell – Up to $400 off on Inspiron, XPS 13, and Alienware
Fitbit – Christmas Deals on Activity Trackers (discounts available on Amazon)
DreamCloud – $200 off on Luxury Mattresses
Lowe's – 50% off on Appliances and Holiday Decor
Christmas holiday deals give you a splendid chance to grab your favorite products at a much lesser price. And, online shopping is a quick way to avail mega discounts without going to crowded stores.
5: Visit Malls and Retail Stores:
If you find any product discontinued online, there's still a chance to get it by visiting malls outlets and retail stores. Sometimes, one product clicks us so that it revolves in our mind and becomes an obsession. Don't worry. If such a situation happens with you, all you have to do is visit the retail outlet, because there is still a big chance that you'll find your desired product on time. You can also ask the store manager to check if the specific item is available at any other outlet in the city. It is never too late.
Pro Tip – Always shop early for Christmas; don't wait for the last week as main items discontinue quickly at online stores. Start shopping as the Christmas sale 2021 get live on cyber and physical stores to avoid the hassle.
Concluding Lines:
Christmas sales and holiday discounts encourage us to purchase quality gifts for our loved ones every year. Christmas is a joyful event; only if we keep an eye on our teens and tweens. If not, then kids can overuse cell phones and tablets. Or worse, they can visit their friends without informing you and get into trouble like road accidents, child abduction, etc. That is why parents must monitor their juveniles during the holiday season to avoid any Christmas tragedy. And, using TheWiSpy is the best choice.
In contrast to other popular brands' sales, TheWiSpy Christmas sale 2021 is live with a flat 40% off on all parental monitoring products. Whether you are a new user or an old client, anyone can avail of TheWiSpy sale till Christmas eve.
Use the Coupon Code "Christmas-21" to unlock mega discounts.