Digital Spying on Cheating Spouse – Is It Legally Permissible?
Posted in Digital Parenting by admin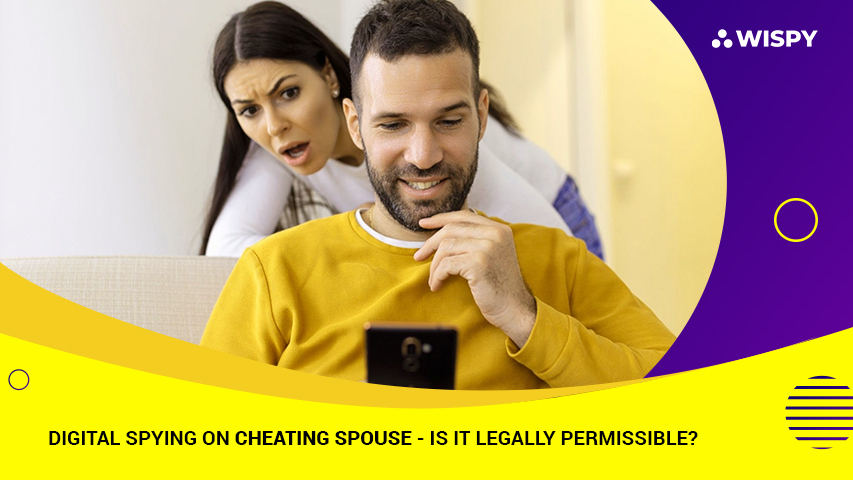 Spying itself is a negative word because you are invading someone's privacy without their concern. People marry when there is love in the air and everything is refreshing, but as time starts to pass from months to a year then, insecurities and multiple issues within marriage start to occur. This is the point when digital spying takes place at either of the spouse's end. 
A partner who suspects their spouse is having an affair may be inclined to look into the matter. If you believe your spouse is covering facts or cheating on you, then you must be on a ride to take a sneak peek of your spouse's phone. 
Do you think it is legal to spy on a spouse? 
Will Digital spying affect your relationship?
Let's find out about it.
Is Digital Spying Legal on Your Spouse?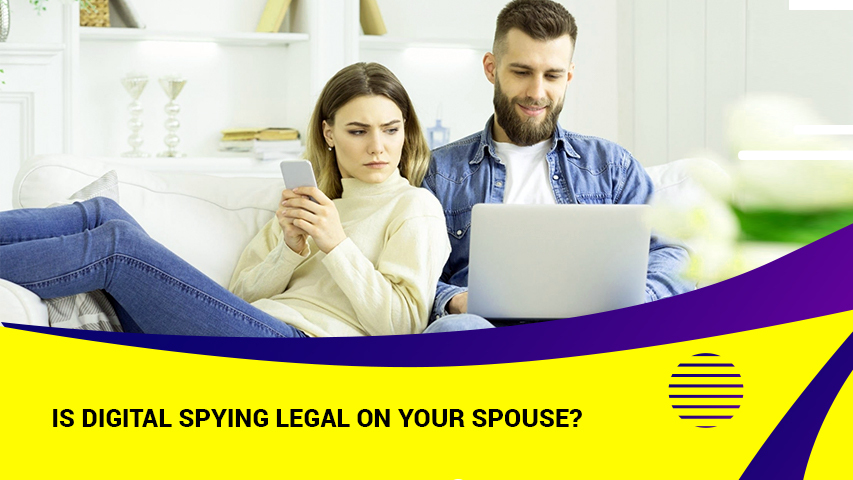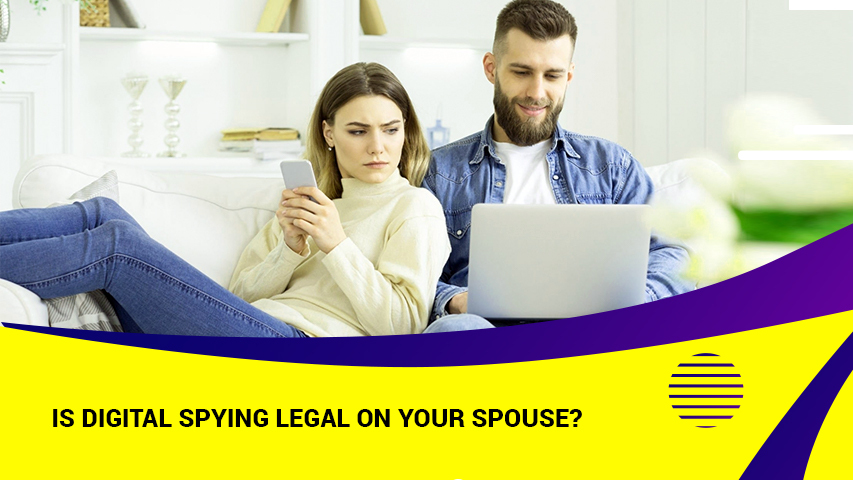 If you are looking for the answer, then yes, it is possible legally, but you need to ensure the consent of your spouse. You could be curious about your partner's activities if you notice secret phone calls, hastily hushed discussions, quickly shutting computers or unexpected expenditures. 
Normally, the spouse looks for the partner's emails, messages, and call logs.
Most frequently, a spouse is tempted to spy on their partner merely out of emotional curiosity. If you feel compelled to spy on your partner, there may be more serious problems with the marriage. When trust and dishonesty are the foundation of a marriage, it will require some effort.
It would probably be illegal to access a spouse's password-protected account without authorization. The spouse has a right to privacy, and they made efforts to prevent others from accessing the account by creating a password. 
In What Case Spying Is Illegal?
Yes, spying can be illegal when you are looking into your husband's or wife's phone without their permission. In any case, how you obtain information is really important. Using technology to spy on your partner might land you in more legal problems than it's worth if you are not careful. You can be charged with stalking or privacy invasion.
Your spying action can lead your way to jail, and the court will add heavy plenty. Before jumping into this situation, you need to go through your country's both state and federal laws. If there is room for spying, then there is no need to seek permission from anyone.
How Has Spying Become Easier?
Due to the advancement of technology, spying is now simpler than ever. Visiting YouTube to discover how to "bug" the house will teach you how to record your partner's actions. It is simple to spy on your spouse's internet communications by acquiring spyware apps that let you listen in on conversations across all applications. Because of GPS trackers and numerous recording options, cell phones have unintentionally evolved into little body cameras. All of these techniques are increasingly being utilised to catch unfaithful partners.
You can easily install a spyware app on your spouse's phone and remotely view her with each click. You can block browsers or hack contact lists. Yes, it is easy to install, but without the permission of an individual will definitely increase your problems. 
What Are The Causes of Digital Spying?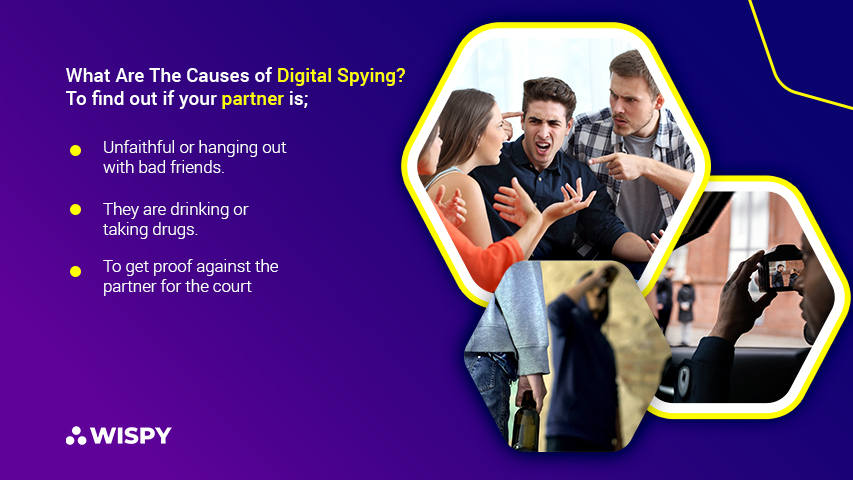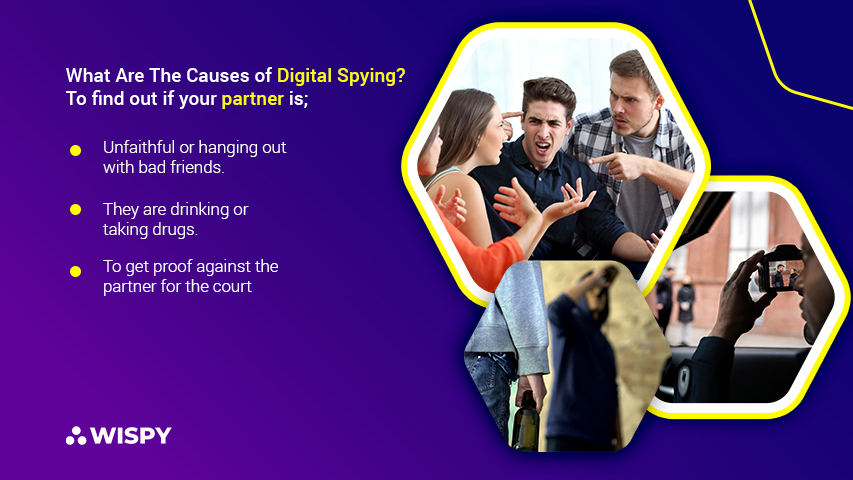 Spouses may spy on their partners to find out whether they are unfaithful or hanging out with bad friends.

They may doubt that their partner is indulging in alcohol, drugs, or other vices or acting in any other inappropriate ways.

The husband or wife may be lying about their whereabouts.

To get proof against the partner for the court.

Need evidence because your husband or wife does domestic violence.
What Are The Ways of Digital Spying?
If you have phone access to your partner and have taken permission from him/her, then you are ready to set your seatbelt for a spying journey. Digital spying can be done through various means, and you can choose them according to your target need.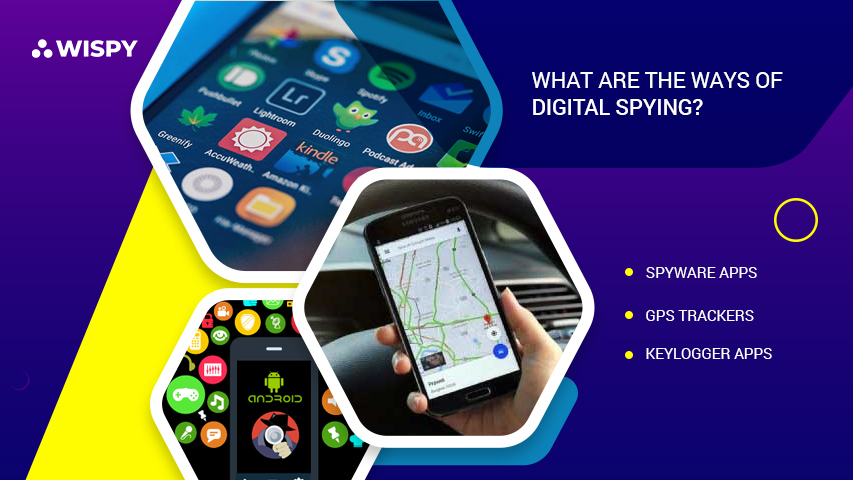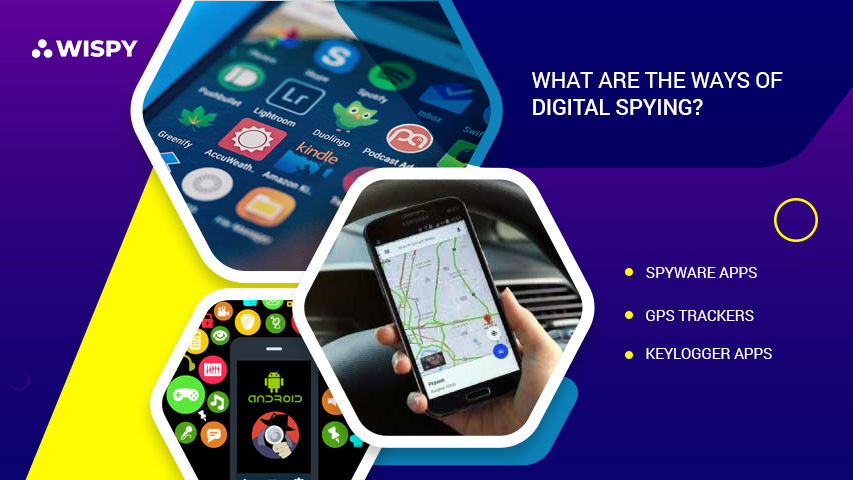 Spyware Apps
Spyware enables a person to covertly keep track of and capture data regarding the phone of the target individual. The spyware user may utilise an app to view text messages sent and received, images and videos shots, and websites visited, in addition, to call history and the location of the phone. Spyware can only be installed on your phone if someone has access to it, and it operates covertly without giving notice to the target user. Moreover, you can view their phone remotely.
1 : Spy Apps for Social Media
A target's phone conversations, emails, and text messages may occasionally be monitored using one of the many tools that are available to spy on Facebook, Facebook Messenger, and other social media platforms.
2 : GPS Tracker
You can easily install a GPS monitoring device on your spouse's car and can keep track of their whereabouts. The location of the vehicle is displayed on a map when the GPS tracker is turned on, and the app that goes with it gives access to the map. The user can't see the subject move at all times while using a passive tracker. They must instead acquire the gadget and download any data on their mobile.
3 : Key-logger Surveillance
Any user's actions on a computer, including every keystroke, mouse click, page viewed, and every side of any online chats, will be recorded if the key logger program has been downloaded to the device. A file is created, and all of this data is kept there for subsequent inspection. This makes it possible for you to gather any passwords, ids, or credit card information.
Unconscious Ways of Spying?
Seeking the password of the partner's mobile phone just for the sake of curiosity.

When you view your pictures in your spouse's galley, you normally start to look at other folders too.

If your phone is damaged, you ask your husband/wife to allow you to use social media sites for a few hours, and you start to scroll into the friend section and open text messages and much more.
What Are the Consequences Non-Consensual Digital Spying?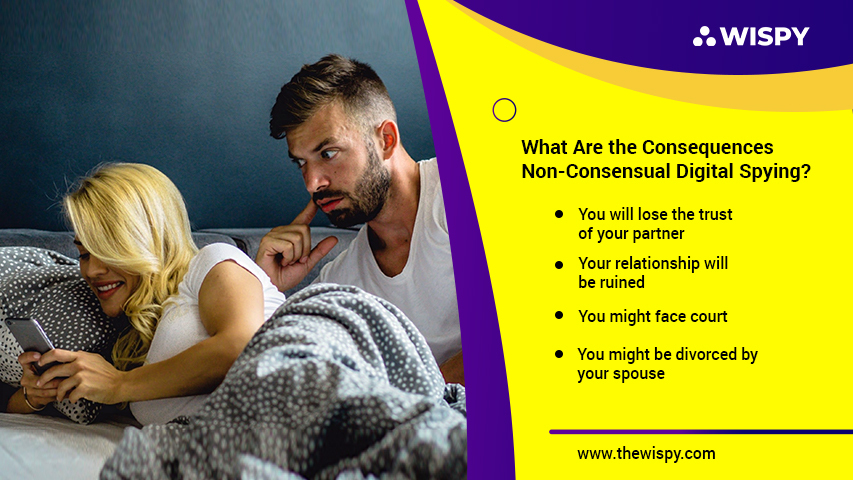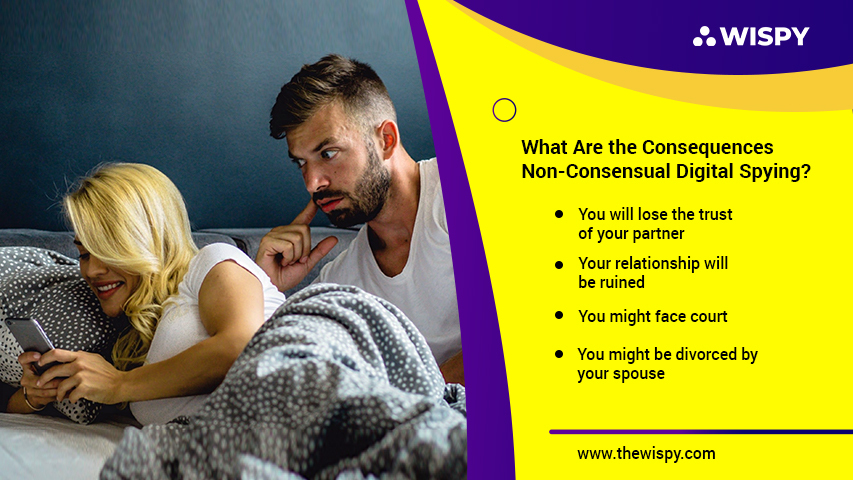 You will lose the trust of your partner 

Your relationship will be ruined

You might face court 

You might be divorced by your spouse
Would Digital Spying be Helpful in Divorce Cases?
Before picking any way to spy or collecting proof for the court, you need to consult your lawyer. If your partner accuses you of stalking and harassment and tells the court what you did, you might lose your strong reputation in the court and face the penalties. Like North Carolina, in many countries, a victim of cyber spying can easily seek damages.
You can easily lose the case of your divorce and may suffer heavily. The court has a lot of discretion in a contentious divorce when deciding on matters like family support (alimony), custody of children, asset partition, and maintenance of your children's lifestyle.
Important Note: Any data obtained through breaching your spouse's privacy would not be acceptable in court. As a result, even if you were attempting to establish that they cheated on you, any facts you learned as a result of your research are not admissible in a divorce case.
What Is The Stance of the U.S. Supreme Court With Regards to Spying?
Recently, the U.S. Supreme Court ruled that police enforcement cannot install a GPS on a person's phone or automobile without that person's permission or a warrant. Nobody is certain how that will apply to a partner who tries to follow the whereabouts of a partner who is thought to be cheating, but most officials say that courts will ultimately forbid that sort of behaviour as well.
The only exceptions to this rule are if your mate has specifically authorised you to use these such spying apps and you regularly do so with their knowledge and consent.
Is There a Need to Talk About Digital Spying With Your Spouse?
If you want to spy because of certain doubts, then first try to clarify them with your partner, as he/she will give you clarity on your random doubts. But if it does not work, then you need to gain the trust of your mate. To convince them is your duty now. 
Final Thoughts:
If you are suspicious of your spouse's strange behaviour, or potential romantic involvement, then there is a need to have a healthy conversation with your partner. Afterward, seek their consent because it will be illegal to spy on them without their awareness, and you can land into huge trouble. If your spouse says yes, then do not look for a GPS tracker or key-logger, as spyware apps like TheWiSpy hold complete digital spying features. You would be able to not only view social media sites, browsers, text messages, call logs, and emails but can easily listen to your surroundings moreover can control even your camera too. 
Look for your way and decide what is best for you.