Revenge Porn – How to Save Your Teen from Revenge Porn?
Posted in Digital Parenting by Julie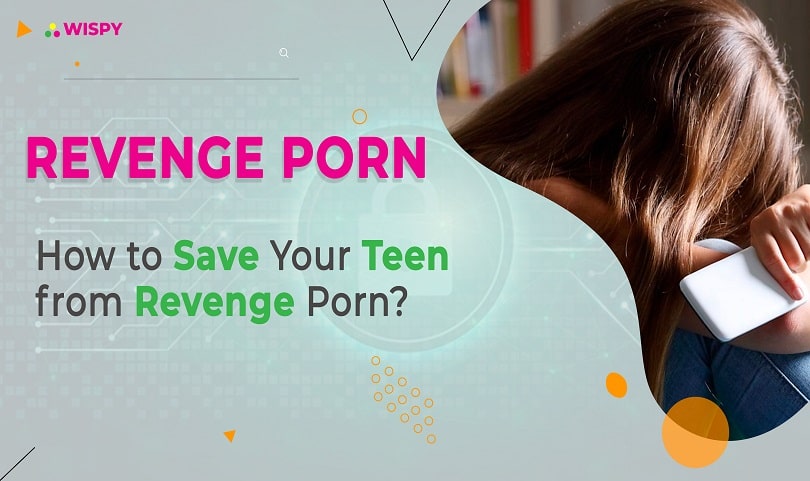 Did you find obscene pictures of your teen somewhere on the internet? Or caught your child red-handed with nudes?
The online world has an evil side that scares us all to the core. With mobile independence, everyone is in charge of social and online life. But, unfortunately, many people misuse technology for sexting or nude sharing.
Revenge porn is a horrifying cyber threat. Today, 1 in 3 people are getting victimized by revenge porn. Sharing explicit photos of oneself is becoming common due to online or long-distance relationships. Sexual predators lure juveniles or young teens and ask them to share private photos of themselves. Online sexual predators bait innocent minds with false promises and gain their trust. The victim, out of love, starts sharing nudes that later devastate their lives.
In this article, we will mention revenge porn and associated threats in detail. However, if you are a parent, you must read it because, in the later section, we will mention some effective methods to save your children from the harms of revenge porn or image-based abuse.
Revenge Porn – How to Save Your Teen from Revenge Porn?
53% of the US children indeed own personal cellular devices, making it the half of the young generation that possesses mobile phones by the age of 11.
84% of US teenagers have their personal mobile phones and tablets. A survey held by Common Sense Media showed that children nowadays start interacting with digital devices from the age of 8-18.
The acquaintance of the online world is evident, and it is pretty tricky for parents to forbid their children from using the internet. Though the online world has many benefits, misuse of technology can still cause serious harm.
What is Revenge Porn?
Revenge is sharing explicit photos of someone with others without the consent of the target person. The main objective behind this grave crime is to humiliate, embarrass, or distress the target person. Perpetrators often commit this offence as the result of jealousy, hate, or enviousness.
Young teenagers share private photos with their romantic accomplices. Or worse, sexual offenders can hide cameras in restrooms to capture nude photos. One way or another, sharing someone's illicit photos is unethical and a severe offense.
RELATED: Porn Addiction Among Teens – Here is What Every Parent Must Do
How to Save Your Teens from Revenge Porn?
Revenge porn would be a new term for many of you to tackle. But, don't worry; you can secure your loved ones from this mere nuisance. As we all know, kids today are tech-savvy; they know all the tactics to hide their online presence from their parents.
So, how would you know that your child or loved one is trapped and secretly dealing with revenge porn?
Well, behavior tells it all. So if you find anything odd in your kid's behavior, you must investigate.
Here are some behavioral changes in teens that might tell you that they suffer from online trauma.
Fear to talk whenever you come up with their online life.
Sneaking out from the family gathering.
Constant agitation and anxiety.
Getting disturbed over a phone call or message.
Hiding mobile screens or avoiding cell phones while you are around.
If you find out that your child is entrapped in online sexual abuse, you must do the following steps to save them from further danger.
Report on Social Media:
Social media websites give perpetrators a vast space to defame someone. If you find inappropriate photos of your family member or someone you know on social media, report the image as soon as possible. You must also block the account that shares the illicit media of someone without their consent. Facebook, Instagram, and other social media websites immediately remove the explicit photos and videos upon reporting. So, the prompt action you must do is reporting the content as well as the account that shares such media.
Seek Legal Help:
Revenge porn is a serious matter. The offense directly targets the victim's integrity and can lead to suicidal attempts. However, before it gets out of hand, you must seek legal help. First, find out if there are proper laws in your state to tackle revenge porn. Unfortunately, in some regions, there are no such federal laws to deal with revenge porn. However, it is still a legitimate issue and can be dealt with legally if you seek legal help.
Consider Talking to an Attorney:
Of course, you want the non-consensual sharing of images and videos to be stopped. And for that, you must talk to your attorney to help you take the illicit content down. In addition, your attorney will help you sue the offenders.
Call the Police Hotline:
If things are getting uncontrollable, it's time to involve the police immediately. For non-consensual pornography issues, you can directly contact the police hotline and report the offense.
Parents must keep a constant check on their child's online exposure. In the following section, we have mentioned an effective way to secure kids from online sexual abuse and other illicit crimes.
How to Combat Revenge Porn and Online Sexual Abuse?
Today, the internet persuades our lives, both productively and destructively. However, cyber offences like pornography, sexual abuse, trolling, etc., has still a shady image. Most people do not like to talk about such issues unless they directly affect them or their loved ones.
Parents of the modern age are fully aware of the online threats and their harms; that is why the majority of the parents opt for monitoring apps for parental monitoring.
Cell phone tracking with the help of an effective parental control apps like TheWiSpy App is an effective way to keep tabs on the cyber life of your kids, especially teenagers. It can help parents monitor calls, messages, GPS location tracking, and other digital activities in real-time.
The Final Verdict:
The generation of the present time is more vulnerable to trolling, bullying, and sexual offences than ever before. Right now, the number of cyber threats is increasing every day. But still, you can prevent such crimes by monitoring your child's online space. It is never too late to start tracking your child's internet space with cell phone tracking software.