Virtual Good Friday or Not? How to Celebrate Good Friday 2021?
Posted in Events and Deals by Julie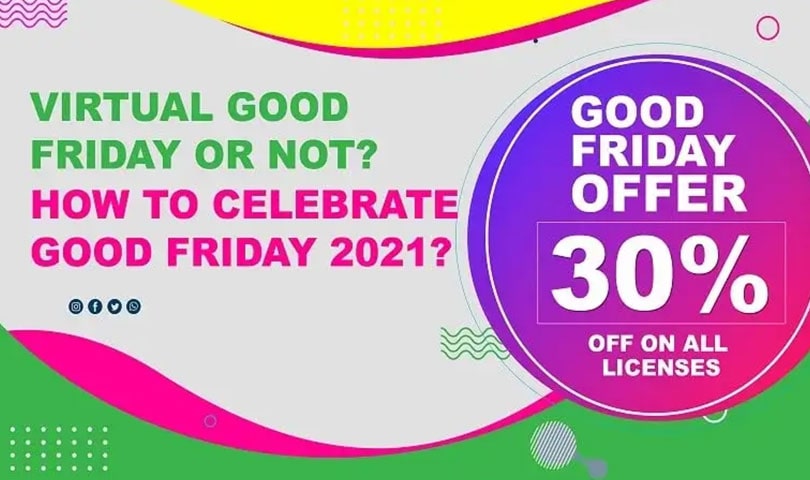 Good Friday is the most pious, dignified, yet sorrowful day for all Christians. We all gather at local churches to embrace the sacrifices Jesus has made for us on Good Friday. Indeed, it is a day of observation. With the pandemic going on, Good Friday 2021 activities can be a bit different. Most of the churches around the world are carefully following public health guidelines.
So, how can you observe the holy week of the year without gathering in the formal worship places?
Don't worry. You can still follow the rituals by staying at home.
In this article, we are going to elaborate on two schools of thoughts; Virtual Good Friday and Regular Good Friday.
Let's have a look at both sides and discover how to celebrate Good Friday 2021?
Virtual Good Friday or Not? How to Celebrate Good Friday 2021?
If you are planning to send Good Friday at home praying, then it is the safest measure. But, if you wish to visit a nearby church on Good Friday, you must go there following SOPs.
Coronavirus is a real threat. Interacting with people on the day of Good Friday perhaps increases your chances of catching the disease.
Here is how you can celebrate Good Friday 2021.
Virtual Good Friday 2021 – Can You Celebrate Good Friday at Home?
Of course, you can celebrate Good Friday at home. You can have prayer arrangements at home and invite your friends and family over a group video call to join you during praying and other rituals.
During the current situation of the pandemic, it is better to postpone all the religious services. However, you cannot cancel your traditional celebrations. A virtual Good Friday is all everyone needs right now.
Here is how virtual Good Friday can be beneficial for you.
Church services can be held online to gather people joining the prayers and Good Friday ceremony.
Online ritual services help you spend Good Friday with close relatives.
Virtual Good Friday keeps you safe from catching the virus.
It minimizes the infection rate of the community-spread Coronavirus.
You can still follow religious traditions and pray along with your family.
Good Friday is vital to Christianity. The previous year has already traumatized many of us due to the lockdown and disturbed life routine. To fight against the global pandemic, we all must join together, keeping minimum contact with potential COVID-19 spread activities.
Good Friday & Church Visit – How to Stay Safe Outside?
Good Friday 2021 is going to be a bit different from the past year. As we all know, Good Friday 2020 was not like we expected. The Coronavirus spread was at its peak, and everyone was panicked around the world.
Today, we all have become vigilant regarding COVID-19 situations. The third wave of Coronavirus is more threatening than the second one. Lockdown has been imposed on different parts of the world.
If you are still planning to visit your local church this Good Friday, here are some preventive measures to follow;
Keep Elderly Family Members at Home:
The old-age community is most vulnerable to catching the deadly Coronavirus. While planning to visit the church for the Good Friday ceremony, make sure to arrange prayer facilities for your elderly household at home. Don't risk letting the older people visit the church or go outside during the current times. If your mom/dad or grandpa/grandma have received complete vaccinated shots, they may visit the church. But, make sure that all of you follow the SOPs.
Don't Forget to Wear Mask:
While visiting the church, don't forget to wear a mask. Wear a mask to cover your nose and mouth properly. Avoid using cloth masks as they only filter dust. To save yourself from air-borne diseases, you must use surgical masks or respirators. Cover your mouth with your elbow while coughing or sneezing. If you have any symptoms of COVID-19, stay home and quarantine yourself.
Wear Gloves & Keep Sanitizer with You:
Avoid shaking hands. Wave to each other or greet people with elbow bumps. It is important for people joining Good Friday ceremonies to wear gloves to minimize contact with the Coronavirus. Before wearing gloves, wash your hands with an antiseptic soap or sanitize your hands thoroughly. Keep a bottle of sanitizer with you as an emergency backup.
Maintain Social Distancing:
Six feet apart, that's the rule. While praying in the church, maintain social distancing. Avoid hugging and greeting each other by shaking hands. Remember, if you breach the social distancing code, it only brings harm to you. So, in order to have a safe Good Friday and Easter celebrations, visit your local church, offer prayers, and come home straight. No need to socialize.
Track Your Children while Outside:
We understand how hard it can be to keep eyes on children while you are engaged in Good Friday rituals. Don't worry. There is always a solution. For busy parents, cell phone trackers like TheWiSpy can offer great help. You can leave all your worries to TheWiSpy kids' tracker and monitor your children digitally anytime you want. Be it the Good Friday prayers or Easter egg hunt, TheWiSpy can help parents track their children's whereabouts with a few clicks. Using an efficient cell phone tracker, you can receive instant updates on the real-time location of your loved ones.
Please don't panic and track your friends and family during the tough time of the global pandemic to ensure their safety.
The Final Words:
Everyone is busy preparing for the upcoming occasions – The Good Friday and Easter. It is good to be excited about the holiday season, yet we must not forget to take care of our friends and family during the festivities rush. If you are a parent, you must monitor your children during the Good Friday and Easter celebrations using a kids' tracking app. If you have parents above the age of 60, ensure their safety by tracking gps location while you are at the church praying. Do not compromise the safety of your elders and kids, and keep them under your surveillance 24/7 using a cell phone tracking app.