Appmia Review Updated [2022] – Is Appmia Mobile Tracking Worth Investing Money?
Posted in TheWiSpy alternatives by Julie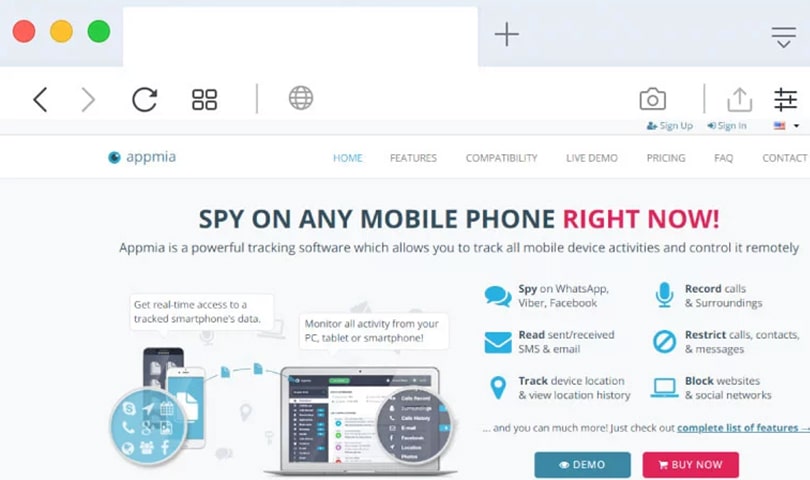 Technology is evolving rapidly. Every year brings new innovations in the make and model of smart devices. Besides the launch of new Android and iOS versions, the spy app industry is developing rapidly to meet the spying needs of people.
With the launch of a new operating system, spy apps face challenges to crack the new OS of the target device. The best mobile tracking app is the one that frequently updates itself with new technology.
Appmia is a known brand for delivering mobile monitoring tools. This spyware app has gained a pretty impressive reputation in the industry.
Today, we are going to share Appmia review in this article. Continue reading and explore the exceptional functionality and high-end features of Appmia cell phone monitor.
Appmia Review Updated [2022] – Is Appmia Mobile Tracking Worth Investing Money?
Times are long gone when we have to hire a personal detective to make sure someone is not cheating. Similarly, the concept of shadow teaching evolved to ensure parents that their kids are safe and sound. However, shadow teaching is for kids with special needs. All children require special parental attention because it is tough to rear kids with such an evolving technological world. Kids now demand privacy and internet freedom.
Do you know what the right age to give your kid a personal smartphone is?
Online, as well as the offline world, is full of dangers. From cyberbullying to abduction, parents must not take risks regarding their kids' security.
To help parents with kids' tracking, Appmia is a suitable tool.
If you have not heard about this app ever before, then keep reading this review of Appmia software and explore the incredible functionality.
Let's dig in more and review Appmia features and functionality in detail.
What is Appmia?
How Does Appmia Work?
What Operating Systems are Supported by Appmia?
What are the Features of Appmia?
How to Install Appmia on Your Target Device?
What is the Price of Appmia?
What is Appmia?
Appmia is a cell phone monitoring software designed for Android and iOS devices. It is a versatile tool to spy on your kids and office staff. With high-end features and OS compatibility, Appmia outshines as an advanced mobile monitoring and tracking tool. The app is undetectable, which means that the target user can not suspect its presence on his/her phone. Appmia offers an online demo of the spyware dashboard so that you can test the app and check if it has all the features you want.
As per the Trustpilot review of Appmia, the online customers are pretty satisfied with its services. The Appmia review has achieved a 4.3-stars rating on Trustpilot with lots of positive reviews.
How Does Appmia Work?
Appmia is designed to spy on smart devices and enables parents to control their kids' digital space. Hence, Appmia is a comprehensive spyware tool to control and manage the digital activities of your target device.
Appmia works in complete stealth mode. All you need to do is get an Appmia license from the authentic source and install it on your target device. Once installed, Appmia starts fetching all the digital activities and saved details from the target device. You can view the recorded data from the online dashboard.
What Operating Systems are Supported by Appmia?
Appmia supports almost every operating system of smart devices – iOS, Android, Blackberry, etc.
The good thing here is that you can check your device compatibility from Appmia official website. Just go to the compatibility page of the Appmia website, and enter your device model to reveal if Appmia supports your target device.
What are the Features of Appmia?
A robust cell phone tracking app offers advanced features that work perfectly with the latest mobile models and operating system. The following section of Appmia review covers all the spying and monitoring features of the app.
Let's have a look at it.
Calls & Surround Recording:
Call recording helps you record every inbound and outbound calls secretly. For parents, call recording is an elite feature to know who calls their kids in their absence. Moreover, listen to call recordings to help parents to discover if someone is catfishing their teens. Call recording feature of Appmia also provides a detailed report on call duration, time stamps, and contact information.
Surround recording is the award-winning feature of Appmia. It helps you record all the surrounding noises. Moreover, it enables you to reveal the ongoing activities around your target user.
Text Message Tracking:
Text message tracking is the most demanding feature of Appmia. By reading teens' text messages, parents can discover what type of chat kids have with their friends and peers. Text message monitoring allows you to find if your child does sexting or use text abbreviations for inappropriate words.
With text message tracking of Appmia, you can monitor all the chat messengers including; SMS, WhatsApp, iMessage, Facebook Messenger, Skype, Viber, and others. Appmia text message tracking provides you with complete details on sent, received, and deleted text messages.
GPS Tracking:
With the increasing rate of abduction cases, parental concerns regarding kids' GPS location are valid. GPS tracking allows you to track the current location of your child. Moreover, you can view your child's phone's complete location history and discover where he/she went the whole day. Tracking the GPS location of kids helps parents to safeguard children from potential physical dangers.
Email Tracking:
Appmia offers email tracking features to let parents and employers view their kids and staff members' email details, respectively. You can now track sent, received and draft email messages and view all the attached files plus documents without being noticed. Email tracking features help businesses secure their confidential details and detect unfaithful employees.
Web Browsing Monitoring:
Web browsing monitoring is very helpful to keep eye on kids' online activities. Parents must teach cyber etiquette to their kids. If you are a parent, you must monitor your kids' digital activities to ensure that they don't search for or addicted to pornography or teens dating apps.
For businesses, web history monitoring reveals frequent searches, bookmarks, and other online activities.
Other Features:
Appmia offers a wide range of spying features.
Using Appmia, you can monitor;
Contact Details
Multimedia Files
Installed Apps
Keylogging
Calendar Events
Voice Memos
Appmia sends instant alerts on the ongoing online and offline digital activities of your target device.
How to Install Appmia on Your Target Device?
The installation process of Appmia is similar to other spy apps, which is also explained in detail in TheWiSpy review, mSpy review, and others.
First, you need to purchase the Appmia license from the official website. After purchasing the subscription, the service provider will send you an email containing an Appmia download file, an installation guide, an activation key, and dashboard login credentials.
In the second step, you need to pick up the target device, unlock it, and download the Appmia APK file.
The third step includes the configuration of Appmia on your target device. Follow the configuration settings and set up Appmia on your target device.
Once configured, you can watch everything from an online dashboard. Appmia dashboard is accessible via the login credentials you received by the official email.
What is the Price of Appmia?
While reviewing Appmia, how can we forget not to mention its pricing?
Here are the details on Appmia pricing;
Appmia Basic Plan: FREE
Premium Plan: $16/Month
Appmia Review – The Verdict:
Appmia is a legal mobile monitoring software that enables you to enjoy the latest mobile spying tools secretly and remotely. As compared to reviews of SpyEra, CocoSpy and other cell phone spyware, Appmia has got the highest stars on Trustpilot. Appmia is an efficient and handy solution for parents to track their growing kids. Are you ready to get this amazing mobile tracking app?