TheTruthSpy Review 2022 [Updated] – Is the Spyware App Real or Fake?
Posted in TheWiSpy alternatives by Julie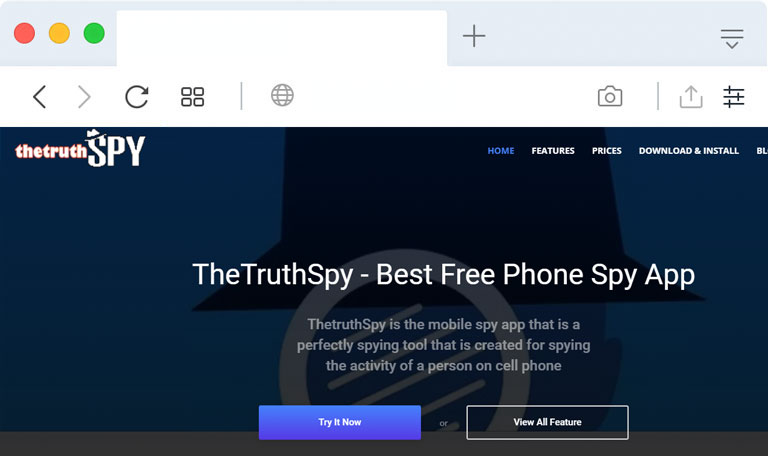 It would not be incorrect to say that, to some extent, we all are mobile phone addicts. If you look around, you will see that almost every other person is using a cell phone.
Online lives influence the real one in both productive and destructive ways. Most of the time, indulging too much in your cyber life results in missing out on important events of real life.
You must have been worried about someone who spends too much time on digital devices.
Well, to save your loved ones from the digital influence, you can start spying on their online activities.
TheTruthSpy is a software designed to spy on mobile devices, including Android and iOS phones and tablets.
TheTruthSpy can be used for multiple purposes, for instance;
Parents can monitor kids remotely.
Employers can track work phones in real-time.
Spouses can check if their partner is cheating.
The internet world has so many hidden dangers that can attack us at any time.
Do you know that malware threats can target your business any day?
Are you sure our child's online friend is not a sexual predator?
Ever wondered where your partner spent last night?
To answer all your questions, TheTruthSpy app is a great tool.
So, without rambling around, let's get straight to The TruthSpy review.
TheTruthSpy Review 2022 [Updated] – Is the Spyware App Real or Fake?
If you search for a spyware app online, you will be amazed to see that there are many options available.
Which one is the right spy app?
Just like you consider your preferences before physical shopping, you must know the purpose for which you need spyware. Different mobile spy apps offer different features, more or less. So, if you want to spy on WhatsApp, you must look for the WhatsApp spy feature in mobile spyware.
Fortunately, TheTruthSpy offers all the essential mobile phone monitoring features. Whether it is browsing history or call records, you can spy on everything using TheTruthSpy.
If we consider TheTrustSpy app reviews on the Trustpilot platform, the app gained 2.9 stars rating, which is low compared to other spy apps. Customer reviews exclaimed that The TrustSpy does not deliver the features as it claims. However, some reviews are positive enough to endorse the reliability of TheTruthSpy app.
Here, in this article, we are going to explain the overall TheTruthSpy monitoring app. We have segregated TheTruthSpy review into the following points so that our readers can easily navigate TheTruthSpy review.
What is TheTruthSpy?
How Does TheTruthSpy Work?
Which Devices are Compatible with TheTruthSpy App?
What are the Key Features of TheTruthSpy App?
How to Install TheTruthSpy App on Your Target Device?
How Much TheTruthSpy Costs?
Continue reading, as we are going to explain the above-mentioned points of TheTruthSpy review in detail.
What is TheTruthSpy?
TheTruthSpy is authentic mobile spyware. Cell phone activities like sending/receiving text messages, call history, online presence, etc., TheTruthSpy app can track all. Parents can use this spyware app to keep a record of the virtual presence of their children. On the other hand, employers can use TheTruthSpy app to track work phones' online activities. TheTruthSpy is an undetectable software that makes it your private virtual detective. Anything you want to reveal about your kid, employee, or spouse, TheTruthSpy is here to serve you as your secret spying tool.
How Does TheTruthSpy Work?
TheTruthSpy app offers license subscriptions that you can purchase from the official website. Once you purchase the license, the service providers will send you the app download link and activation key. Upon app download, you have to configure TheTruthSpy on your target device. Once you complete installation, you can track your target device's digital footprints remotely, with an online dashboard. You can hide TheTruthSpy app icon to make your spying activities secret from the target user.
TheTruthSpy operates on the basic principles of mobile spyware; it integrates with the OS of the target device and records all the live plus saved details. The recorded information gets uploaded on an online server continuously. The server is known as TheTruthSpy online dashboard that you can access any time with your registered ID.
Which Devices are Compatible with TheTruthSpy App?
Spyware compatibility should be the first thing you look at in a spyware app before purchasing it. TheTruthSpy is compatible with Android and iOS devices.
So, don't worry if your child owns an Android or iOS phone/tablet, as you can monitor their phone secretly and remotely with TheTruthSpy app.
The ruthSpy Android Compatibility
Android devices that run OS versions 2.2 up to the recent ones are compatible with TheTruthSpy app. You don't need to root the Android phone or tablet to get started with TheTruthSpy monitoring.
TheTruthSpy iOS Compatibility
TheTruthSpy app supports iOS devices that run OS versions of 4.0 and higher. Note that TheTruthSpy iOS monitoring requires you to jailbreak the target Apple device. Otherwise, you cannot spy on iOS devices.
What are the Key Features of TheTruthSpy App?
Now, let's discuss what matters the most, i.e., TheTruthSpy features. Every spyware delivers distinct features, but the most powerful is the one that allows you to monitor everything stored and happening on the target device. Luckily, TheTruthSpy is the app that offers many quality features to provide complete control over the target device.
Here are the details of TheTruthSpy top-notch features;
Call & SMS Spying
The main function of any cell phone is telecommunication. TheTruthSpy app lets you spy on incoming and outgoing phone calls. You can record the ongoing telephonic conversation and listen to the recording anytime you want. Moreover, with TheTruthSpy app, you can spy on text messages (sent or received) of the target devices. TheTruthSpy gives you a complete record of your target device, including; contact information, timestamps, call durations, calls, and SMS dates.
GPS Tracking
Now, you can track your target device with GPS location tracking. TheTruthSpy helps you trace the whereabouts of your target user. The spyware delivers a comprehensive report holding pinpoint location, address information, timestamps and dates. You can monitor the location history of your target device as well.
Surround Recording:
The ambient voice listening feature enables you to activate the target device's mic remotely so that you can hear all the surrounding noises. With surround recordings, you can listen to the live verbal chit chats, background sounds, and other noises as well. This feature is useful for parents who want to reveal the social circle of their children.
Browsing History Monitoring
The internet is a big space to carry countless threats. Web browsing can unveil the most dangerous cyber threats to children. You can discover if your employee, spouse, or teen is a porn addict with browsing history monitoring. Moreover, TheTruthSpy browsing history tracking enables you to view visited websites, bookmarked pages, and frequently searched content.
Keylogging
TheTruthSpy keylogging is one of a kind feature. You can now record the keystrokes of your target device. Such a feature can help you if your child or employee does code word chattings using text abbreviations. Furthermore, typed keystrokes help you view the pin and password of your target device.
Other Features
TheTruthSpy is feature-enriched spyware. It offers other features including; call logs monitoring, installed app tracking, instant messenger spying, and many others. Indeed, TheTruthSpy is the app you want for kids' monitoring.
How to Install TheTruthSpy App on Your Target Device?
Installing TheTruthSpy app is not that difficult. You only need to follow the below-mentioned process to get started.
Get access to your target device.
Unlock your target device.
Open the browser from your target device and enter the app download URL you received upon registration.
Download TheTruthSpy APK file.
Now, install TheTruth Spy on your target device.
Configure and set up the spyware as per recommended settings.
Hide the app icon once the app is all set up.
Log in to TheTruthSpy dashboard from any device.
Open TheTruthSpy dashboard and start monitoring.
The TruthSpy dashboard gives you remote access to monitor the recorded details of your target device. You can start tracking your target phone/tablet anytime you want.
How Much TheTruthSpy Costs?
TheTruthSpy offers three different subscription packages known as standard, premium, and gold.
Here are the details of TheTruthSpy pricing plans:
TheTruthSpy Standard Package:
It costs $21.99 per month. Standard package of TheTruthSpy app offers limited features, the most basic ones.
TheTruthSpy Premium Package:
Premium package of The TruthSpy app is an upgraded version. It costs $25.99 per month. Premium package holds more features than the standard plan.
TheTruthSpy Gold Package:
It is the most advanced spying package of TheTruthSpy app. The Gold package delivers all the features of TheTruthSpy app. It costs $30.99 per month.
TheTruthSpy Review – Verdict
With so many social and cyber challenges, rearing kids at present is quite a challenge for parents. Today, we live in extreme social conditions with pressure to bring up children with the best grades, communication skills, and so on.
In the parallel universe, teens and tweens are becoming tech-savvy. Such an interaction is enough to develop mobile phone addiction among kids.
It's time to start tracking kids' online as well as offline mobile activities to ensure their cyber and physical safety.
We hope that this TheTruthSpy review has delivered all the main points of this powerful spyware.
If you want more advanced features like geofencing alerts, etc., try XNSPY, Flexispy, MINSPY. It is the leading mobile monitoring software out there.