GuestSpy Review 2022 [Updated] – Is GuestSpy App Safe to Use?
Posted in TheWiSpy alternatives by Julie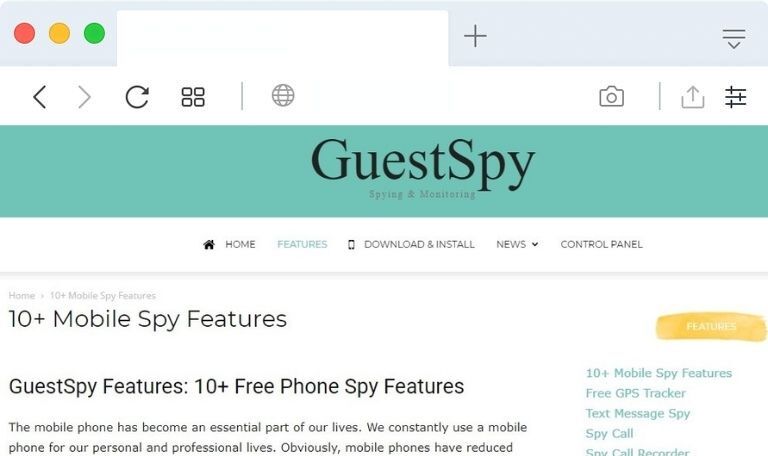 GuestSpy is another famous name in the spyware industry. Today, we are going to discuss the GuestSpy review to make the audience familiarize with its functionality and features.
Fighting against cyber dangers has become crucial with high-end technology. Parents around the globe share mutual anxiety regarding the security of their kids online. Today, social media presence enables kids to contact strangers around the world. Countless games and challenges have contained kids, making them spend hours online. Famous cell phone spy apps like GuestSpy would allow parents to keep an eye on their kids' online exposure, making them aware of children's unusual search habits.
So, without wasting much time, let's get straight to the GuestSpy review.
GuestSpy Review 2022 – Is GuestSpy App Safe to Use?
GuestSpy is a renowned spy app with several retained customers. The spyware claims to deliver good quality spying and monitoring services around the globe.
If you are an anxious parent who wants to keep his/her kids safe from the hazards of the online world. You can use the GuestSpy app.
As per Trustpilot, GuestSpy reviews are quite positive, with a 3.4-stars rating.
Times had gone when kids used to play outside. Now, almost every child is glued to the mobile screen playing PubG or any other online game. Despite gaming, teens interact with online strangers and befriend them without knowing the other person's intentions. Online predators community target juveniles, groom them and take sexual benefits from them. For parents, nothing can haunt more than their kid being exploited by an online molester.
Spy apps assist parents in monitoring the virtual space of kids.
Here are the main points of the GuestSpy review to help you navigate the article in a better way.
What is GuestSpy?
How GuestSpy Works?
Which Devices are Compatible with GuestSpy App?
What are the Features of the GuestSpy App?
How to Install GuestSpy on Target Device?
How Much GuestSpy Costs?
Continue reading to explore more about GuestSpy app. Thoroughly examine the features and functionality of GuestSpy before buying it.
What is GuestSpy?
GuestSpy is a mobile monitoring app that is 100% undetectable. GuestSpy app records the digital information from a mobile device and uploads it on an online dashboard. Like other mobile apps, you need to install GuestSpy on the device you want to monitor. GuestSpy installation requires you to install it on the target device physically. That means you have to pick up your target device and install GuestSpy on it manually. It only takes 5-10 minutes to install GuestSpy on your desired phone or tablet.
How GuestSpy Works?
Getting started with GuestSpy is simple. You have to download and install the GuestSpy app on the device you want to track. The minute GuestSpy is installed, it starts gathering information stored on your target device. Moreover, GuestSpy records the live mobile activities and keeps you updated with the ongoing digital happenings in real-time.
Which Devices are Compatible with GuestSpy App?
GuestSpy is an app compatible with almost every smartphone. GuestSpy can spy on iPhone, Android, Huawei, Samsung, Oppo, and other devices as per their website claims. So, if your child owns any of the devices mentioned above, it's time to install GuestSpy on it.
What are the Features of the GuestSpy App?
GuestSpy offers 10+ monitoring features to make your mobile spying experience more thrilling. This section of the GuestSpy review is dedicated to its features so that you can get a better overview.
So, let's get started.
Key Logging
GuestSpy Keylogging feature enables you to monitor keystrokes and passwords of your target device. Moreover, you can reveal frequently used text abbreviations from your target device. Keylogging helps parents know the typed messages, searched queries, etc., of their kids secretly.
Call Recording
With the call recording feature, you can tape and listen to dialed and received calls. Monitoring the telephonic conversation of kids can reveal if someone is catfishing your child. Moreover, businesses can leverage this feature by scanning all the inbound and outbound calls of work phones.
SMS Monitoring
Monitoring text chats reveals so many things about a person. With GuestSpy SMS monitoring, parents can spy on the SMS chats of their teens. Sexting among teens is a growing nuisance. You can detect sexting by spying on your kid's chat messages.
GPS Tracker
GuestSpy allows you to track the GPS location of any device you want. Location tracking delivers live location reports and enables you to view the location history of your target device. It is the best way to track kids online. Furthermore, you can track the lost phones using the GPS location tracking feature.
Browsing History Monitoring
Kids with porn addiction sneak out for a hidey-hole to watch explicit content. Parents can monitor the browsing history of their kids using the GuestSpy app. Employers can utilize browsing history monitoring features to keep track of work devices.
Other Features
GuestSpy other features include call history monitoring, social chat tracking, WhatsApp spy, and other mobile surveillance tools. GuestSpy is an advanced app to monitor cell phones secretly.
How to Install GuestSpy on Target Device?
Installing the GuestSpy app is simple. Just follow the below-mentioned steps to get started.
Pick up your target device and open any browser from it.
Go to the GuestSpy website and tap on "Download & Install."
Register with GuestSpy.
Download the app and install it on your target device.
Now, configure GuestSpy as per recommended settings.
Access your personal device and open the GuestSpy dashboard.
From the dashboard, you can enjoy its features and experience advanced mobile monitoring.
How Much GuestSpy Costs?
GuestSpy app is free. Yes, you read it right. The app does not charge any amount for a subscription. You can download the app from its official website. Moreover, there are no hidden and trial charges for downloading the GuestSpy app.
GuestSpy Review – The Final Words
GuestSpy is gaining popularity among online traffic. As the spyware is free, people prefer this app over other costly spy apps. However, if you read Trustpilot reviews, many consumers exclaimed this app was nothing but scam spyware. However, some customers endorse the app.
READ ALSO: MinSpy Review 2022 – All About MinSpy App