MinSpy Review 2022 [Updated] – All About MinSpy App
Posted in TheWiSpy alternatives by Julie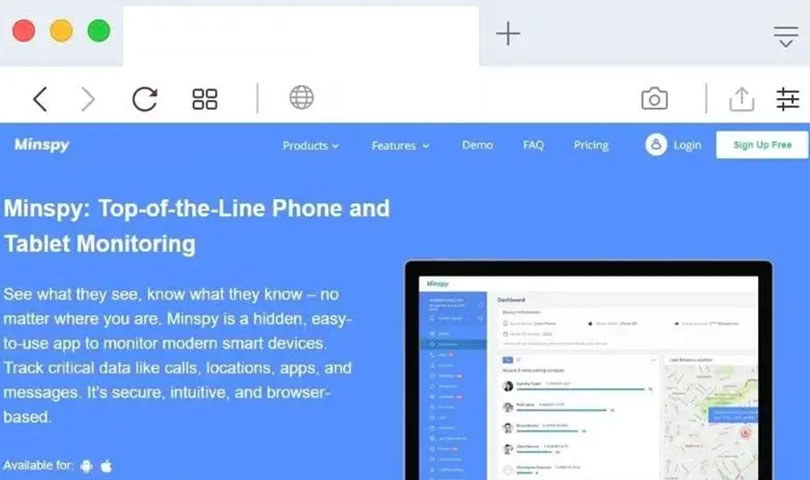 Sneaky behavior among kids makes parents concerned about their well-being. Today, millions of threats surround us, and the most harmful dangers reside in the cyberworld. Usually, we use mobile phones for 3 hours and 15 minutes each day. Kids interact with smart devices for learning as well as recreational purposes.
Does your child sneak out whenever you are around?
Does your child use too much of his/her cell phone?
Well, if it happens, then it's time to check your kids' mobile phone. You must be wondering if spying on your kids is an unethical and unlawful activity.
Don't worry.
Buy Monitoring App Now >>
Monitoring your underage juveniles is legit. Parents around the globe track their children's online and offline activities to ensure their safety. The use of the best free spy apps helps parents to monitor the mobile as well as the physical activities of children.
Today, we have come up with another spy app that claims to be a top-of-the-line mobile and tablet monitoring solution.
MinSpy is an emerging name in the spy app industry. This article is all about MinSpy; it's operations, features, pricing, and more.
Let's begin with the MinSpy review. Shall we?
MinSpy Review 2022 – All About MinSpy App
The online world is indeed helpful for the better learning of kids, but at the same time, it contains so many threats that cannot be neglected.
From cyberbullying to online grooming, kids are at high risk of developing internet/phone addiction or facing an internet danger.
MinSpy is a versatile mobile and tablet monitoring tool to record all the digital activities on your target device.
Keep in mind that mobile or tablet monitoring is only legit when you have valid reasons for such activities.
MinSpy is a legit app until you use it for violation or breaching purposes. The service providers do not encourage the audience to use MinSpy for illegal activities.
As per parental reviews of MinSpy, the app is quite efficient for tracking and monitoring kids. Trustpilot reviews of the MinSpy app are positive as well. The app gained a 3.5-star rating.
Let's get into the MinSpy review details and find out how this spyware works and how you can benefit from the MinSpy app.
Here are the main points of the MinSpy review.
What is MinSpy?
How MinSpy Works?
Which Devices are Compatible with MinSpy?
What are the Key Features of MinSpy App?
How to Install MinSpy App?
How Much MinSpy Costs?
Continue reading as we are going to answer each of the questions mentioned above in detail.
So, let's get started.
What is MinSpy?
MinSpy is an app designed to spy on mobile phones and tablets. It functions as a virtual spy and fetches details from your target device like a pro. MinSpy is a hidden mobile app that help parents to monitor teens phone secretly, including text chats, calls, social media accounts, instant messengers, and other ongoing mobile happenings without even touching the target device. For instance, if you use MinSpy for child monitoring, the spyware will record all the mobile data and upload the recorded details on the online control panel. You can sign in to the MinSpy dashboard from any web browser.
How MinSpy Works?
MinSpy phone tracking app requires installation on the target phone/tablet. Just like other mobile apps, you need to install MinSpy on the device you wish to monitor. To get the MinSpy app, a registered subscription is needed. For that, sign up for free on the MinSpy website, create an account, and purchase the subscription. The service providers will send you the app download link, spyware activation key, and login credentials via email. All you need to do is download and configure the MinSpy app and start monitoring your target device user's online space remotely and secretly.
Which Devices are Compatible with MinSpy?
Choosing spyware that does not support your target device is a waste of time and money. But, that's not the case with MinSpy. It offers two monitoring solutions; for Android and iOS devices.
Here are the details of MinSpy Android and iOS compatibility.
MinSpy Android Compatibility
MinSpy is compatible with Android phones and tablets. The MinSpy app can track any Android device that runs OS version 4 and higher.
MinSpy iOS Compatibility
MinSpy supports iOS devices, whether it is iPhone or iPad. The spyware is capable of tracking iOS devices without following the jailbreaking procedure. Any Apple device that runs iOS 7 or plus is compatible with the MinSpy app/
What are the Key Features of MinSpy App?
MinSpy is a digital detective that collects virtual evidence from the target mobile devices. It delivers quality features so that you can monitor your loved ones anytime, anywhere.
In this section of the MinSpy review, we are going to mention the top-notch spying features that made it the leading mobile spyware.
Call Tracker
MinSpy offers an efficient call tracking feature to help parents reveal who contacts their child when they are not present. Using the MinSpy call tracker, you can uncover the most frequent callers and call durations along with timestamps plus dates. With MinSpy call tracker, no dialed or received call details are out of your sight. Track incoming and outgoing calls in real-time.
SMS Tracker
MinSpy SMS tracker is a remote message reading spy tool. You can read all the messages of your target phone without letting the device owner know. SMS and iMessages, you can read every text chat with this feature. Another fantastic quality of SMS tracking feature is that you can retrieve the deleted text conversations. Moreover, you can view shared media files in text chats remotely and secretly.
Location Tracker
Now, you can track the GPS locations with MinSpy. The app traces down the live location of your target phone or tablet and delivers a complete report on the location history. You can monitor frequently visited places along with dates and timestamps. GPS location tracking allows you to view detailed location addresses with Google's integrated 3D street view.
Geofencing Alerts
Along with location tracking, the geofencing feature spices up the mobile tracking game of MinSpy. Geofencing enables you to mark specific zones, and the app will send you alerts whenever your target user crosses over the marked boundaries.
Browsing History Tracker
Cyberlife is dangerous, especially when you dig into the deep side of the web. Browsing history tracker helps you monitor the search history of your kid's mobile phone/tablet. If you find anything fishy about your child's search habits, you can start monitoring his/her phone's browsing history with MinSpy.
Other Features
MinSpy offers a whole range of monitoring features. You can track WhatsApp conversations and spy on text messages and shared media content. Similarly, MinSpy allows you to spy on Facebook messages, Snapchat, Instagram, Viber. With MinSpy, you can track sim location, network-based sim details, and IMEI number with the MinSpy app.
How to Install MinSpy App?
It is not challenging to install the MinSpy app on your target device.
Here is the installation procedure on the MinSpy app;
Go to the MinSpy website and create an account.
Choose your subscription package and purchase the license.
After signing up, choose the OS you want to monitor.
Download and install the app on the device you want to track.
Once installed, open the MinSpy dashboard and start monitoring.
Note that no spy app would start its tracking operations without installing software on the target device.
How Much MinSpy Costs?
As compared to other spy apps, MinSpy is an affordable mobile monitoring tool.
Here are the details of the MinSpy pricing plan;
MinSpy for Android
Basic Plan (For 1 Device):
1-Month License: $39.99
3-Month License: $59.99
12-Month License: $99.99
Premium Plan (For 1 Device):
1-Month License: $49.99
3-Month License: $69.99
12-Month License: $199.99
Family Plan (For 3 Devices):
1-Month License: $69.99
3-Month License: $99.99
12-Month License: $199.99
MinSpy for iOS
Family Plan (For 5 Devices):
1-Month License: $99.99
3-Month License: $199.99
12-Month License: $399.99
Premium Plan (For 1 Device):
1-Month License: $49.99
3-Month License: $79.99
12-Month License: $129.99
Business Plan (For 25 Devices):
1-Month License: $399.99
3-Month License: $699.99
12-Month License: $999.99
MinSpy Review 2022 – The Verdict:
MinSpy is becoming a leading mobile spyware app with millions of satisfied customers. With its great functionality, the app is famous for monitoring kids and employees. If you are seeking an easy-to-use mobile spy app, you must try MinSpy. If you want more advanced monitoring features, Then you can also go for Kaspersky Safe Kids, HoverWatch, TheWiSpy, as it delivers a top-quality mobile monitoring experience.
So, have you decided to start monitoring your kids?