Copy9 Review 2022 [Updated] – Reliable Spy App or Just a Waste of Money?
Posted in TheWiSpy alternatives by Julie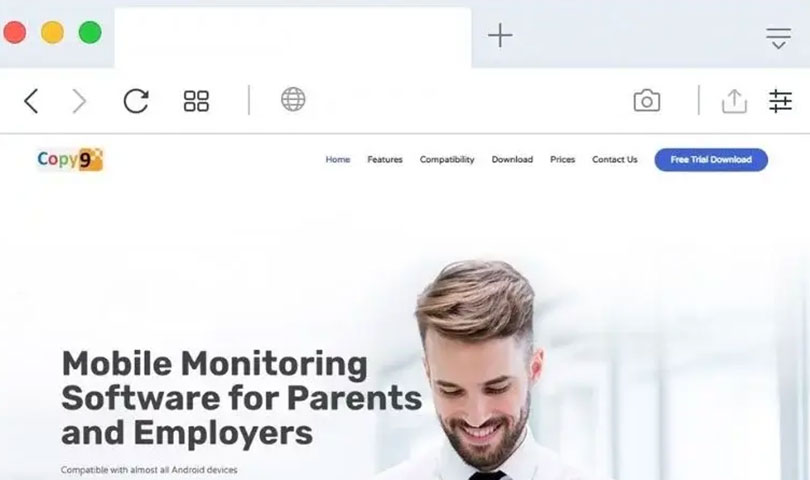 Looking for a reliable spy app to keep track of your kids' mobile footprints?
We have a solution for you.
Today, we are going to review the Copy9 app, strong monitoring software for parents and businesses.
As the uprising online dangers have intensified, parents worldwide have started taking measurements to protect their children from online threats. Juveniles, especially teens, are at great risk of encountering cyberbullying, catfishing, online grooming, and other internet menaces.
The online world has another brand for monitoring mobile devices – Copy9 spyware. Before purchasing an Android spy app, you must consider its reputation in the spy app market.
Just a reminder; Copy9 was banned from the search engines in 2018. Copy9 is a sub-brand of TheTruthSpy app, which means you have the open choice to either pick TheTruthSpy or Copy9 spyware apps.
The Copy9 is an affordable mobile spy software with a range of monitoring features.
If you are considering purchasing the Copy9 app, you must read this review of Copy9 to get a better understanding of its functioning.
Copy9 Review 2021 – Reliable Spy App or Just a Waste of Money?
Cell phone monitoring has become common these days. As parents are busy with work routines, kids are getting neglected. The easiest way a parent can monitor growing kids is by using a reliable mobile monitoring app.
Copy9 has mixed reviews. Some customers show dissatisfaction while others declare Copy9 as the most powerful app.
According to Trustpilot reviews of Copy9, customers rated this app with a 4.1-stars rating. Well, such a rating shows higher satisfaction among Copy9 users.
But, if you read the reviews separately, you will find that most of the unsatisfied comments mentioned unsustainability and technical issues of the Copy9 app. Moreover, many customers stated that Copy9 support is not much active.
In this article, we are about to mention the functionality, features, installation process, and pricing plans of the Copy9 app in detail.
Here are the key points of this Copy9 review;
What is Copy9 App?
How Does Copy9 Work?
Which Devices are Compatible with Copy9?
What are the Best-Selling Features of the Copy9 App?
How to Install Copy9 App?
How Much Copy9 Costs?
Continue reading to get details on each-point above mentioned.
So, let's get started.
What is Copy9 App?
Copy9 is a flexible cell phone monitoring app for parental and corporate use. It is a digital spy that enables you to track the virtual activities of your children or employees. Using Copy9, you can monitor calls, read SMS, track GPS location, record surroundings, and spy on other digital activities. Copy9 is a popular choice among parents and employers for kids and staff monitoring, respectively.
How Does Copy9 Work?
Copy9 is undetectable spyware. But, to get started with Copy9, you have to buy its subscription. Only licensed customers are provided with the app download link and access to an online dashboard.
Here is how to get started with the Copy9 app:
Purchase a license
Install Copy9 on your target device.
Open the dashboard and start monitoring.
Copy9 app functions in the background of your target device. It means that Copy9 integrates with the OS of the device and records ongoing plus saved digital files. The target device owner will have no clue regarding spying activities of the Copy9 app.
Which Devices are Compatible with Copy9?
Copy9 is an Android monitoring tool. This spyware is only compatible with Android smartphones and tablets. So, if your child owns an Android device, Copy9 can be your spying partner. Copy9 supports Android devices with OS versions of 4 and higher.
If you are unaware of your target device's OS version, here is how to find the OS version of your target device:
Open settings
Scroll down and tap "About Phone."
Look under the Android version to see the OS version of your target device.
Despite Android OS compatibility, Copy9 supports all the major device models, including; Samsung, Motorola, HTC, and others.
What are the Best-Selling Features of the Copy9 App?
If you are not a tech-savvy person, don't worry, as Copy9 offers easy-to-use spying features. Just a few simple clicks, and you are all set to discover the hidden digital life of your child. Copy9 is an all-rounder Android spyware.
Let's have a look at the stunning features of the Copy9 app:
Phone Call Recording
Copy9 allows you to record phone calls of someone without any suspicion. You can secretly tape the incoming and outgoing calls and send the recorded files to a web server known as the control panel. With the Copy9 call recording feature, parents can listen to every call made or received remotely.
Surround Recording
While sitting with friends, kids talk casually. Parents must know if their kids have a good social circle. With ambient listening, you can record a device's surroundings and know what your target user talks about when you are not around. Surround recording reveals the conversations, background noises, and any other sound created around your target device.
SMS Tracking
Text messages tracking is a convenient way to know what your child tells or says to his/her friends. Sexting among teens has shattered parents' trust. SMS tracking can help parents find out if their kids sext or use inappropriate text acronyms while chatting with friends.
Call Auto Answer
Using the Copy9 app, you can auto-answer the call from the target device. Call auto-answer feature enables you to pick up a call without letting the users know remotely. Call auto answering allows you to reveal the casual talk or activities of both sides without any suspicion.
GPS Tracking
Copy9 tracks the GPS location of your target Android phone/tablet remotely. You can monitor your target user's routine routes, view location history, and track pinpoints in real-time. GPS tracking is the ultimate way to keep a record of your kids' daily activities without much hassle.
App Monitoring
Cell phone app monitoring is a good way to know which type of apps hold your kids' interests. There is a huge list of dating apps that can attract children without their parents knowing. Also, gambling games and other inappropriate apps ruin kids' mentality. With Copy9 app monitoring, you can track app usage and delete improper apps remotely from your child's device.
Other Features
Copy9 offers ultimate monitoring features for Android cell phones and tablets. You can track contact information, call history, instant messengers, multimedia files, etc. Moreover, using the Copy9 app, you can monitor saved notes, track app usage, trace keylogging, and other mobile activities.
How to Install Copy9 App?
Copy9 app installation is just like installing any other spyware. But, of course, you need an instruction manual for it.
Here, we are going to explain the Copy9 installation process in detail.
Pick up your target device.
Go to settings and allow installation from unknown sources.
Go to the official site and download the APK file.
Install the Copy9 app and configure it.
Now, open your Copy9 account from your device.
Start monitoring your target device with the Copy9 app.
Remember that Copy9 software requires you to root the target device. Also, you must have physical access to install Copy9 software on it.
How Much Copy9 Costs?
Copy9 offers three subscription packages, and the details of each pricing plan are as follows:
Copy9 Standard Plan:
1-Month Subscription: $21.6
3-Month Subscription: $55
6-Month Subscription: $88
12-Month Subscription: $132
Copy9 Premium Plan:
1-Month Subscription: $25.9
3-Month Subscription: $66
6-Month Subscription: $105.6
12-Month Subscription: $158.4
Copy9 Gold Plan:
1-Month Subscription: $30.2
3-Month Subscription: $77
6-Month Subscription: $123.2
12-Month Subscription: $184.8
Copy9 Review – The Verdict
With so many Android monitoring software available in the market, Copy9 outshines as a reliable tool for both parents and employers. However, the online market has other high-end monitoring options with a huge set of features like TheWiSpy, Mspy, XNSPY.
If you think it's time to give your kid a mobile phone, don't forget to install a monitoring app on it.