10 Latest Parenting Trends for Working Parents | TheWiSpy
Posted in Parental Control by Mike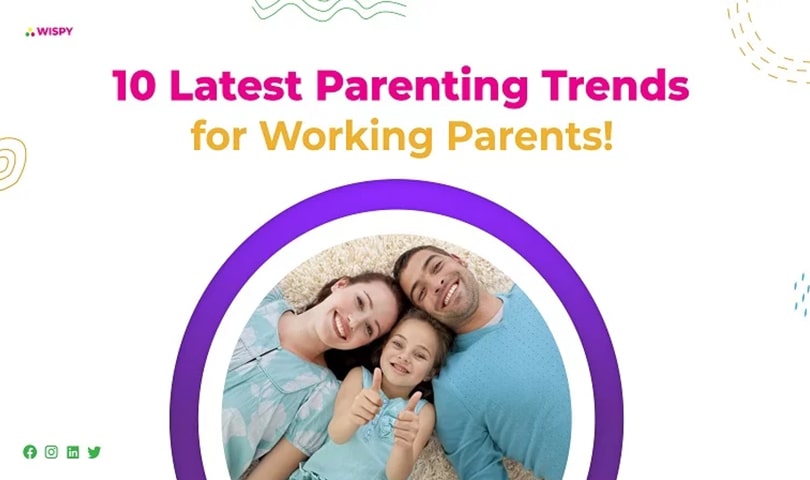 Parenting trends change with the change in our lifestyle. And if you are a working parent, rearing children can be a challenging task for you.
Co-parenting is a common phenomenon these days.
We understand that parenting is a tough job to do. That is why we have top parenting trends to help you with effective yet positive parenting.
So, let's get started.
10 Latest Parenting Trends for Working Parents
Millennials know precisely how strict parents used to discipline their kids. We live in an era where strict parenting is no longer sufficient. However, parents want their kids to stay in their circle of security. The ways of how to rear a child have changed in the present times.
In this article, we are going to reveal the 10 latest parenting trends for working parents so that busy parents can raise kids and develop positive discipline among them.
Trend # 1: Parents Leveraging The Internet for Parenting Tips:
The internet is here every time we need help. Parents nowadays leverage the internet to learn effective ways of parenting. There are hundreds of mom blogs and parenting websites that provide parents with practical tips to level up their parenting.
If you are a parent, you must have considered reading articles on pregnancy, labor, childbirth, and parenting.
As per BabyCenter report, 41% of new moms search for nursing blogs to prepare for effectual parenting. Moreover, 81% of moms read more than five mom blogs per week.
A parental behavior expert, Rebecca Palakian, stated that Google is our new grandparent. We can't deny the fact that we ask Google everything that challenges us.
So, yes! The Internet is a significant source from which you can get parenting tips.
Trend # 2: Authoritative Parenting Over Tiger Parenting:
Are you familiar with the concept of authoritative parenting?
What is authoritative parenting?
Well, authoritative parenting involves a sense of high responsiveness and demand. Modern parents are now following the phenomenon of traditional parenting and being available for their kids' emotional needs. Authoritative parents provide their kids with high standard emotional support so that their kids do not feel alone in times of need.
On the other hand, there comes tiger parenting.
Do you know what is tiger parenting?
Tiger parenting is an approach of applying strict parenting strategies. Tiger parents implement both positive and negative parenting strategies, expecting high-performance results from the kids.
If you are a tiger parent, it's time to change your parenting approach and start practicing authoritative parenting.
Trend # 3: Choosing A Suitable Name:
For modern parents, here is a little advice:
"Don't be too busy to choose a suitable name for your child."
It has been observed that parents are now picking trendy names for their kids. Whether it is a famous character from a television or a popular sports player, millennials choose the best name for their babies.
Trend # 4: Gender Reveal Parties are Getting Popular:
One of the popular parenting trends is "gender reveal parties." Revealing the gender of the baby was a family activity at first. But now, it has become a competition to bring more exciting ways to reveal baby gender.
Trend # 5: Kids' Subscription Boxes:
Living in the digital age, you must know the concept of subscription boxes.
But what are kids' subscription boxes?
Kids' subscription boxes are fun packages with all kids' stuff, including clothes, toys, and other things. For school-going children, these subscription boxes come with learning stuff and experimental toys.
The trend of purchasing kids' subscription boxes is popular among busy working parents. So, if you hesitate or do not find time to shop, you can order a child's subscription box to fill up the need.
Trend # 6: Spanking is Not the Solution:
Spanking kids when they make a mistake is a well-known approach among millennials. But in modern parenting, studies have revealed some alternative yet better ways of punishment for kids.
For instance, if your child makes a mistake, you can;
Respond with less aggression.
Try to solve the matter via communication.
Let natural consequences teach your kid about that particular mistake.
Spanking or striking is not the solution. Also, you can't ignore the mistakes of your child and make him/her rebellious.
Trend # 7: Try More Energetic Diet:
No matter if you are a busy parent, you must not overlook what your child eats. All you need is a little knowledge about the perfect yet wholesome diet for your child, and you're all set.
Do you know about portion meal plans?
Millennial parents used to give their kids a proper portion of every dietary food vital for their growth. A perfect part of the protein, dairy, carbs, veggies, and fruits fulfills your child's daily diet requirement.
Don't let your child eat mac and cheese or burgers all the time. Instead, you can come up with a more sophisticated diet plan.
Trend # 8: HomeSchooling Becoming Popular:
You must get surprised by hearing that homeschooling is back in trend again.
We can say multiple reasons have revived the concept of homeschooling.
In 2020, the surge of COVID-19 casesand the lockdown made parents homeschool their kids.
Experiencing school life has its own joy. But due to the increased rate of bullying and predation, parents now prefer homeschooling over the conventional approach. Another reason for homeschooling is that parents get the opportunity to infuse religious doctrine into their child's course of study.
Trend # 9: Tracking Kids Wherever They Go:
Do you track your kid's location whenever he/she goes outside?
As we live in tech-times, we must leverage the technology for ensuring the safety of our children. For working parents, tracking kids' whereabouts is the most practical strategy to ensure children's physical security outside.
Moreover, kids' trackers come with mobile monitoring features to protect children from cyber dangers, like; sexting, catfishing, and others.
TheWiSpy Parental control app is in great demand because modern working parents want to guard their kids even if they are not around.
Trend # 10: Limited Screen Time:
Cell phone usage can invite countless dangers. Today, teens becoming mobile addicts is the most disturbing topic that haunts parents. That is why limiting mobile and internet exposure is a must to keep kids safe from cyber threats.
Parents can use parental control app like TheWiSpy to limit their kids' screen time.
The Final Words:
Every parent worry if he or she ends up with bad parenting. However, we all do our best to protect and rear our kids. Parenting trends change over time, but parental instincts always want the best for their kids.
We hope that these parenting trends will help you boost your parenting strategies and implement favorable parenting rules.