Best Parental Control Tips to Level up Your Parenting
Posted in Parental Control by Mike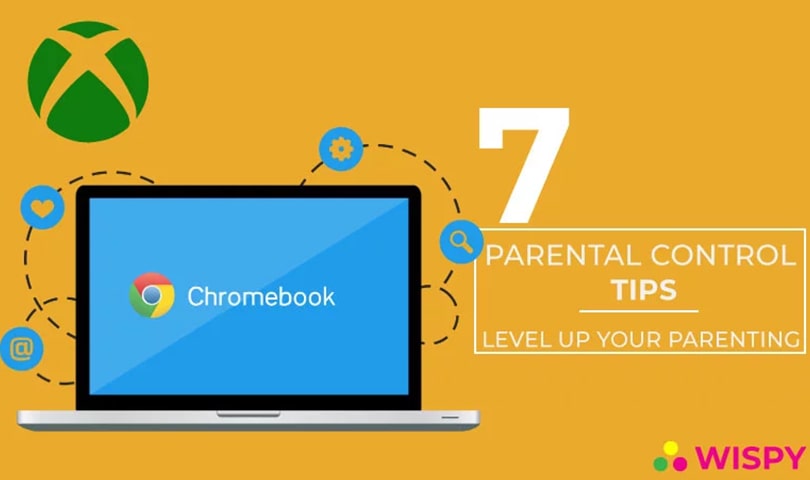 Are you anxious about parental control tips to handle your child's online space?
Or want to know what your child does on the internet?
Do you can to know who contacts your teens? Or where they go?
Well, parental control apps are the ultimate solution for all these questions.
Parents are always curious about the safety of their kids. It is an instinct to worry about your child. With all the technological innovations, almost every teen now possesses a smartphone or tablet. Whether for educational purposes or personal use, parents should keep an eye on the digital space of their children.
Now, by applying parent control tips, parents can monitor digital as well as physical activities of their kids. From listening to call records to track GPS location, these apps cover all.
Before we tell you parental control tips on how to level up your parenting, let's see what parental control apps are?
What are Parental Control Apps?
Parental control apps are software that enables parents to monitor and manage their kid's activities remotely and secretly. Parental control software allows parents to block inappropriate webs and apps, monitor kid's social media accounts, and check other phone activities without any suspicion.
When it comes to keeping tabs on kid's online activity, some parents think that it is necessary while others think that it is a breach of privacy.
Parents often ask their selves, should I spy my child?
Today if we do not observe our kid's activities, they might face online dangers.
Here is what best parental control apps do for you:
Help you find your child's GPS location
Enable parents to monitor their kid's social media accounts
Allow parents to geofence unsafe zones on the maps
Enable parents to detect and catch online predators and molesters
Help parents to keep their kids safe from cyberbullying
Enable parents to detect scam and frauds
Allow parents to block inappropriate websites and apps
No matter what purpose you provide your kid with a mobile phone or tablet, make sure that you keep an eye on their physical as well as digital activities.
There is a thin line between monitoring and breaching privacy, keep that line maintained.
Part 1:
Top 5 Best Parental Control Tips to Level up Your Parenting
Every parent is responsible for the protection of their children. Teens go out for college or to meet their friends. Trusting your child is necessary but trusting the present time where predators and molesters go around freely is dangerous.
To keep tabs of your kid's social circle and online space, these parental control tips will help you to strengthen your parenting:
1. Get a Parental Monitoring App
Even in your busy schedule, you can monitor your kids remotely with the help of a parental control app. There are multiple options out there to choose from, but TheWiSpy mobile monitoring software offers the most compelling and advanced features. Parents can now monitor what their kids were doing in their presence or absence. The amazing thing about TheWispy is that it does not let your kids know that their Android device has a parental control app installed. Neither will your teens know about mobile tracker nor will they be able to delete it.
You can remotely send commands from the control panel to limit the screen time of your kids. Also, you can track GPS location, listen to call recordings, read messages, and monitor many other features secretly. TheWiSpy app is power-packed software to boost up your parenting.
2. Monitor Digital Activities with a Parental Control App
Do you know what your child does on the internet? To whom she or she may contact online?
Well, if you don't know, and curious about it then it's time to gear up and start monitoring your kid's online activities.
As a parent, you should keep an eye on;
Incoming and outgoing calls your kid receives
Sent and received messages and emails
Active Location & Location History
Social Media Accounts
Phone Multimedia, etc.
Well, there is no need to get confused, either there is a difference between mobile spying and monitoring. Keeping an eye on your teen's digital space help parents to identify online sexual predators that may harm their kids.
3. Set Geo-Fencing Alerts
Don't worry about where your teen goes. Cell phone tracker apps offer ultimate parental control features to control and manage your teen's smartphones. Parents can set geofencing remotely and mark safe and unsafe zones on the map. Whenever the kid trespasses the marked zone, his or her parents will receive a geofence alert. The geofence alert notifies parents that their kids have entered the prohibited zone.
With geofencing, parents can:
Mark prohibited zones such as alcohol bars
Create safe zones including school or a friend's house
Get alerts when their kids surpass the marked area
Geofencing is the ultimate way to ensure your kid's safety even if you are not with them physically.
Parents can create geofencing for pubs, bars, clubs, etc. to make sure that their teens are not wasting their time in such places.
4. Keep Track of Location History
Utilizing parental control tips on mobile phones and tablets enables parents to track active GPS location as well as the location history of their kids.
Active GPS location tracking assist parents to:
Find out the active GPS location
Monitor location history
View most visited places
Check location pinpoints on the map
With location tracking, parents can easily find out where are their children in real-time.
5. Manage & Block Inappropriate Apps and Webs
The last tip for using parental controls tells us that besides the great benefits of the internet, one should not ignore the negative effects of it. Due to easy accessibility, sexual predators including molesters and harassers target juveniles on the internet.
Also, numerous inappropriate apps contain violent and pornographic content. For the safety of your child, you must block websites and apps that hold improper content.
Part 2:
Parental Control Tips for Famous Platforms and Devices
Smart devices come in great variety. From Android to iOS, people possess phones and tablets having a different operating system. Setting up parental control for each device is not tricky but quite different from one another.
Let's see how to set parental control on various platforms:
1. How to Set up Parental Control for Android Devices?
Android OS is a vastly used operating system in smartphones. The majority of kids have either an Android mobile phone or tablet.
To set up parental monitoring for Android devices, do as follows:
Set up a restricted user profile on the device
Using Google play, set up parental control for your kid's phone or tablet
Limit or restrict in-app purchasing on Google play
Limit screen time
Block or restrict improper apps or webs
Android OS itself allows confining activities of your kids with some parental control features. However, for more advanced features a third-party app like TheWiSpy is the best option.
2. How to Set up Parental Control on iOS?
Apple has a huge market and a great number of users. Teens and kids are very fond of having an iPhone or iPad.
Setting up parental control on iOS devices is not that hard, you'll just need to follow these steps:
Enable parental restrictions
Set up iPhone guided access
Control installed apps
Block inappropriate apps or content
These are built-in parental control features. Although these features are for free but you will have to employ a parental monitoring app for advanced mobile tracking.
3. Kindle Fire – Parental Control:
Kindle Fire is an amazing device for readers. It is the savior If your kid loves to research and read online content.
To create a safe digital environment on Kindle Fire, follow these steps:
Set up your kid's profile on Kindle Fire
Set up parental controls
Limit time and device usage
There is no doubt Kindle Fire is an excellent device for kids and teens. For the sake of children online safety, Parents have to monitor the activities of their children on every device.
4. Chromebook – Parental Control:
Chromebook is the perfect device to give to children to explore the digital world. Amazingly, this device has built-in parental control features to monitor and manage device activities.
You can set time limits, block content, and restrict device usage with the parental controls of Chromebook.
5. Xbox – Parental Control:
Gaming is an addictive activity, everyone knows that. In this scenario, Parents should make sure that kids are playing games on Xbox and not exposed to adult content.
The Xbox comes with built-in parental controls. Parents can block and restrict content they don't want their kids to watch.
Part 3: Parental Control Tips for Social Media and Websites
In many cases, kids bump into adult content by accident. A mature mind can easily handle inappropriate content. It is hard for an immature teens mind to tackle any adult content on social media. Improper content damages the thinking of the pure brain of children.
For better online security, parents should consider the following:
Create Safe Digital Environment
Use Web Blockers
Use Ad Blockers & Extensions
Set up Facebook Parental Controls
Configure YouTube Parental Controls
Set up Netflix Parental Controls
Social media has a great influence on juveniles. That is why it is the responsibility of the parents to keep track of every digital activity of their kids.
For great parental monitoring and controls, give TheWiSpy a try. People around the globe get amazed by the advanced parental control features. TheWiSpy ensures secret monitoring and efficient parental controls to keep your parenting game strong.
Final Thoughts:
Keeping your kids safe in the advanced online world is quite a challenge. But parental monitoring apps, like TheWiSpy, have made this task easier. Parents can now monitor everything happening on their kid's smart devices more efficiently than before. Alongside with third-party apps, devices also offer built-in parental control app features. It is upon parents how would they like to monitor their kid's activities. Do you think you need to monitor your kid's digital space?