How to Ensure Your Childs Online Safety with Kid's Monitoring App?
Posted in Parental Control by Mike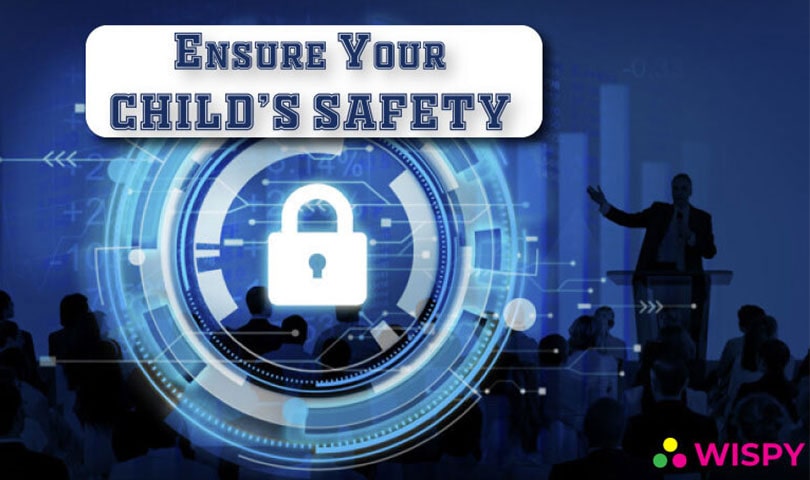 Keeping child's online safety, in the present fast going time, challenges every parent. Technology has grown so fast that almost every teen owns a mobile phone or tablet. Either for educational or learning purposes, mobile phones owned by the kids should always be supervised by their parents with the help of a kid monitoring app.
Parents worry about their children's protection. Knowing the hazardous effects of the internet, including; adult content, game addiction, cyberbullying, online predators, etc. parents don't want to compromise their child's online safety.
This article covers multiple ways to ensure your kid's physical and online safety.
Let's see how you can do it.
Why Parents should be Concerned about Their Childs Online Safety?
Are you anxious about your teen's digital space?
Are you concerned about your child's internet activities?
If yes, then you are worrying about the right thing.
The Internet is not a safe place for kids, not even teenagers. The online world is entirely different from the one we are living in. Anyone can approach whomever they want with easy access to the internet. Filled with online predators, bullies, hackers, and blackmailers the online world is not a secure place for juveniles.
It is reported that around 50% of youngsters have faced cyberbullying. Not only girls but boys also get the victim of online threats.
But, you have to worry no more because there are several ways to ensure your childs online safety.
Let's dig more into that and see how we can keep our kids safe from online dangers.
10 Ways to Make Sure that Your Kids are Safe Online
To ensure the online protection of your kids, you have to go the extra mile. Take precautions by considering how the internet can influence your children.
For better internet security, follow these steps:
1. Track Your Child's GPS Location:
Active GPS location tracking enables parents to know the exact locality of their kids. You can check the real-time location of your children with the help of a mobile tracker, to confirm that they are at school, college, or a friend's house. Moreover, parents can find out if their teens go to bars or pubs by tracking their location history.
2. Enable Safe Search:
Considering the threats for teens of the online world, Google has provided users with a safe search filter. Parents can enable safe search on their kid's phones and tablets to make sure they don't get exposed to violent, pornographic, or other types of inappropriate content.
3. Talk to Your Kids:
The best way to ensure that your child uses the internet safely is by telling them the pros and cons of the online world. Parents can only gain the trust of their kids by opening up to them. Befriend your teens and kids and let them know every detail about the online threats so they can stay protected.
4. Keep Eyes on the Computer and Mobile Activities:
Make sure the computer and smartphone your children use is accessible to you. Parents should keep tabs on their kid's mobile activities so that they can find out if their children are using the internet safely or not.
5. Monitor Social Media Accounts of Your Kids:
Social media strongly impacts juveniles. Make sure your children follow the right people on social media. For that, parents can observe and monitor the social media accounts of their kids. Parents can befriend their kids on social media platforms; such as Facebook, Instagram, Snapchat, etc. to keep an eye on the social activities of their children.
6. Enable Parental Control Filters:
Parents can always set controls on their children's digital activities. You can restrict your kid's digital space either via a router or using mobile and desktop tracking software. Blocking inappropriate webs and apps is the ultimate solution to keep your kids away from improper content. Also, parents limit the screen time and mobile or tablet usage of their kids with parental controls.
7. Teach Your Kids to Value Their Privacy:
The pure way to make your kids learn about the value of privacy is by talking to them. Ask your kid whatever you want and make them understand how to utilize the internet world by staying within the safe zone. Talk to them about the consequences of befriending strangers and other online threats that most teenagers face.
8. Always Stay Alert:
Knowing that teens make silly mistakes, parents should always get ready to handle any messy situation. For better kid's protection, parents should know the passwords of their children's profile. As a parent, you should check your teen's accounts to make sure everything is fine and your kids are safe from cyber dangers.
9. Set Ground Rules:
Fulfilling your child's wish either by giving them a mobile or tablet is not an issue. But, maintaining discipline is the utmost requirement. Before handing over mobile phones or any digital device to your children, set some ground rules first. Limit mobile usage and allow them to use any device with your permission.
10. Use a Third-Part App:
Want a better solution?
A third-party mobile spy app is your savior!
There are various types of mobile trackers, spy apps, and kid's monitoring software available out there to ensure the protection of your child in the online world. A kid's monitoring app allows parents to spy on every little digital activity of their children without their knowledge. So, if you want to keep eyes on your juveniles, a third-party monitoring app is all you need.
Wait! Here is more…
BONUS: TheWiSpy – The Best Kid's Monitoring App
If you want to ensure the safety of your kids online, TheWiSpy can be a great app to help you with that.
Just give it a try and explore amazing features for kid's monitoring.
TheWiSpy kids monitoring app enables parents to:
Monitor their child's mobile devices remotely
Listen to call recordings
Read text and IMs messages
Track GPS location
WhatsApp Spy
Monitor social media accounts
Block content
And many more…
Amazingly, TheWiSpy is compatible with various Android devices, providing parents to enjoy great kid's monitoring features within affordable packages.
How to Employ TheWiSpy for Kid's Monitoring?
TheWiSpy is easy to install and user-friendly teens tracking solution.
Here is how you can employ it:
Purchase TheWiSpy Subscription
Create an Account
Install TheWiSpy App in Your Target Device
Log in To Your Account
Open Dashboard and Start Monitoring Your Kid's Phone or Tablet
TheWiSpy app sends instant notification alerts to ensure efficient kid monitoring. People around the globe prefer this effective app due to its great practicability and efficiency.
Concluding Thoughts:
No doubt, kid monitoring is a necessity in today's world where cyber crimes are at an extreme. Parents can utilize technology to monitor their children phones effortlessly. Monitoring kids has been boosted with the help of child monitoring apps like TheWiSpy. So, if you want advanced monitoring features, try TheWiSpy and explore your kid's digital space.