5 Amazing Facts about Kids Monitoring Every Parent Should Know
Posted in Parental Control by admin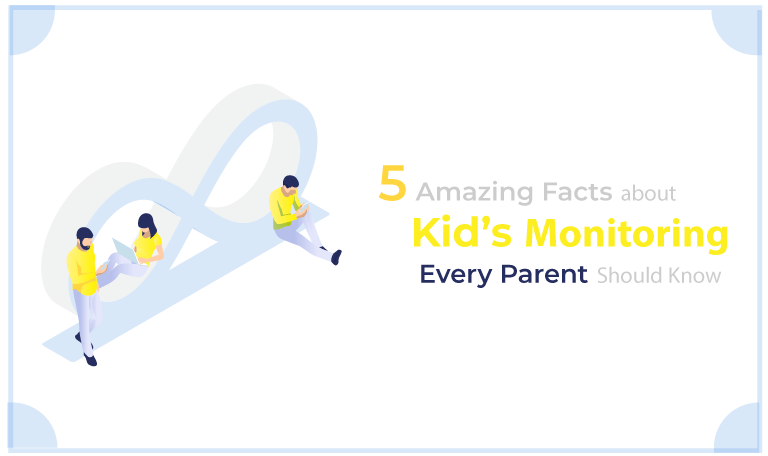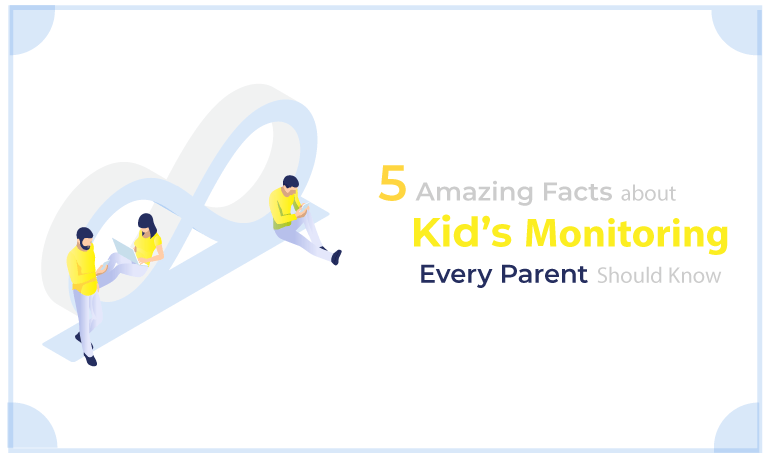 Do you think your kid can easily get manipulated?
Or you believe your child hangs out in a bad company?
Hang on!
The list of doubts and suspicions is infinite. But having uncertainties regarding your child's protection is valid. We live in a world where cyber crimes are common. Cybercrimes are not the only threat; digital addiction is also a nuisance.
Parenting comes with great challenges and responsibilities. Every parent wants his/her child to be safe even when they are not around them. As a parent, you can teach your kids the difference between good and evil. But when they start exploring the digital world, you can't guarantee what they do and to whom they contact online.
So, how you are going to ensure that your children are safe?
Here comes the phenomenon of a child's monitoring by which parents ensure that their kids are safe in the outside digital world.
Kids Monitoring – What is it?
Kid's monitoring means keeping tabs on every little activity your child does online or offline.
To know the real facts of kids monitoring, there are two ways;
Befriend your child so that he/she will easily discuss everything with you
Use a kid monitoring app to watch every detail of your child's activities online
Certainly, you can't be with your child all the time. That is why using kid's monitoring software is a better option.
Don't worry. There are plenty of apps to monitor your child's phone and tablet.
But before mentioning the top kid monitoring app, let us tell you some reasons regarding the importance of child monitoring.
Why You Keep Eyes on Your Child?
The online world is preposterous, especially for teens. As a parent, you should keep close eyes to your child's social circle and activities.
In today's modern world, our kids are all-time surrounded by random people; mostly adults. Well, an adult can influence your child either in a good way or a bad way. In most of the cases, children get manipulated and abused by grown-ups they know personally or befriended online.
There are a lot of possible threats that can exploit a kid's life. The most common dangers include kidnapping, sexual abuse, bullying, blind dating, sexting, games addiction, pornographic content, and many more.
It is important to keep close eyes on your children, especially their online and outdoor activities.
This is true that following your kid like a shadow is impossible. But why hassle when you can monitor your children digitally.
Now, let's come to the main point and discuss the ways and the facts of kids monitoring apps ease parents.
Kid's Monitoring App – An Ultimate Solution for Every Parent:
Thanks to technology, parents can now effortlessly monitor their children despite their geographical location. A kid monitoring app enables parents to look into every detail regarding the daily activities of their kids.
So, you don't need to ask anything from your kids ever again. Because kid's monitoring software is there to provide all the information you need.
5 Amazing Facts about Kids Monitoring Apps
Here are 5 amazing facts about kids monitoring apps every parent should know.
Monitor Everything Remotely
You Don't Have to Call Your Kids Repeatedly
Allows You to Give Some Space to Your Kids
Keeps You Alert
Boosts Peace of Mind
Let's dig into each of them and discover the ways parents can get an advantage from these.
1. Monitor Everything Remotely:
Kid's surveillance is all about knowing where your teen has been and what he/she does online. With a kid's monitoring app, you don't need to ask everything from your teens and make them offended. Whether it is the live location or call and chat history, you can monitor everything on Android remotely and secretly.
Here are some features that best kid's monitoring apps offer:
Call Recording
Spy Camera App
SMS & IMs Messages Access
GPS Location Tracking
Social Media Monitoring
WhatsApp Spying
Multimedia Monitoring
Screen Time Monitoring
And many others
Isn't it incredible?
Parents can discreetly discover whether their teens are at school or club. Also, kids monitoring software enable parents to find out if their children are studying or using smartphone and tablet.
Let's jump onto the next one.
But before reading further, ask yourself; are you a parent who needs to call his/her son or daughter multiple times a day just to make sure they are okay?
2. You Don't Have to Call Your Kids Repeatedly:
The second among all facts about Kids Monitoring apps is that every parent wants their children to be safe, but teens don't get it at all. They get annoyed with frequent calls from their parents.
That's a shame, isn't it? But kids, they learn with time.
As a parent, you can still do your job concerning the protection of your kids with the help of child monitoring software. Not only you will get to know who calls your kids, but you can also listen to the call recordings remotely and without the knowledge of your kids.
So, why bother your kids, while you still can listen to the telephonic conversation of them?
3. Allows You to Give Some Space to Your Kids:
As mentioned earlier, kids do get bothered with questioning and inquiring behavior of parents.
RELATED: Learn Digital Etiquettes To Monitor Kids
Take a chill and don't suffocate your child's personal space. As far as you are anxious about your teen's gathering and friend circle, monitor them secretly and you will never have to ask anything from them.
4. Keeps You Attentive:
A child monitoring app helps parents to know that if their child gets bullied online or receives threatening and abusing messages. Certainly, this is the essence of a kid's monitoring app that parents get alerts of every little threat and danger so that they can take proper actions to solve such menace.
So, don't be a lazy parent and stay alert about your kid's activities all the time.
5. Boosts Peace of Mind:
Parents indeed stay relieved when they are aware of everything related to their children.
Where kids go?
Who are their friends?
What they do online?
Whom do they contact?
If a parent is aware of such situations, it brings relief to them hence, boosts their peace of mind. Knowing that you can locate your kids anytime, listen to call recordings, monitor their social profiles, keeps you calm and stress-free.
BONUS:
Here is a little bounty for you. Below, we have mentioned the top 5 kid's monitoring apps you must try;
mSpy
The Phone Sheriff
The Spy Bubble
Mobicip
So, what are you waiting for?
Final Thoughts:
Suspecting your kids all the time negatively affects the parent-children relationship. Don't damage your bond and digitally make sure that your child is safe. Employ a kid's monitoring app in your kid's and teen's smart devices and explore their online world.