How Effectively Parental Controls Help to Create a Safer Digital Environment?
Posted in Parental Control by admin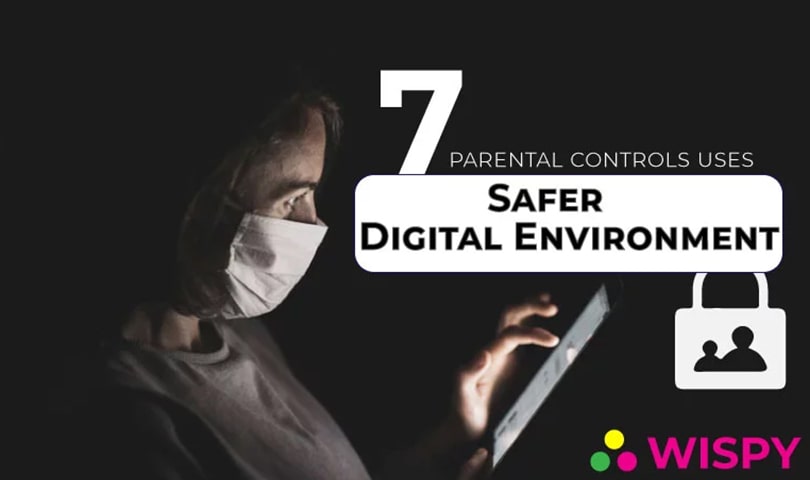 Today kids in safer digital environment have so much knowledge of smart devices than we ever had in our childhood. In the present age, even toddlers interact with smartphones or tablets for entertainment and learning purposes. Tweens and teens somehow spend more time using smartphones, tablets, and computers. Your child might use the digital space for educational purposes or to play games. The internet has become a necessity, and parents can not keep their kids away from the digital world. That's where parental controls software come to the rescue. Parental control apps are tools that help parents to control online activities and create a safer digital environment for kids.
Let's discuss how efficiently parental control apps can help you secure your child's online environment.
Is It Necessary to Control Your Kid's Online Space?
Kids explore everything. The internet space is full of information to help children learn new things. Parents must not withhold the use of the internet. The online world indeed contains potential cyber dangers, but it is the responsibility of parents to create a safer digital environment for their kids.
And how do parents secure the online space of kids?
Well, nothing can help you better than utilizing parental control tools.
The modern parents of today are somehow aware of the possible online threats that can harm kids.
Top Most Dangerous Cyber Threats for Teens
Here are the world most daunting cyber threats that can potentially harm children:
Cyberbullying: Kids not only get bullied at school but via online channels too. Cyberbullying is a nuisance that has exploited the online space for kids. An immense ratio of 59% of US teens gets cyberbullied by receiving hateful and mean comments through messengers and social media. It is reported that cyberbullying among kids can lead to severe depression and suicidal thoughts.
Online Predators: There are more than 500,000 offenders active online to harass and molest children. Online predators lure vulnerable juveniles and seek sexual benefits from them.
Explicit Content: The internet holds all sorts of content including; explicit pornographic videos, images, etc. Kids are always at risk to get exposed to adult content and develop addiction viewing such inappropriate content. Among children, 55% of the population accidentally watch violent content and 60% have unexpectedly exposed to sexually explicit content.
Addictive Games: 8.2% of the kids in the United States are addicted to games. Playing games creates a sense of euphoria among children that leads to addiction. Other than games, the trend of lethal challenges is adversely affecting the lives of children.
Hacking Attacks: Security breach is another intimidating act that can harm kids. Hackers can stalk kids online and blackmail them to take advantage of them. Pre-teens and teens are most vulnerable to such attacks.
So why put children at the risk of getting exposed to cyber dangers?
If you are thinking of spying on your child, don't go for this option. Spying for the cyber protection of your child is okay.
But, if your child finds out he/she is getting spied on, then it can disturb the trust relationship between you and your kid.
Instead of spying on kids, the only finest solution is to set parental control on the mobile devices of the kids.
The use of parental controls is an ultimate way to safeguard kids from the dangers of the online world.
Let's discuss how parental controls can help you secure your child's online space.
Parental Controls – How You Can Create a Safer Digital Environment for Kids?
Do parental controls actually work?
We know most of the parents have that definite question in their minds.
So, let's clear the wind and discover how parents can create a safer online environment and secure space for their kids.
Parental Controls Help You Monitor Online Activities:
One of the best things about parental control software is that you can remotely monitor teens phone online activities. Parents can highlight dubious words, such as; drugs or drink using parental controls. Parents can also get instant updates if their kid uses the highlighted words in their mobile conversation. With the help of parental controls, you can also reveal that if your kid is bullying or being bullied on social media. In short, parental control apps help you monitor the online space of your kids. There is no better way to teach your kids cyber etiquettes rather than using parental monitoring apps.
You Can Control The Screen Usage:
Experts say that parents must not use digital devices as an emotional pacifier for their kids. Parents today overlook the screen usage of their kids and let them use mobile devices as long as they want. Kids can indeed develop mobile addiction if you do not monitor their screen usage. As a result, you will find your kids glued to mobile screens. Spending much time on mobile phones or tablets, kids can develop bad posture and poor eyesight. To enforce a healthy lifestyle, parents should limit the screen usage of their kids. Fortunately, parental control apps work best for setting screen time restrictions on your child's phone. With remote access, parents can turn off the mobile devices of their kids whenever they find them overusing the cell phone and tablet.
Parents Can Block Apps:
There are thousands of apps available online; some are great for learning and educational purposes. Meanwhile, the internet also holds apps that are inappropriate for kids, such as; dating apps, adult apps, etc. Obviously, no parent wants their kids to indulge in something improper for their age. Well, amazingly, parents can block inappropriate apps from the Android and iOS devices of their kids using parental controls.
Parental Controls Enable You To Restrict Content:
Apps for controlling your child's phone provide features to restrict evil content from the screens of your kid's device. Popular apps such as Google, YouTube, Netflix, are offering built-in restricted mode. You can set an age limit on the Play Store. Restricted profiles filter wicked content and secure the cyberspace of your kids. If you want advanced restrictions, then you will require a third-party parental monitoring software. Apps providing parental control features give full access to the child's device to parents so that it becomes easy to control the mobile phones and tablets of teens and tweens.
You Can Track GPS Location of Your Kids:
Controlling your kid's device does not mean to keep eyes on the online activities only. Parental control apps enable parents to track the GPS location of mobile devices. You can easily find out where your kid went the whole day.
Nowadays tracking the children real-time location is necessary due to an increased rate of online threats. And parental monitoring apps ease your anxiety by keeping you detailed reports on your child's location history and active pinpoints.
Parental Controls Let You Geo-Fence Areas:
Another incredible feature of parental control apps is the proficiency to mark safe and unsafe zones on the map of kid's devices. Parents can effortlessly mark geographical boundaries on the target mobile devices. Parental control apps send notifications and parents can get instant alerts whenever their kids breach the marked safe zones.
Secure Online Space with TheWiSpy Parental Controls:
TheWiSpy parental control solution provides parents with an easy way to control and monitor the digital devices of their kids. With advanced parental monitoring features, parents can now keep a record of all the activities happening on the cell phones and tablets of their kids.
So, when are you getting a parental control software to secure your child's cyberspace?