What is Social Engineering? How Can Parents Safeguard Kids from Social Engineering?
Posted in Cyberbullying by Julie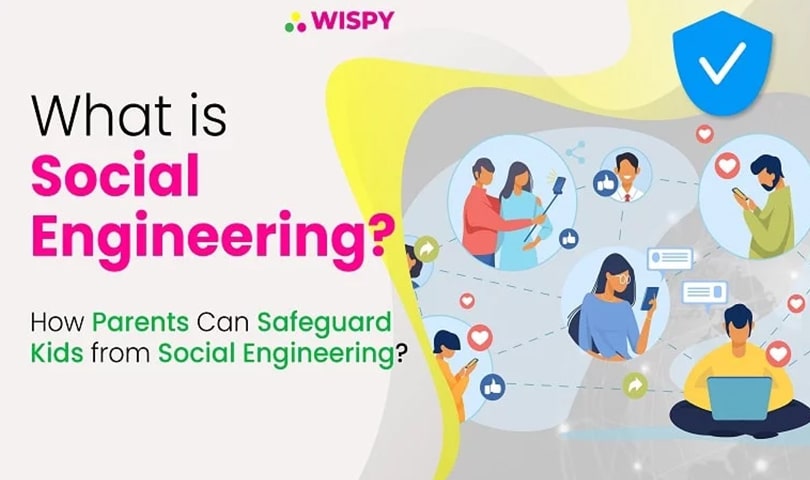 Are you familiar with the spy agent concept?
Of course, we all have seen detective movies. The notion of stealing someone's personal details is already practiced by cyber hackers.
You read it right.
Nothing is secure in the online world, not even your shared photos, checked-ins, and other information.
Behind most of the cyber-attacks, social engineering is the prime bait.
Do you know what social engineering is?
No?
Let's find out.
What is Social Engineering?
Social engineering is a gregarious manipulating tactic that takes advantage of the human error to attain personal details or valuables. In the cybercrime world, social engineering is a scam that lures innocent people to spread malware attacks, phishing links, and leaking confidential information of restricted systems.
Human hacking scams, including social engineering attacks, initiate through interpersonal communication. Perpetrators first gain the victims' trust and then manipulate them to share delicate details. Such as account passwords, bank information, etc. Hackers can also ask the victims to provide the computer or mobile access to install malicious software on digital devices secretly. In simpler words, social engineering cons people making them trust the perpetrator resulting in easy and successful hacking attempts.
What are the Reasons Behind Social Engineering?.
Social engineering attackers do scams or hacking attempts for either sabotaging the confidential details or for theft purposes.
Hackers can sabotage businesses and destroy corporate image by interrupting with their confidential data. Such social engineering attempts result in harm and inconvenience to the target person or venture.
Social engineering related to theft purposes obtains data that can be used for ransomware or stealing valuable things like money or credits.
You must have got the idea of what social engineering is.
Now, let's see how it works.
How Social Engineering Works?
Social engineering is a friendly hacking move. The hackers use their intersocial skills to motivate the victims into compromising data or passwords containing valuable assets.
Social engineering can relate to catfishing and online deception.
Obviously obtaining personal information from someone is not a one-day task.
The hackers follow the ambush predation strategy. They wait until the victim is prepared to give up his/her details. And then, the perpetrators strike to get benefit from the attack.
Social engineering cycle involves the following steps:
Getting Ready:
The first step in social engineering is gathering background information of the target person or business.
Infiltration:
It is the second step in which the perpetrator engages with the target and starts communicating with him/her. Such interpersonal relationships build trust between the perpetrator and the victim.
Exploitation:
Once trust is established, it's time to attack. Exploitation is a crucial step in social engineering that involves the main strike.
Disengagement:
The last step in which the attacker disengages or ghosts the victim leaving with no explanations.
Social engineering attacks may take a few days or year-long conversations to befall. The thing that everyone should be aware of is that we all are responsible for securing our personal details online.
Social Engineering & Teenagers – How Parents Can Safeguard Kids from Social Engineering?
Teenagers trust online friends more easily. We can say that kids and teens are most vulnerable to social engineering attacks. Parents must teach their kids about who and what to trust. Also, kids must be taught that they should always surf through secure websites.
According to researchers, social media can serve as a primary medium for social engineering.
Stats showed that;
93% of teenagers have access to computers.
84% of teenagers own cell phones.
50% of teenagers tell their actual age on social media.
41% of kids mention their cities or hometown on social media.
45% of teens share their school name on social media profiles.
14% of teens' profiles have cell phone numbers of the user.
9% of teenagers share exact locations on social media.
Well, with such unlimited internet exposure, it is challenging for parents to keep their kids in line. However, parents can safeguard their kids to teach them regarding social engineering tactics wandering in the online world.
What do Social Engineering Attacks look Like? It's Time to Aware Kids about Social Engineering:
Kids ramble in the cyber world fearlessly, as no threat can harm them. As a parent, it is your responsibility to make your kids aware of the roaming cyber dangers that can target them anytime.
Social engineering attacks do not look like hacking attempts at all. Trust is the foundation that smoothes out the process of social engineering. Parents must tell their kids how such attacks can target them.
Here are some examples of social engineering attacks:
Email from a Friend: Any Email containing an unknown URL or download file asked to be clicked.
Email from Another Source: Any Email containing phishing links. Such links offer coupons or gifts. Obviously, the hacker baits the users just to make them click on the phishing links.
Online Friend Asking for Password: Any online friend asking for your password. Hackers can trigger your emotional side and ask for your email or social account passwords.
We all live in a fast time of technological evolution. It is quite difficult for parents to cut off their kids from tech devices. Instead, parents can monitor their children online and make sure they surf in a secure digital space?
But how?
RELATED: What is Identity Theft & How it Destructs Your Online Presence?
Continue reading to find the solution.
How Can Parents Save Their Kids from Social Engineering?
Through social engineering can have dire consequences, yet parents can save their kids from such a menace.
Below are some tips for parents to help them teach cyber etiquettes among kids and tell them. How to avoid social engineering and other cyber threats.
Clear Communication:
Talk with your kids. Tell your children about cyber dangers and how kids can get lured by online threats. Mention cyberbullying, online predation, gambling, pornography, dating networks, and anything that can potentially harm your kids.
Don't Ignore Privacy Settings:
Sow your kids how to set privacy on Facebook and other social media platforms. Make your children aware of the importance of privacy and ask them to be protective regarding their personal details.
Talk About Updates & Installations:
Tell your child how random updates can leave malware on mobile devices. Teach them how to install secure apps and updates. You can also tell your kids to come to you. When they need to install a new program or app on their device.
Create a Standard User Account:
By creating a standard account, you can withhold the device credentials and keep a record of your kids' digital activities.
Use Parental Control Apps:
A parental monitoring tool is a pro tool for parents to limit the online space of children. Parents can look into the social accounts and emails of their children. Moreover, parental control apps help parents restrict the screen, track location, and block insecure websites/apps remotely.
Looking for a Reliable Parental Control App?
If you are worried that your child might confront cyber dangers, it's time to control his/her online space. We recommend you TheWiSpy app that effectively helps you control and monitor the digital activities of your children. With high-end monitoring features and quality parental control options. You can leverage TheWiSpy app and keep security threats away from the screens of your kids.
The Final Words:
Social engineering is a growing menace in the online world. Neither businesses nor personal details are secure in the digital space. Kids befriend strangers on social media platforms, and yet they are highly vulnerable to social engineering attacks. Parents can restrict the screen usage of their kids using reliable parental control apps like TheWiSpy.