What is Parental Control App? Why Do You Need One?
Posted in Parental Control by admin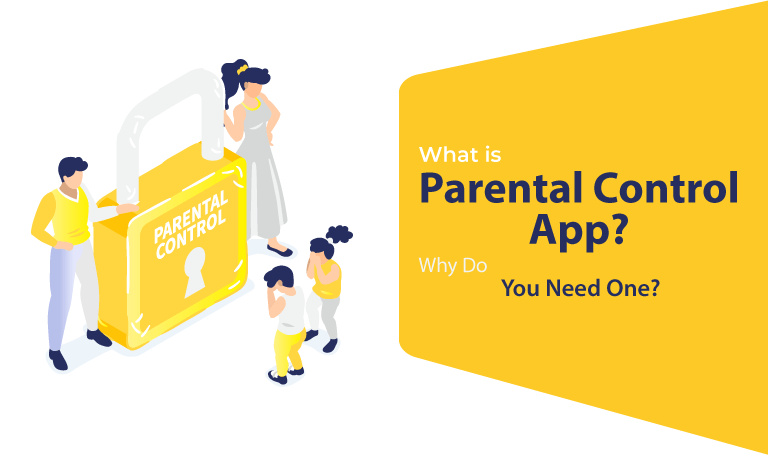 In today's tech world, keeping your child away from digital devices is impossible. Kids learn new things, and digital devices boost their learning capacity by providing more effective educational practices.
Trust us, kids learn more quickly with animated practices than traditional approaches. This doesn't mean that you should give smartphones and tablets to your children without any supervision. Obviously, no one can ignore the threats of the digital world.
Speaking of parental control apps, you can't avoid giving your child a learning tab, though you can monitor their digital activities. When we talk about teenagers, parental control software is a must because teens are easily manipulated, and can't differentiate between good and evil.
If you are unaware of parental control applications, keep reading this article and explore ways to control the digital space of your kids.
What is Parental Monitoring App?
Parental controls are digital features that help parents to restrict and limit inappropriate content on the devices of their children. Using parental controls, you can restrict improper websites, addictive games, internet access, etc. on the mobile phones or tablets of your kids.
Kids are always curious. Giving your juveniles unsupervised and unlimited access to the internet can cause harm to their brains and personalities. This is because the internet contains everything, either productive or destructive. If parents stop supervising the online space of their children, they might get exposed to indecent content.
The main purpose to design parental monitoring app is to save juveniles from the threats and harm of the online world. Parents can create a safe digital environment for their kids by limiting the access of certain content that can damage the thinking of their kids.
Now, let's look at the potential dangers present in the digital world.
Online Threats and Dangers:
We all use the internet. And thus, every person knows about what type of threats surround the cyber world.
So, why ignoring the red flags for protecting your kids?
Here are some potential online dangers which can spoil your children:
Online Predation
Sexting
Cyber Bullying
Game Addiction
Violent Content
Blasphemy
Pornographic Content
Online Dating
And many more…
Pedophiles actively find chances to get in contact with juveniles. The internet is an easy medium to approach anyone. And hence, child molesters and other maniacs use online platforms to reach vulnerable kids and take advantage of them.
So, why take a chance? Step up and protect your kids from online dangers using best rated parental control apps in the market.
Top 5 Parental Control Apps to Boost Parenting:
Parents who care about the online safety of their children often ask;
Which is the best parental control app?
Let us ease your worries.
Here are the top 5 parental control apps:
FamiSafe
Norton Family
Qustodio
mSpy
The above-mentioned parental control apps provide high-tech and advanced monitoring and device management solutions.
Wait!
The story doesn't end here.
We have a lot more exciting information to tell you about parental control apps, so keep reading.
Top Benefits of Parental Control Software:
The main reason to employ parental control software in the mobile devices of your kids is to make sure that they are safe online. Despite countless threats, you must not stop your kids to explore the internet world. Though, you can use parental controls to ensure your child's safety online.
Here are some top benefits of parental control apps, you must know:
1. Ensure Online Safety:
The digital world offers unlimited space. Cybercriminals take advantage of the huge online medium to conceal their identities and attack vulnerable people.
Well, if we talk about children, juveniles are more susceptible to get preyed by a molester or pedophile. It is the responsibility of parents to make sure that their children are using mobile devices safely and are secure in the online space.
Parental control apps relieve parents by ensuring the cyber safety of their teens and kids. Parents can create a safe digital environment by restricting and allowing media suitable for their children.
Online protection is a major purpose; let's see what benefits parental control apps offer.
2. Limit Screen Time:
Does your child spend too much time on a tablet or smartphone?
Are you worried that using smart devices for too long will negatively affect your child's grade?
Don't put too much pressure on your brain, while parental control software is available out there.
All you need to do is to install a parental control app in your child's device and set time limits for screen usage. We all know that too much screen usage leads to poor eyesight, bad posture, and many other negative effects.
So, why wait when you can manage the screen usage of your kids?
3. Restrict Internet Use:
Too much internet can exploit your kid.
Thanks to parental controls that give parents access to restrict internet usage when needed. You can set time limits and allow restricted hours to use the internet with parental controls. Amazingly, when the time's up, the internet stops working.
4. Block Improper Apps and Games:
Game addiction is not uncommon in children. Teens get also indulge in violent or adult content.
No worries!
You can block any inappropriate app, web, and content using good parental control software. So gear up and protect your children from the threats and dangers of the cyberworld.
5. Monitor Digital Activities:
Parental control software has made life much easier for parents.
Not only you can control the smart device but also view their social media accounts, call logs, read messages, and monitor many other digital activities remotely.
The beauty of a parental control app is that it enables parents to monitor their teens without their knowledge.
Final Thoughts:
Controlling you the online space of kids is quite a challenge. But by the virtue of parental control software, it becomes easy to manage and monitor the digital activities of your kids.
Do you think you need an app to control the digital space of your children?