Does Android Spy Apps Guarantee Data Protection?
Posted in Android Spy by Julie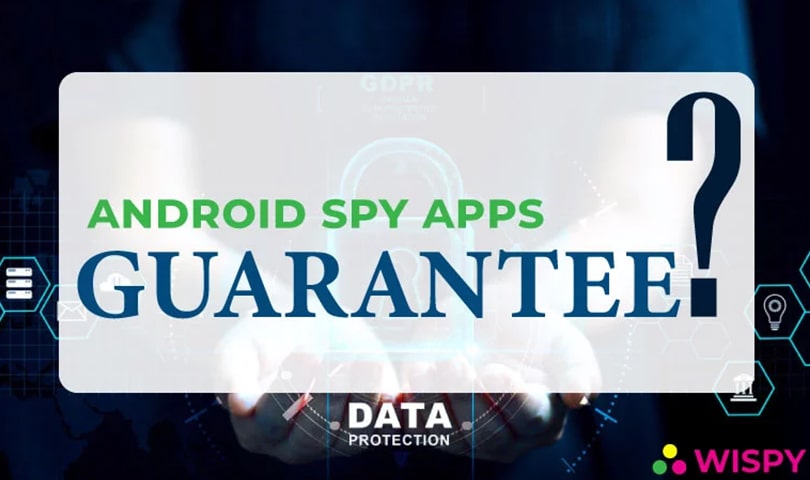 Android spy apps have become a hot topic in the present era. Technical modernization has enabled us to spy on Android phones effortlessly. People, in a considerable number, are leveraging the advanced features of Android spyware to make sure their loved ones are doing okay.
But, is it really safe to use an Android spy app?
Does Android spyware ensure data protection?
Well, we can't deny the fact that the internet is full of cons. Even the safest computer systems get hacked. Despite cyber security threats, many other online dangers can directly or indirectly harm you.
To protect kids and families, people go for Android monitoring tools so that they can ensure that their loved ones are safe from online dangers.
If you are a newbie in the technical world and don't know whether Android spyware is safe or not, this article is going to help you a lot.
So, let's get started.
Android Spy Apps – Data Protection Guarantee or Not?
The use and demand for top hidden spy apps for Android are flaring every day. With more and more Android users, the need to spy their devices is increasing exponentially.
Here is what an Android spy app does;
Interacts with the operating system of the target device.
Runs in the background.
Gathers all the digital activities happening in the target device.
Uploads the gathered details to a web-based dashboard from where you can monitor everything.
If you are wondering what type of digital data Android spyware gathers, then here is a glimpse of what you can track with such apps.
Call Recordings
Call Logs
Contacts
GPS Location
SMS / Emails
Instant Messenger Text Conversation
Social Media Activities
Web Browsing History
Multimedia
And many more…
Now, that you have an insight into the working and features of Android spyware, let's move towards the security perspective. The internet may lie when you search for the best Android spy apps, but that doesn't mean that there are no secure spying apps available.
You need to pick the right spying app for your Android target device very carefully.
Here are some tricks that will let you know if Android spyware is secure or not.
Do Some Market Research:
Before you buy an app to spy Android phone or tablet, make sure to consider all the options available. Do some market research and narrow down the best Android spyware based on the features, functionality and affordability. You can test the spyware demo from the website of the service provider. Make sure the app you choose provides efficient customer and technical support to help its client spy effortlessly.
Once you choose the suitable Android monitoring app, try to find reviews and related material to clear the cloud regarding the security of the app. The internet will tell you everything.
Read the Privacy Policy:
Every mobile monitoring software has a privacy policy to acknowledge the customers about how they gather and process the data. As the name indicates, spying apps fetch the digital data including messages, pictures, emails, contacts, etc. The thing that you should be worried about is whether the spying app company shares your details with other parties or not. To make sure, you have to carefully read the privacy policy of the spyware service provider. If the app ensures data protection and yet in future, you face security compromise, then you can take legitimate action against the company.
Also, try to avoid fake claims by spyware companies such as; spouse monitoring, girlfriend/boyfriend spying etc. No law allows to monitor the spouse. Keep in mind that spying on someone who is an adult without their consent is illegal.
So, if you find any Android monitoring app that encourages or claims to provide spouse monitoring spyware, consider it as a scam.
Never Fall for Free Spying Apps:
Remember that everything has a price, and so does reliable and secure Android monitoring software. If you search the market, you will find many spyware offering free of cost cell phone tracking services.
Well, a free trial can be fortified, but whole spyware without any charges must be fishy. To avoid data hacking and misuse, always go for paid spyware apps as they are more secure and trustworthy.
Carefully Set Up the App:
Once you have install the spyware in your Android target device, make sure you configure the app attentively. The spyware will ask for certain permissions, cautiously read every clause and then allow the app to start its function. Make sure the spying app does not ask to save passwords and credit card details. If it does, there is something suspicious.
Consider Customer Reviews:
One of the best ways to ensure the authenticity of any app is by reading its customer reviews. Customers never lie. You can read the reviews and ratings of the Android spy apps to know which one would be best for you for data protection. If spyware is a scam, the customers will surely mention it.
So, by now, you might get the idea about how to check if an Android monitoring app is secure or not.
Here comes the bonus part. In the following section, we have an incentive for you.
Let's see what it is.
TheWiSpy – The Best Android Monitoring Tool Trusted by People Worldwide:
To save your time searching for the leading parental monitoring app, here is the most demanding app of the year – TheWiSpy. With a number of satisfied customers, TheWiSpy is providing advanced Android monitoring solutions to help parents track their kids without being physically around. Not only parents but businesses around the globe prefer TheWiSpy for employee surveillance.
Conclusive Thoughts:
Nobody can guarantee if something on the internet is safe or not. There are countless malware attacks that people face every day. In the case of mobile spy apps, you can tell whether the spyware is secure or not by following the above-mentioned tricks. Keep in mind to never fall for the glitters of the internet as it may sting you. Choose wisely and secure the online space of your loved ones.