Why Android Spy Apps are Gaining Popularity?
Posted in Android Spy by Julie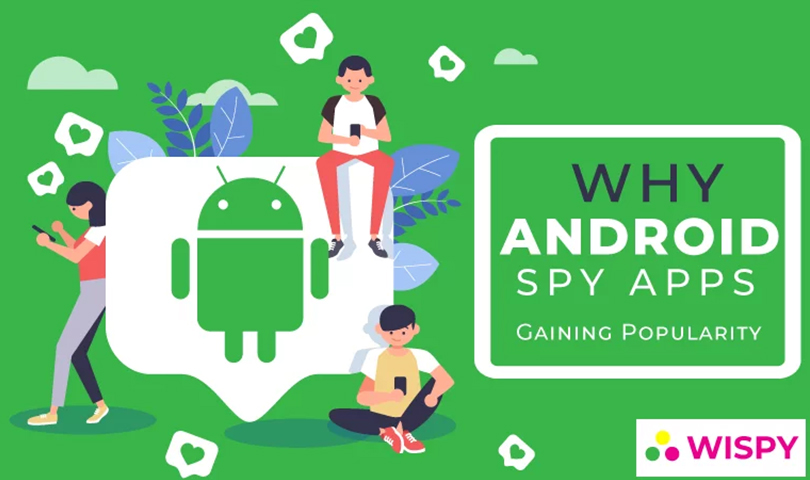 Ever tried Android spy apps to track someone?
Well!
Most of us did. That is why the popularity of the top Android spy apps is increasing every day.
Android smartphones have a huge market out there. People around every age use smartphones and most of them possess Android devices.
Spying on Android devices, most importantly, benefits parents to monitor their kid's phones. The apps to spy on Android help enterprises to keep an eye on their employees.
Monitoring someone else's mobile phone for legal purposes is tolerable. It is totally illegal to use monitoring apps for stalking or blackmailing is against the law and causes some serious consequences.
There is a huge audience demanding spyware to monitor their loved ones or protect their sensitive data.
But what makes the spy software for Android so trendy?
Before going to the reason why cell phone spy software is getting popular? Let's see how mobile spyware operates.
Android Spy Apps – How They Work?
Mobile spyware is multi-functional. With a cell phone monitoring app, you can monitor the digital activities of juveniles; including your kids and teens.
Cell phone monitoring enables you to read sent and received text messages, listen to incoming and outgoing call recordings. Moreover it monitor social media accounts, and many more from your target device.
The major function of spyware is to secretly scan the target Android phone and fetch data from that particular device. Mobile spyware runs in the background of the target device.
First the spyware picks and transfers all the information of the target device to the account linked to that specific software. For that purpose you need a stable internet connection for the proper functioning of the app.
An uninterrupted network efficiently transfers data from the target device to your account.
Almost every Android spy apps require physical access to the target device for installation. And once installed, you can remotely monitor target Android phone or tablet without any suspicion.
The Rising Popularity of Android Monitoring Apps:
Due to increased demand, mobile monitoring apps are becoming more and more common.
But why would someone need spyware?
There are many reasons for that, some of which are as follows:
· Kids Monitoring:
The cyber-world is, no doubt, full of online bullies, predators, blackmailers, and many other threats. If we talk about learning, the internet efficiently helps kids to learn new things.
But on the other hand, the internet has a dark side too. Websites may contain content that would be inappropriate for children; including violent videos, pornography, or religious controversies.
Now As a parent, you must would not allow your kids to access such intense content.
For this reason, parents use mobile monitoring apps to ensure that their kids are surfing safe content on the internet. Also, Android spy apps enable parents to set up parental controls and manage their kid's digital space.
Top rated Android spy apps allow parents to monitor their kid's smart devices remotely and secretly. Parents can now check the school performance of their children by installing spyware on their mobile phone or tablet. Also, with amazing parental control features, the best Android spy app enables parents to limit screen time and manage other phone activities.
Other outstanding features of an Android spy app allow parents to;
Track their kid's active location to make sure that they are safe.
Block inappropriate apps and websites containing improper content.
Monitor their kid's social media accounts to ensure that their children are not facing cyberbullying, blackmailing, or other online threats.
Android spyware has proven to be the ultimate solution for parents. Especially, working parents need it the most to ensure their kid's protection against the online dangers.
· Employee Surveillance:
Keeping eyes on the performance of staff results in enhanced work productivity.
Employee surveillance helps companies to detect and catch corrupt and deceptive employees. For the security of confidential data, businesses employ cell phone spy apps in the work phones of their staff.
Spy apps for Android; extensively assist ventures to effectively measure their staff performance.
With a unique employee monitoring app, employers can:
Check whether their staff is working or not
Track active GPS location in case of sick leave
Enhance business productivity by letting workers know that management is monitoring their activities.
Catch unreliable and deceptive employees
Companies often face fraud that cost them a lot. To prevent such conditions, ventures now started to employ employee monitoring software for Android in the work phones and desktops of the company.
· Personal Data Backup:
Interestingly, people use mobile spying apps for personal data backup too.
People employ cell phone monitoring apps in their mobile devices to save information stored on their mobile devices. Also, spying apps help people to find their lost devices with active GPS tracking.
TheWiSpy as the Best Android Spy App
When you start searching the top-notch android spy app, you may find many brands promising state of the art mobile monitoring features.
Always keep in mind that words do not make an app exceptional, functionality does. With extensive mobile spying features, TheWiSpy has beaten its top competitors. From core to advanced features, the app covers all spying aspects. It is easy to install and provide a good user experience.
To get TheWiSpy installed in your target device, you have to follow these steps:
Purchase the License of TheWiSpy App
Install TheWiSpy App in Your Target Device
Sign in to Your TheWiSpy Account
Open Dashboard
Start Monitoring
Note that you need physical access to the target device to install the Android spy app in it. Installation of Android spyware without having access to the target device is quite impractical.
Final Note
The Increased number of cyber threats has lead parents to ensure their safety with the help of mobile monitoring software. Although the competition among spyware is so high.
Finding the best hidden Android monitoring app is not impossible. Give TheWiSpy a try to monitor your target device. If you do not get satisfied then you are free to choose other spy apps. But, first, ask yourself, do you need a mobile spy app?