Can I Remotely Spy on Android Phone?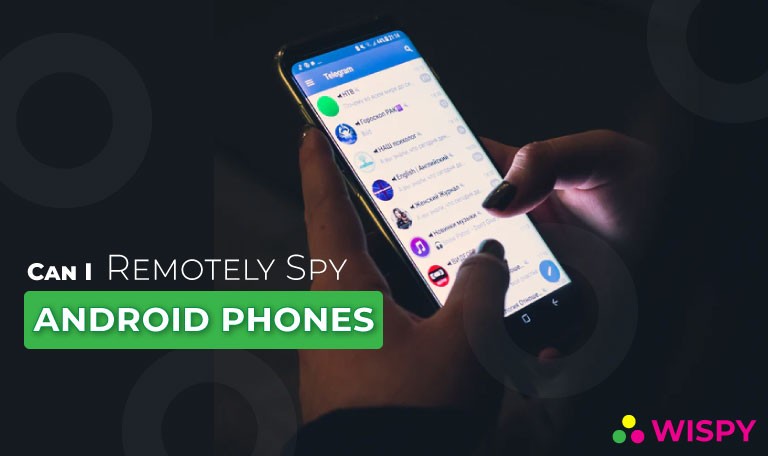 Technology never ceases to amuse us. Every year brings new technological innovations that make us more amazed than ever before. In the previous decade, spying on someone's phone looked like an impossible task.
A person may have several reasons to spy on someone's phone or tablet. As the number of mobile phone users increases, people become more and more curious to crack the digital space of others.
In a positive view, a person may need a cell phone monitoring app to make sure their family members are safe outside. Furthermore, an employer may require spying software to ensure their workers are at a designated place or not.
But is it possible to spy on someone's Android phone?
The answer is yes!
Thanks to digitalization, that has enabled us to remotely spy on cell phones
If you observe the surroundings, you will see that the majority of people around us are Android users. Following the demand and supply phenomenon, mobile app developers have created several best Android spy apps. Using Android spyware is an ultimate solution to enable remote monitoring of smart devices.
Are you seeking ways to remotely spy on Android cell phones?
Worry no more!
Continue reading and discover how you can remotely monitor Android devices.
How to Spy Android Phones and Tablets without Having Physical Access?
For effortless mobile phone spying, install advanced Android monitoring software.
Let us help you with that; the following are some top-ranked quality Android spy apps in 2022.
TheWiSpy
Mspy
XnSpy
TheOneSpy
MobiStealth
FlexiSpy
Though Android spying can be done using spyware what exactly these apps are offering?
What Can You Monitor Using Android Spyware?
Well, every Android spyware is unique and specific to advanced monitoring features. Even though the purpose of the spy app is designed to ensure employee surveillance or kid's monitoring, the basic features of every spy app remain the same.
Android spying apps enables you to:
Listen to the Incoming and Outgoing Call Recordings
Monitor Call Logs
Read Sent and Received Text Messages and IMs
Track GPS Location
Monitor Location History
View Gallery
Read Sent and Received Emails
Monitor Browsing History
Listen to Surround Recordings
Monitor Social Media Activities
Monitor Apps
View Calendar Events
And loads of other things…
Aren't such features enough to spy your target Android phone?
Note that every spy app for Android offers exclusive features, so if you want to spy on your kid's Android phone or tablet make sure that the certain Android spyware offers Child's monitoring features. Or in the case of employee monitoring, ensure that your Android spying app offers staff surveillance.
It is always better to get a full-packaged Android spy app like TheWiSpy.
Let's tell you more about this amazing Android spyware.
How TheWiSpy Can Benefit You In Android Spying?
TheWiSpy Android monitoring app comes with comprehensive features of cell phone monitoring. It is a complete packaged cell phone spy app that can be used for kid's monitoring, employee surveillance, and personal data storage.
We have categorized its benefits so you can get a clearer image of this spyware.
TheWiSpy for Parents:
If you are a parent, looking for a way to keep track your child's online and offline activities, TheWiSpy is your savior.
Here are some advantages, parents can get from TheWiSpy:
24/7 Remote Cell Phone and Tablet Monitoring
Listen and Read to Incoming and Outgoing Calls and Messages
Detect Online Dangers including Cyberbullying, Sexual Harassment, Life Threats, and others
Restrict Inappropriate Contacts, Apps, and Web
TheWiSpy for Businesses:
Employee monitoring has become the talk of the town since companies discover an urge to manage and record staff activities.
TheWiSpy offers the following benefits for businesses around the globe:
Spy on Android Work Phones whenever you want
Track Active GPS Location to find out where Your Employee is
Keep Eyes on Desktop and Mobile Activities of Your Staff and Protect Your Business from Dangers
Find out Deceiving and Disloyal Employees
TheWiSpy for Personal Use:
As it is said; Prevention is better than cure. Some people follow such a rule when it comes to the protection of smart devices.
If you are one of them, TheWiSpy can help you in the following ways:
Track Your Android Phone Location in case of Theft or Robbery
Keep Your Phone with You on Cloud, all the Time
Recover Previous Data
Back up all the Saved Android Phone Data
So, if you are interested in spy on Android phone, we must recommend you TheWiSpy app.
It is easy to use the app. The bonus point is, you don't have to go through a long and annoying installation process. You are only a few clicks away to install and explore the stunning features of TheWiSpy Android monitoring app.
TheWiSpy Installation Process:
Want easy installation and instant Android spying?
Follow these simple steps to get started with TheWiSpy:
Purchase Your TheWiSpy License:
Get registered with TheWiSpy by purchasing the license.
Install and Setup the App in Your Target Android Phone:
Open the Installation URL sent to you by email. Enter the license key and passcode. There might open a few more options to set up TheWiSpy regarding your OS.
Read Also: Install A Spyware on Mobile Phone Remotely
Start Spying:
Log in to your TheWiSpy account from any browser and start spying your target Android device remotely and secretly.
So, stop beating around the bush and spy any Android device efficiently with TheWiSpy app.
Conclusion:
Thanks to technology for enabling us to monitor and spy on Android phones and tablets remotely. Today, you can simply install Android spyware in your target device and spy anytime anywhere. Among all top-rated spy apps, TheWiSpy has proved to be the best one all in one spyware.
So, if you want to spy your child Android tablet, or have doubts regarding your employee, just install TheWiSpy in the target device and you're all ready to explore their digital world.
If you are being hesitated to move forward, you can always explore the Demo of this app from the official website and discover the high-end features of TheWiSpy. So let's get started.