Is It Possible to Turn Off Childs Cell Phone or Tablet Remotely?
Posted in Parental Control by admin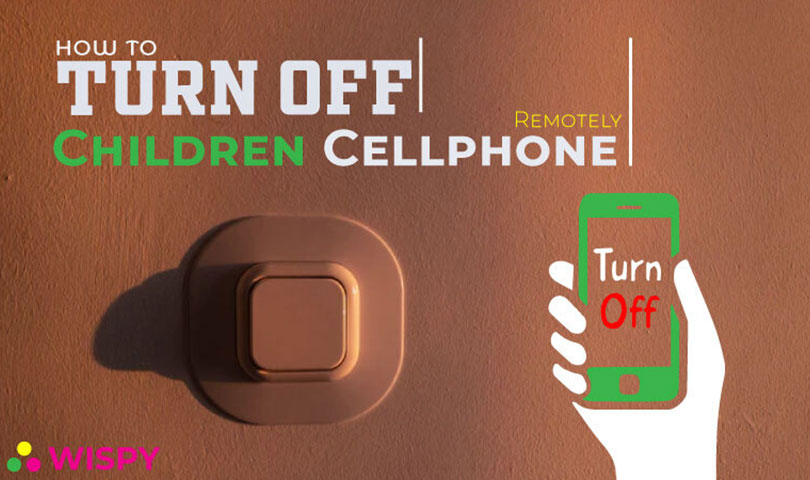 The search engines are full with curious parents asking "Can I remotely turn off childs phone, smartphone or tablet?".
Well, with the increasing rate of cyber threats, parents getting worried about the digital space of their kids are justified.
Kids of the modern age are so different from past generations. Instead of playing outside, children now are busy playing games online. Whether it is PUBG or DOTA, our teens and tweens are under full control of the online world.
In such a situation, taking away your child's phone or tablet won't help.
Because who might know if your child gets his/her phone while you're asleep and start using it again?
The only solution to control the screen usage of your kids is setting a lock on their digital devices that only parents can unlock.
Buy Monitoring App >>
In this article, we are going to uncover some tricks that will help parents to control the online space of their kids by shutting down their smart devices remotely.
Kids and the Overuse of Smart Devices:
If we recall how kids in the 90s were brought up, no one will find any mobile devices interrupting playtime, study time or sleeping time. Today, we find kids glued to their mobile devices as no other world exists. Teens take their cell phones and tablets everywhere. The thing that haunts parents is the negative physical and mental effects of the online world.
Poor eyesight, bad posture, headaches, anxiety, depression, etc. are some common signs of mobile and tablet over-usage.
Nobody asked for such a life for their kids; and here we are telling our children not to use too much of their smart devices. Putting restrictions on them, trying every effort to keep kids away from the cyber dangers.
Despite wasting the energy, parents must take the smart road; control the cell phones and tablets of their kids remotely.
Let's see how parents can control the screen usage of their kids using built-in and third-party parental control options.
Control Your Child's Screen Usage – How to Turn Off childs Phone Remotely?
Do you know that technology enables you to turn off your childs phone devices from dusk till dawn?
Yes, there are multiple ways that help parents control the screen usage of their kids.
So, let's start with the built-in and free screen control options.
Turn Off Your Childs iPhone Remotely:
With the new update of iOS 12, Apple allows parents to control and manage the mobile usage of their kids using Screen Time. With this feature, parents can easily limit the screen time of their children by setting time restrictions. Such settings are password-protected, which means only the person knowing the password can disarm the restrictions.
Here is how you can limit screen usage on iOS:
Open Settings
Tap on Screen Time
Enable DownTime
Select the Time Limit
From the screen time, parents can set app and communication limits, allow certain apps, and restrict content from the phone. By enabling screen time options, parents can have peace of mind that their kids will only use their phones and tablets while allowed.
MUST-READ: Is Using Parental Controls is Legal
Another amazing option offered by iOS is Family sharing from which parents can have a detailed report on the digital activities of their kids.
Turn Off Your Child's Android Phone Remotely:
Android has an amazing option of controlling your child's phones and tablets, and that is the Family Link app. With the Family Link app, parents can restrict content, block apps, and turn off childs phone device targeted remotely.
Here are the steps to follow to get started with the Family Link app:
Download the Family Link app on your kid's device and your personal phone.
Create a Family Manager account from your app.
Set up your child's profile.
Set Bedtime, and limit apps on your kid's phone.
For instant shut down, open your kid's profile and turn off childs phone remotely.
The incredible thing about the Family Link app is that it can be used on both Android and iOS devices.
If you want more cutting-edge features to completely control your child's digital space, then you must go for a reliable and efficient parental control app.
Let's discuss the features and benefits of parental control apps in detail.
Third-Party Parental Control Apps – Control Your Kid's Phone Remotely:
Best Parental control apps are booming the internet world by providing latest features that enable parents to keep eyes on the mobile and tablet usage of their kids. Amazingly, to enhance digital monitoring, such apps assist parents a lot to know everything happening in their kid's smart devices.
Let's have a look at the incredible qualities of the parental control app and see what parents monitor with such tools.
Top Parental Control Features To Track Child Phone Remotely
Remote Controls: Parental control apps provide you with complete access to your kid's device, which means you can monitor and control everything happening in your child's phone. You can turn off childs phone, delete images and messages, and set restrictions remotely.
App Blockage: This is another fantastic feature to control the kid's phone usage. Parental control apps allow you to block inappropriate apps such as dating apps from your child's phone without any suspicion.
GPS Tracking: Parental control apps enable parents to track the whereabouts of their kids. No matter where your child is, you can track him/her down using a parental monitoring tool.
Geofencing: Parents can now mark safe and unsafe zones with the help of parental control apps. Geofencing alerts notify parents if their kid enters the insecure territory.
Content Restrictions: Using parental monitoring tools, you can restrict evil content from the phones and tablets of your kids. Content restrictions hide bad images, videos, etc. and create a secure cyber environment for kids.
Screen Time Monitoring: This feature allows parents to know how much time their kids spend using mobile phones and tablets. Screen time monitoring records daily reports on the digital usage of mobile devices.
A parental control app can be the need of an hour for every parent because the cyberworld is much more dangerous than we think it is.
If you seek an all in one parental control and kid's monitoring solution, TheWiSpy app is the ultimate tool for you.
The Final Word:
Watching your kids playing mobile games day and night must be troubling you regarding their physical and mental health. You can't just take away phones and tablets from your children. But, you can digitally control their mobile usage with the help of parental control tools. Are you ready to get parental control software to manage your kid screen time?
Buy Now >>