5 Best Remote Free Kids Monitoring Apps for Parents – TheWiSpy
Posted in Kids Monitoring by Julie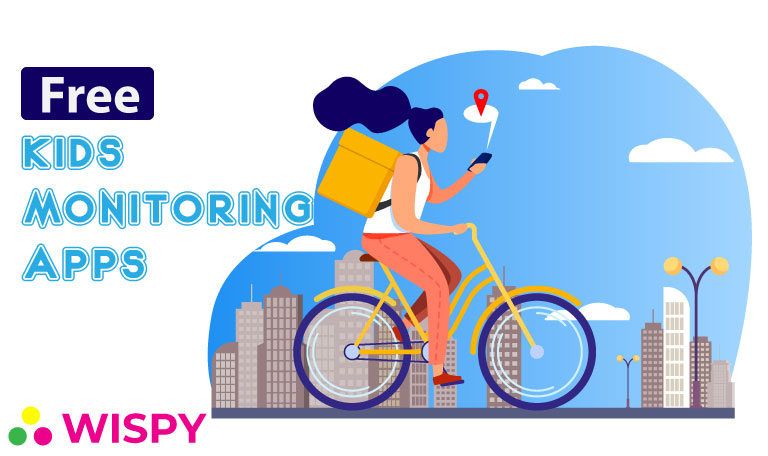 Do you know why remote free kids monitoring apps are so in demand?
The year 2020 has made us confined to our home boundaries. Staying at home can save kids from the physical dangers of the outside world such as; evil company, kidnapping, etc. But, we must not forget that our kids are getting exposed to mobile devices more than ever before. Smart devices can assist in learning by helping us in online classes, assignments, etc. However, parents should not neglect the online space of their kids.
Mobile devices have become a necessity, but spending too much time on smartphones and tablets can exploit children. When given unsupervised mobile and internet access, kids can potentially unleash cyber dangers and can indulge in illegal activities.
For parents, it has become vital to monitor the online activities of their teens and tweens. Cyber etiquettes can help you educate your child about how to use the internet safely, but who knows if the kid accidentally opens an adult or explicit site?
Parental monitoring has become a vital activity, especially when it comes to controlling the kids cyberspace. To help parents with digital monitoring, there are apps available in the online market that only help you keep eyes on your kids screen usage but also enables you to control their devices remotely.
Here, in this article, we are going to cover 5 best remote free kids monitoring apps that have been the best choice for parents in the present years.
5 Best Free Remote Kids Monitoring Apps for Parents:
Are you looking for a free mobile monitoring app to help you watch your child's mobile usage?
Let's discover the top free kids monitoring apps that have been recognized by the whole world as the best remote monitoring software.
1- TheWiSpy Kids Monitoring App
2- Google Family Link App
3- Norton Family App
4- Kaspersky Kids Monitor
5- Find My Kids Tracking App
Continue reading and find the robust feature of top free kids tracking apps.
1- TheWiSpy Kids Monitoring App:
When it comes to taking complete control over a child's device, no app can beat TheWiSpy kids monitoring solution. The app leads to the spy app market by providing incredible mobile monitoring and controlling features. TheWiSpy kids monitoring app enables parents to leverage remote mobile tracking to ensure the child's safety.
The app offers advanced kids monitoring and tracking features such as;
GPS Tracking
Geo-Fencing
Phone Call Recordings
Multimedia Access
SMS Tracking
Screen Time Monitoring
App Blocking
Social Media Monitoring
And many more.
TheWiSpy app offers a free 5 days trial, to ease parents with kids monitoring. The monthly or yearly subscription packages of TWS child monitoring solution are less costly than other spy apps, making TheWiSpy the most affordable and endorsed app by parents.
2- Google Family Link App:
The Google Family Link app is basically a parental control solution offered by Google itself to help parents track their kids anytime they want. Parents can get the app from PlayStore and App Store. The app lets parents set screen limits, restrict online content, and monitor all the ongoing internet activities remotely. You just need to install the app into the child's device.
The key features of such a robust parental monitoring app are;
Content Blocking
App Blocking
Screen Time Restriction
Remote Access to Turn On/Off The Device
Filter Webs & Apps
And others.
Google Family Link for parents functions efficiently on both Android & iOS devices. The app is entirely free and loved by parents around the globe.
3- Norton Family App:
Norton Family is a famous brand for providing solutions to secure the digital; space of your kids and loved ones. It is the best app known for its robust family tracking and parental control features. Norton Family parental monitoring solution is a dedicated software to secure the cyberspace of children.
Here are the main features of the Norton Family app;
Screen Time Supervision
Block Spam Callers
Content Filtering
Location Tracking
App Blocking
Message Tracking
And many others.
Norton Family software is available for both Android & iOS devices. The best thing about Norton Family is that it offers a 30-days free trial to help parents enjoy the luxury of digital monitoring.
4- Kaspersky Safe Kids Monitor:
Kaspersky Safe Kids monitor is another popular parental monitoring app in the online market. The app is designed to secure the cyberspace of children with powerful settings that kids can not change without the parent's permission. Kaspersky Safe Kids is compatible with iOS and Android OS.
Let's take a look at the incredible features offered by this parental monitoring app;
Child Locator
Content Blocker
Battery Tracker
App Usage Controller
Screen Time Manager
And a lot more.
The standard features offered by Kaspersky Safe Kids monitor are free. The app, however, charges a small fee for advanced monitoring and tracking features.
5- Find My Kids Tracking App:
Find My Kids is an ultimate power-packed app offering both kids monitoring and parental control features. This child cell phone tracker app provides parents with n easy solution to monitor the online activities of their kids and create a safe cyber environment for their children.
Here are the prominent features of Find My Kids app:
Location Tracking
Surround Recording
Movement History Monitoring
App Usage Tracking
Battery Monitoring
And a couple more.
Generally, as the name indicates, Find My Kids app helps to track the active pinpoints and location history of children. The app is absolutely free.
The Final Note:
Monitoring the online activities of children is no longer an option but a responsibility. The physical, as well as the cyber world, is full of threats that can lure juveniles. Parents must not take this subject lightly and adapt ways that can help them secure their child's online space. For that, nothing works better than a kids monitoring app. Using parental surveillance software can help you keep eyes on your kids anytime, anywhere. So, are you ready to explore your child's life with the world's best free kids monitoring apps?