Decoy Apps – How Can Parents Reveal the Secret Online Activities of Teens?
Posted in Parental Control by Julie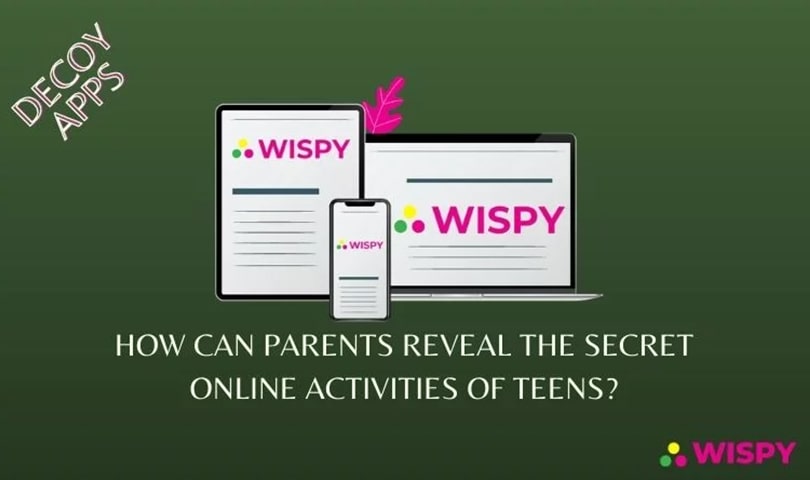 Teenagers use decoy apps to hide their secret mobile activities. Such hidden and private lives of kids worry parents regarding the cybersecurity of teenagers. Parents can reveal the online covert activities of teens and tweens if they are aware of the famous decoy apps.
If you don't know what a decoy app is, no worries.
Parents as millennials have seen the technological evolution and understand how digital threats can be harmful to their kids. Times had long gone when kids used to lock their journals and diaries. Now, children create notes digitally. Cell phones indeed hold our secrets. Decoy apps help kids to hide their text messages, photos, and other content within a hidden app.
In this article, we are going to explain everything about decoy apps. Parents must know details about decoy apps to detect software helping their kids hide their online activities.
Decoy Apps – How Can Parents Reveal the Secret Online Activities of Teens?
Decoy apps are ghost applications designed to hide digital content from others, especially parents and guardians. Kids use such mobile programs to conceal fishy content from their parents. Decoy apps are difficult to recognize.
Kids use decoy apps to hide sexting conversation, catfishing content, and other personal stuff. Parents must understand how such secret apps look and how they can detect such hidden software.
What Are Decoy Apps?
Decoy apps are mobile programs that can help you hide your text messages, photos, notes, and other digital content within a secret vault. Decoy applications are also known as secret or ghost apps.
A decoy app disguises itself into something innocuous or safe. It can present itself as a calculator, vault app, or game.
Decoy apps allow you to create secret folders called vaults. You can upload photos, videos, text conversations, etc., in hidden folders and hide anything you want.
How Can Parents Detect a Decoy App?
Do you find your kid texting all day long?
Have you checked his/her phone but couldn't find anything suspicious?
Perhaps, you are missing something. Kids are smart and know how to use decoy apps to hide their mobile activities.
Statistics showed that,
21% of kids own internet-enabled mobile devices.
53% of teens clear browsing history.
20% of kids browse on incognito or private browsing mode.
34% of children hide Instant Messenger chats, including text and multimedia.
20% of kids enable privacy to hide content from parents.
Well, if you doubt your kid is hiding something, it's time to look into his or her cell phone.
Here are some practical ways to spot a decoy app on your kid's android device.
Pick your kid's phone and look for any suspicious hidden app in the app drawer.
Open settings from your child's phone and tap on Apps. from the app section, tap on "show hidden apps". Check the app list thoroughly.
Search for apps with safe or security icons. Most vault apps have a locked or secure icon.
Note that decoy apps let you send secret messages, save explicit photos, etc. Even if you detect a decoy app in your kid's phone, you will require a passcode or pin to crack it open.
Here are the top 5 decoy apps used by kids to hide their online lives from their parents:
Vault
It helps you hide text messages, contacts, photos, and videos. Vault app is available for both Android and iOS devices.
Gallery Lock
This is an Android app that lets you hide multimedia on your phone. Using the Gallery Lock app, you can conceal photos and videos within a hidden password-protected app.
Secret Calculator Vault
It looks like an ordinary calculator app. The secret calculator vault can hide your personal files and multimedia in it like a pro. You can also hide contacts and other media files in its private folder.
Photo Locker
It is an Android decoy app that enables you to hide captured and download photos. You can also secure screenshots in this app.
KYMS
Abbreviated as "Keep Your Media Safe," this app offers a secret folder. You can hide text files, multimedia, contacts, etc. KYMS appears as a calculator, which makes it an unsuspicious app.
Decoys apps are a severe threat to the well-being of children. Parents must stay alert regarding their kids' mobile space.
Continue reading as we are about to share some practical ways to monitor and control your kids' online activities.
How Can Parents Keep Kids Away from Decoy Apps?
Cybersecurity is a crucial topic that parents should discuss with kids before giving them internet freedom. Giving kids their personal cell phones is still a debatable issue. Whether your child is a teen or tween, you cannot forbid him/her from using technology.
Instead, parents can teach their kids cyber etiquette to make them civilized internet users.
Let's see how you can make your kids avoid using decoy apps;
Have Open Conversation with Your Kids:
Open conversations regarding privacy issues can work like a miracle. Discussing cybersecurity and online dangers is essential. Tell your children about all the risk factors associated with secret online lives. You can elaborate on how sexual predators target children and exploit them. Being a parent, you are responsible for making your kids aware of everything that might hurt them online. Ask your kids not to share any personal photos, videos, or any private content online.
Regularly Check Your Kid's Phone:
Parents must check the cell phones of their kids regularly. Kids who know that their parents will eventually check their mobile devices stay alert and do not engage in immoral activities. It is essential to check your kid's phone randomly so that you can detect decoy apps and other inappropriate content.
Use Parental Control App:
Parental control apps are very helpful in managing kids' online space. Using the best parental control app to monitor kids phones, parents can restrict decoy apps. Parental control apps also enable you to record the ongoing screen activities. The most efficient parental control app today is TheWiSpy. It delivers high-end features to empower you to take complete control over your child's phone or tablet.
With advanced technology and a little conversation, parents can keep their kids in line. Digital parenting has brought new ways to protect children remotely.
The Final Verdict:
Decoy apps are devastating for grooming kids. It provides kids with a hidey-hole to secure their secret life. Teens with bad online habits like sexting or cyber dating tend to keep their private messages and multimedia in hidden apps like vaults or decoy programs. Parents must know if their kid is involved in the wrong activities. With the help of advanced parental control solutions like TheWiSpy, parents can watch over their children and protect them online and offline.