PhoneSheriff Review 2022 – Why PhoneSheriff App Discontinued Its Operations?
Posted in TheWiSpy alternatives by admin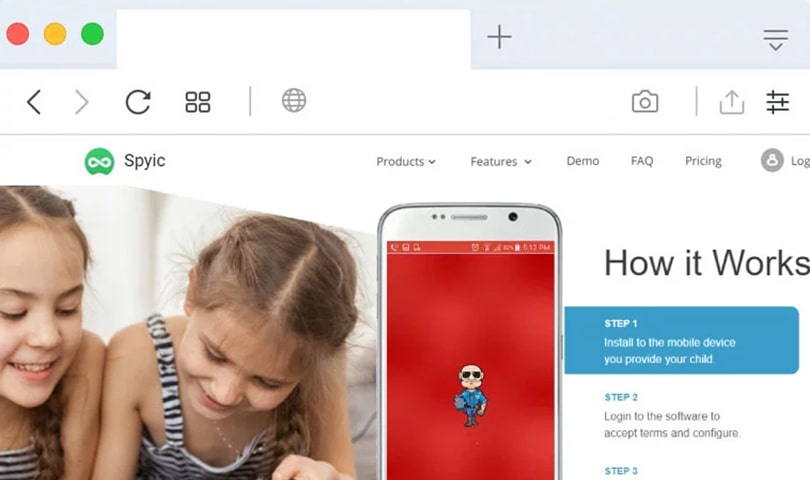 Have you ever thought about tracking your kid's phone? Well, you must have. That's why you're here seeking the popular child monitor, PhoneSheriff review.
Kids are tech-savvy. Researchers reported that children start interacting with smart devices from the age of 2. Such exposure not only makes kids proficient in technology but also develops screen addiction among them. The internet holds informative content that can help kids learn things in a better way. On the other hand, the online space is full of harmful content that can abuse a child's mentality.
Adult games, porn sites, online predators, cyberbullying, countless threats can exploit children.
No parent wants their kids suffering from mental trauma. Right?
That is why most parents are now considering parental control apps to monitor and manage their kids' online exposure.
This article covers the PhoneSheriff review. Continue reading and find how the PhoneSheriff app helps parents to manage their kid's screen usage.
PhoneSheriff Review 2022 – Why PhoneSheriff App Discontinued Its Operations?
If you search for the PhoneSheriff app online, you will find nothing but distress. PhoneSheriff parent company Retina-X Studios has recently exclaimed that PhoneSheriff, along with their other spying products, had been attacked by hackers. Such a fraud incident made PhoneSheriff lose its credibility among customers. The service providers also declared that they are going to discontinue their operations until they secure their servers and ensure data protection to their users.
Retina-X Studios also asked its subscribers to claim a refund until the app returns in the spying game.
PhoneSheriff services have been halted for some time. But, it does not mean that the app will vanish from the internet world just like that.
Once the PhoneSheriff developers resolve the security issue, the app will be launched and updated again to fulfill your monitoring requirements.
Till then, parents who desperately need a kids' monitoring app can try TheWiSpy to track their children.
Now, let's start this PhoneSheriff review and see which features made it the top parental control software.
Navigate this PhoneSheriff review from the following points.
What is PhoneSheriff?
How Does PhoneSheriff Work?
Which Devices are Supported by PhoneSheriff?
What are the Key Features of PhoneSheriff App?
How to Install PhoneSheriff on Your Kids' Phones?
What is the Pricing of PhoneSheriff App?
Let's throw light on each of the points mentioned above to elucidate PhoneSheriff review, functionality and features.
What is PhoneSheriff?
PhoneSheriff, as the name indicates, is a phone monitoring and parental control app designed for parents to track their kids remotely. Using PhoneSheriff, parents can monitor call logs, text messages, multimedia, installed apps, and other mobile activities. PhoneSheriff offers a panic button to send instant alerts to parents whenever their kids are in an emergency or trouble situation.
You can use PhoneSheriff as a parental control app. But, you are required to install the app on your target device manually. And for that, physical access to the target phone or tablet is required.
How Does PhoneSheriff Work?
PhoneSheriff is a powerful app that enables parents to limit screen usage among children. Parents are required to install and configure PhoneSheriff on their kids' cell phones and tablets so that the app can fetch data from the target device. The working principle of the PhoneSheriff app is similar to other mobile monitoring apps; TheWiSpy, mSpy, etc.
Once you install the PhoneSheriff app on your target device, the app starts recording the digital footprints of the integrated phone or tablet. PhoneSheriff continuously records mobile activities and uploads all the recorded data on a web-based control panel. Parents can easily access the control panel via registered login credentials.
Which Devices are Supported by PhoneSheriff?
PhoneSheriff is an app to monitor kids' Android smartphones and tablets.
Unlike other mobile monitoring software (supporting iOS, macOS, and Windows), PhoneSheriff only supports Android devices.
However, the app shows strong compatibility with Android devices.
If your kid is an Android user, PhoneSheriff can spy on it like a pro. The compatible OS versions include Android 2.2 to 7.1.2.
The service providers of PhoneSheriff clearly mentioned that the app does not support iPhones, iPads, Blackberry, and Windows devices. So, check the compatibility first before buying the PhoneSheriff subscription.
What are the Key Features of PhoneSheriff App?
As compared to other mobile monitoring apps, PhoneSheriff offers a small set of features limited to only parental controls. If you want an excellent parental control tool to boost parenting, PhoneSheriff is the one for you.
Here, we are going to mention the main features of PhoneSheriff in detail.
GPS Tracking:
PhoneSheriff allows you to keep tabs on your kids' GPS location. Using PhoneSheriff, you can track the whereabouts of children. Kids carry their smart gadgets everywhere they go. Parents can trace the location history of their kids remotely with the PhoneSheriff app. Furthermore, you can use PhoneSheriff to track your lost mobile phone.
Browsing History Monitoring:
Parents can now trace the search history of their kids by PhoneSheriff's browsing history monitoring feature. Now, you can discover if your teen watches porn when you are away. Moreover, parents can monitor kids' online behavior by tracking the visited websites and bookmarked pages.
Text Message Tracking:
Parents can now keep track of text message logs. The text message logging feature enables parents to monitor sent and received text logs. This feature can be helpful to find if kids do sexting with suspicious contacts secretly.
Call History Monitoring:
If you find your child having long conversations with strangers, it's time to monitor his/her call records. Call logs tracking can reveal suspicious contacts with whom kids talk secretly. Parents can also use this feature to collect evidence against catfishing and online deception cases.
App Monitoring:
Installed apps on a mobile phone/tablet can tell a lot about the person. Parents can detect lists of dating apps and take appropriate actions if they find anything suspicious. App monitoring also enables parents to develop healthy mobile usage habits among kids.
Photo Logs:
Photo logs include the records of all captured, downloaded, and shared photos. Parents can monitor the photo gallery of their kids and explore their routine lives by watching saved images. Photo logs help parents reveal if their kids are addicted to violent, adult, or other inappropriate content.
Contact Monitoring:
Contact information can be helpful if you doubt your kid is getting along with the wrong community. PhoneSheriff's contact monitoring enables parents to view saved contacts and detect bullies and predators from the contact list.
App Filtering:
With app filtering, parents can block malicious apps from the smart devices of their kids. App filtering allows you to restrict apps that you find unfit for your kids. Moreover, the app restriction feature sends a notification to parents wherever they try to search or download the blocked apps.
Time Restriction:
Screen time restrictions are an ultimate parental control feature to manage the digital exposure of children. Teens and tweens become careless to studies when they are given mobile and internet independence. With PhoneSheriff, you can restrict mobile/tablet usage time and schedule specific hours of the day for digital entertainment.
Web Filtering:
Using a web filtering feature, parents can block porn sites and other inappropriate websites from kids' cell phones. Parents can create a safer digital environment with the help of web filter parental controls.
Geo-Fencing Alerts:
Geofencing is an elite feature of the PhoneSheriff app. If you think your child bunks school or goes to places you are unaware of, you can set geofencing alerts on his/her phone. Geofencing, as the name indicates, is a tool to bound geographical areas. When a kid breaches the boundary, parents get notification alerts revealing the live location of the child.
Contacts Blocking:
Not all friends are loyal. And parents can sense the disloyalty or deceiving nature of a kid's friends before the child realizes. If you find your child has mean friends or strangers contacting him/her continuously, you can simply block the contact. PhoneSheriff allows parents to restrict communications by creating a blacklist so that no one can ever tease their kids.
Profanity Alerts:
Teens curse bad words. Posting rude comments on social media is getting common. Though kids avoid uttering bad words in front of parents, they use inappropriate language with friends. Parents who find lousy behavior development among kids can use profanity alerts to reveal the inappropriate words used by their kids.
Phone Lock:
Remote phone locking is a must feature of every parental control app. PhoneSheriff allows parents to lock screens of kids whenever they find their children using too many mobile phones.
Intrusion Alerts:
PhoneSheriff intrusion alerts keep parents updated when their kids try to perform the restricted activity. For instance, parents will receive an intrusion alert when their kids try to install a blocked app or game.
How to Install PhoneSheriff on Your Kids' Phones?
The PhoneSheriff installation process comprises three steps, sign up, subscription purchase, and configuration.
Let's explore the installation process of PhoneSheriff in detail.
Step 1: Sign Up:
Go to the official website of PhoneSheriff and click the sign-up option. Enter a valid email ID and register your account on PhoneSheriff.
Step 2: Purchase the Subscription:
Now, from your registered account, purchase a PhoneSheriff subscription. You can choose from two of the subscription packages. Purchase the one that suits your budget.
Step 3: Installation & Configuration:
When you purchase the license, you will receive an email containing an installation guide. Follow the instructions, install the app, and configure it on your target device. Note that remote installation is impossible. So, you have to access your target phone or tablet physically.
Once you install PhoneSheriff on your kids' phone, it's time to access the online control panel. For that, you are required to log in to the PhoneSheriff website from any browser. Open the dashboard and start controlling your kids' phones.
What is the Pricing of PhoneSheriff App?
PhoneSheriff app is quite expensive as compared to TheWiSpy or mSpy parental control apps.
Here are the details of the subscription packages of the PhoneSheriff app.
PhoneSheriff 6-Months Plan – Costs $49.00
PhoneSheriff 1 Year Plan – Costs $89.00
Note – These prices are only for Android license subscriptions. As mentioned above, PhoneSheriff does not support iPhone, iPad, Windows, and Blackberry phones.
PhoneSheriff Review 2022 – The Verdict:
PhoneSheriff is a renowned parental control software. However, because of the recent hacking mishap, the service providers have ceased their products for some time. Retina-X Studios has assured the audience that PhoneSheriff will continue its services once they settle down the technical security issue.
If you want a parental control app so desperately, it's time to try other options like TheWiSpy, MSPY, IKEYMONITOR.
Don't let an online predator groom your child. Monitor your kids online and secure their cyberspace.