Gambling Games – Here is How Your Kids are Getting Exploited
Posted in Digital Parenting by Julie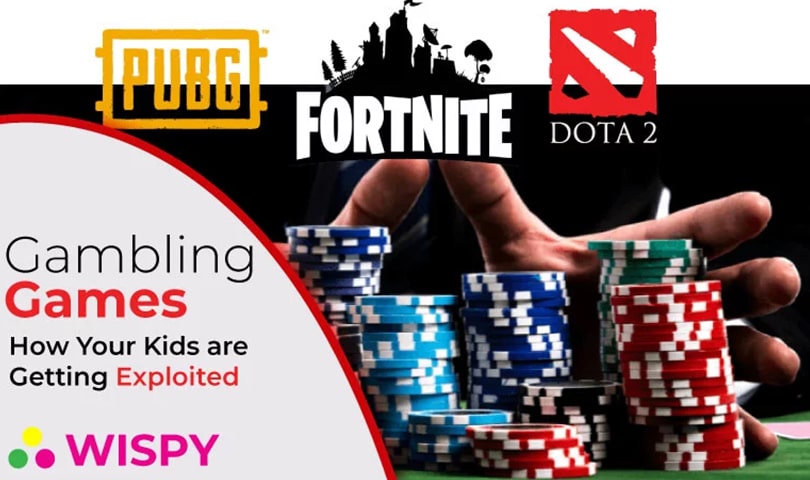 PUBG, Fortnite, DOTA, these games have now become the new interest of modern youth. Children as young as 11 actively play online games.
Gambling is getting common in the world of internet games. The players are asked to buy new stuff and develop a habit to spend dollars on features to enhance the game performance.
Such online purchasing habits worry parents around the globe and make them restricting the online space of their kids.
Today, more than 1.2 billion people play video games worldwide, comprising 93% of the kids in the United Kingdom and 73% of the American kids.
According to the Gambling Committee UK, almost half a million children have confessed to gambling in games on a regular basis.
This article is for every parent out there who worries about the gambling addiction of kids. We are going to discuss everything about online gambling, so keep reading.
Online Games & Gambling – The Slow Poison:
Kids are crazy about gaming. With children spending more time online, there is a chance that they might encounter gambling and develop an addiction to it. Gambling is an illegal activity, though you do it through online games. However, not all in-game purchases are unlawful.
According to The Gambling Commission, games can act as a route to gamble. It means that video games can push kids to gamble.
For parents, it is vital to know what gambling is? And how it entraps kids via video games.
Let's discuss further.
What is Gambling?
Gambling is an activity to put money on to something in order to win extra. In video games, gambling is investing cash in advanced features or unlocking the latest characteristics to enhance the chances of winning.
Gambling has many forms, including; sports bets, casino bets, scratch cards, lottery tickets, sports bets, roulette machines, etc.
You must have played the toy grabber game. Well, unfortunately, it also comes in gambling, but such activities are not illegal. Cheers!
For kids, gambling is illegal. In the US, the age limit to gamble is 21+.
Today, kids aging from 11 to 16 start gambling via online games.
RELATED: Porn Addiction Among Teens – Here is What Every Parent Must Do
Mobile Games & Gambling:
The World Health Organization (WHO) has already referred to gaming as an addiction among kids. If someone has a gaming disorder, he/she will prioritize playing games over all other routine activities.
Yes, the WHO has enlisted gaming disorder an illness.
Now, let's discuss more games and gambling.
PUBG, a well-known online game, offers a Royale Pass which allows players to complete various missions and earn Royale Points. Users can win prizes by completing the operations in PUBG.
But, the Royale Pass does not come free of cost. Players have to purchase it.
Without knowing, our young generation is getting entrapped and developing a gambling addiction.
The concept of "loot boxes" is not new in the gaming world. You have seen treasure boxes in many online games. Such treasure boxes contain in-game features that boost your playing abilities. Loot boxes offer characteristics, weapons, armors, etc. that enhances your gaming experience.
Have you noticed, even Candy Crush asks you to purchase in-app game bundles offering extra lives and bonus rewards?
One way or other, the online gaming world is all about gambling. And, unfortunately, our young generation does not bother with it at all.
How Can Parents Save Their Kids from Online Gambling?
Gambling is as dangerous for kids as alcohol is. Parents should not allow their kids to mingle in online gambling games before the restricted age limit. However, if children still gamble online, then parents must take strict actions to save kids from such a nuisance.
Today, lottery tickets or gambling adverts are so usual that no one bothers to tell their kids about the side effects of such activities.
According to the Gambling Commission, 70,000 youngsters can potentially be involved in online betting or gambling. The same report shows that 4,50,000 kids gamble on a daily basis.
Scary. Isn't it?
Well, every parent concerns about the digital security of their kids. If you find your child gambling online, don't forget the technology has given you multiple tools to restrict mobile screen usage of your kids.
Yes, you can secure your kids using parental controls.
Parental Controls – An Efficient Way to Keep Kids Safe from Gambling Games:
Parental controls are tools that help parents control the screens of their kids. Many mobile devices, including Android and iOS, come with built-in parental control features. Such tools are useful for parents and help them limit screen time, or to restrict content from the mobile devices their kids use. Parents can also set security settings to Play Store or App Store to inhibit their kids from installing unwanted apps.
Parents must not take any risk regarding the cybersecurity of their children.
But we all know how hard parenting has become in this digital age.
Don't worry.
For working parents, we have a solution.
TheWiSpy Parental Controls:
You can't stick your eyes to the mobile phones of your children.
That is why technology has blessed us with third-party top free parental control apps.
TheWiSpy app falls in the same category. This parental monitoring tool offers multiple features to limit the digital space of children.
Parents need to do only one thing – install the app on your kids' phone. TheWiSpy allows remote parental control and monitoring features, enabling parents to take control of the cell phones and tablets without getting into any suspicion.
Yes, you can block any app and game, you find unsuitable for your kid.
Isn't it incredible?
So, what keeps you waiting?
Get the world's most preferred parental control app TheWiSpy and limit the online space of your kids.
Wrapping Up:
Gambling games are engaging youth and making them addicted without their knowledge. Kids have started to gamble by purchasing the in-game features to boost their gaming experience. Such activity develops suicidal gaming disorder among kids. Parents worldwide are seeking a solution that can help them control the gambling habit of their children. Thankfully, parental control apps are available in the online market.