Suicidal Games – Who Do They Target? Top Teens Challenges
Posted in Digital Parenting by admin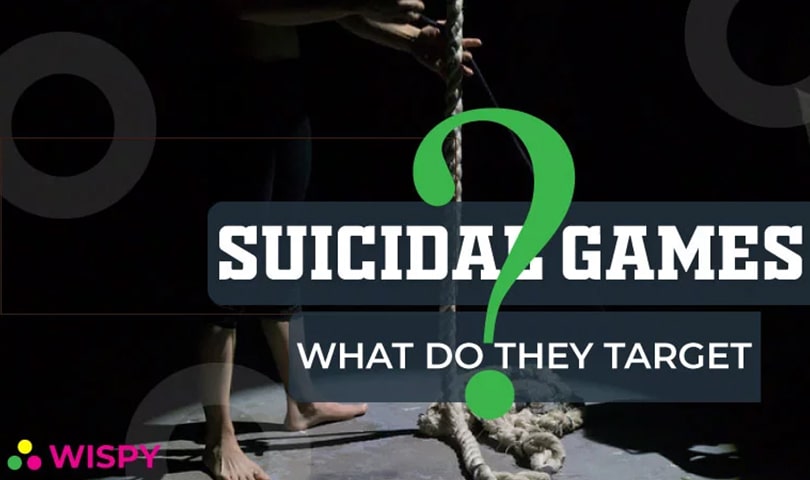 The internet world has messed up with the release of suicidal games. Took over more than a hundred lives, the threatening online challenges and trends never cease to stop.
Who should we blame?
Should we blame the victim or parents for such menace?
Well, before discussing it, we believe every parent should be aware of the most notorious social games and challenges.
So, let's dig into it.
What is a Suicidal Game?
Suicidal games involve challenges and other tasks that urge kids and teenager to take their own life. Most of such games hack the personal details of the victims and blackmail them until they do suicide.
There are a bunch of suicidal games available in the online world. Despite the threats of the dark web, people ignore it like its nothing.
Do you know what dark web is?
Well, just for an overview; a dark web is an online space that is invisible to all the search engines. It contains disturbing content such a violent, self-harming videos etc.
It is hard to access the dark web, but hackers who work for it target juveniles and force them to self-harm their selves. Honestly, there is a whole community who enjoys watching disturbing content of the dark web. That is why people sell such things by victimizing young people.
It is significant for parents to know about the dangers of the internet world. Ignoring the harms of the online space costs a lot.
Now, allow us to put forward some most dangerous games and how they affected the youth.
Suicidal Games – [5 Dangerous Teens Challenges]
Games and challenges that involve self-harming activities target audience involving teens and tweens.
Reason?
Underage kids and teenagers are vulnerable, and anyone can blackmail them quite easily.
It all starts with the fun, and then the game tricks player to do violent tasks.
Here are some horrifying facts about the notorious suicidal games that have shaken the online world in the past years.
RELATED: Gambling Games – Here is How Your Kids are Getting Exploited
Blue Whale Challenge:
The blue whale challenge was socially derived tasks that go extreme as the user participates. As the user performs the assigned task or activity, the game becomes violent with the succeeding stage. The blue whale game included 50 challenges. The participant had to complete one task per day. On the 50th day of this game, the blue whale gives its final challenge and asks the player to commit suicide.
The blue whale challenge has taken over 130 lives of teenagers in Russia. Not only one, but the curse of the blue whale challenge had spread over multiple countries of the world.
Momo Challenge:
The Momo challenge used social media platforms, as well. In this game, participants had to talk to a stranger named Momo. Run by this scary strange character, the Momo assign tasks to participants. And, in case, the players want to leave the game, Momo scares them with violent and threatening content.
According to news, a 12-year-old girl took her life as a result of such a challenge.
The Slender Man Influence:
Yet another disgusting trend – the slender man. It is a fictional character of a man without a face and with tall height. It all started through an online community that urged people to post slender man tasks and memes. However, there were humans with a sick mentality who continued this game by posting disturbing challenges.
Teens got so much influenced by this character. Back in 2014, two girls took their friend to woods and stabbed her 19 times repeatedly. When arrested, the culprits stated that they did so to please the slender man.
In another incident, a teen tried to attack her mother with a knife to follow slender man's order.
Ice & Salt Challenge:
Here comes another obnoxious activity, the ice and salt challenge, first reported in 2012. In this challenge, the audience that participated was kids and teens. This activity was promoted via video either on YouTube or social media channels. The ice and salt challenge urged kids to put water and salt on their skin and see how long they can hold a piece of ice against it. The reaction between salt and ice produce enough amount of heat to burn the skin. That is why the participants, following this challenge, had burnt their skin.
There were several cases reported in which kids had severely burnt their arm or hand as a result of ice and salt challenge.
Tide Pod Challenge:
In the case of the tide pod challenge, the social influence had made it worst. Tide pods are little packs of laundry detergent, meant for washing clothes. The tide pod challenge started in 2018, urged many teenagers to swallow the tiny detergent packets and see if they can complete the challenge.
The results were devastating. Consumed tide pods burnt the mouth cavity of the participants. Not only this, but severe cases included vomiting, seizures, and brain damage.
How to Prevent Kids from Suicidal and Life-Threatening Games?
No parent wants his/her child to encounter and suffer from such life-threatening and suicidal games and challenges.
Are you aware of the reasons why such challenges and games gain popularity?
The main reason is the parent's negligence.
Parents are so busy at work that they forget their responsibility to look over their children. As a result, kids and teens seek attention using social media and by taking part in such obnoxious games.
If you are looking for ways to prevent your kids from such disturbing activities, start keeping your eyes on them from today.
We can understand that parents can not be with their kids all the time because of their work and child's school. That's why we are going to reveal the genuine kids monitoring solution, that makes parents watch out for their children anytime anywhere.
Yes, it is now possible to keep eyes on children even if you are not physically around.
Solution – TheWiSpy Kids Monitoring App:
Believing that monitoring kids nowadays is a difficult task for parents. We all know that keeping work life and personal life together can become challenging, as a result of which we ignore our kids.
But, thanks to the updated technology for making our lives easier. Now, parents can remotely track their kid's activities despite their physical location.
Yes, it is true.
One of the best selling child monitoring solutions is TheWiSpy. This kid's tracking app helps parents to keep eyes on their kids anytime anywhere. All you need to do is install TheWiSpy child monitor in the mobile device of your child, and you are ready to go.
TheWiSpy enables parents to know every activity their child does with the help of extensive features, such as:
Call Recordings
Surround Recordings
Text Message Spying
Contacts Monitoring
Social Media Monitoring
GPS Tracking
Web History Monitoring
Multimedia Spy
App Monitoring
With TheWiSpy cell phone tracker and spying app, parents can monitor their teens and tweens all the time. This superb cell phone monitoring app allows parents to restrict dangerous content from the screens of their kids.
So, what other solution you think can help you with child monitoring?
Get TheWiSpy app now and start discovering your teen's digital space now.
Wrapping Up:
Online threats and suicidal tasks are common nowadays, with the increased use of social media channels. It is easy to influence teens with trendy activities. Suicidal games follow this trick and target juveniles. To prevent kids from such a menace, parents should monitor their teens and tweens all the time. TheWiSpy is a top-rated app to provide extensive features of kid's monitoring app. Parents around the globe prefer TheWiSpy so that they can keep eyes on their kids. Don't wait and let the internet spoil your kid. Gear up and start monitoring your kids today.