Independence Day 2021 – Here is What to Prepare for
Posted in Events and Deals by Julie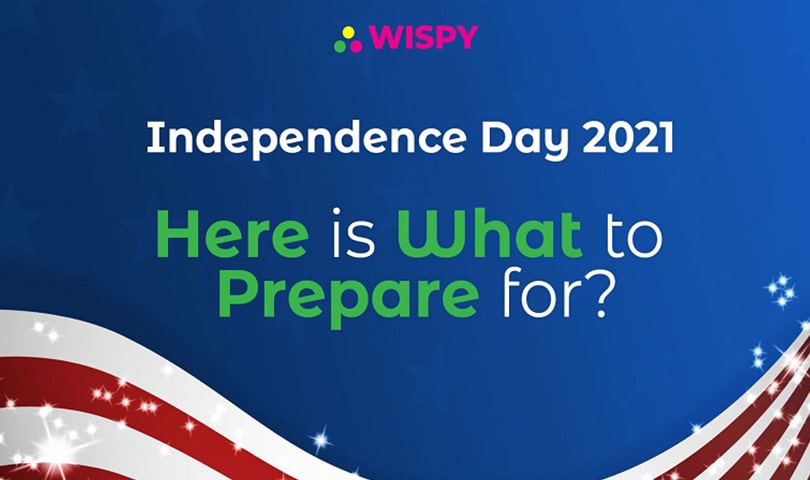 Independence Day 2021 is almost upon us. This year, the United States of America will commemorate the fourth of July on Sunday. It means that we have a lot of time to plan the special day.
Unlike every year, Independence Day 2021 will be pretty divergent. Of course, once, we had to watch out for fireworks hazards, but now we must also be vigilant to avoid the spread of COVID-19.
Let's take a glance at some tips to make your independence day fiesta a delight.
Independence Day Preparations – Tips to Have a Safe Independence Day 2021:
We all celebrated Independence day with colourful parades, juicy barbecue in the backyard, loud concerts, and thriving fireworks in the past years.
Amid the global pandemic, every festive event has been disturbed in a way no one could ever imagine. But, in contrast to independence day 2020, this year celebrations could go milder.
As 53% of the US population is fully vaccinated, it is somehow safe to arrange a little gathering in your backyard to celebrate independence day 2021 with your friends and family.
But still, we have to be watchful and never neglect the safety of our loved ones. So until the Fourth of July arrives, here are some essential things that everyone should consider and prepare for.
1- Safety First:
No one wants to spend the independence day sitting on the couch. However, there are traditions to follow to rejoice in the love for our nation. The majority of the health agencies recommend celebrating public holidays indoors.
Arranging indoor activities does not mean that the risk is over; we still have to be careful and ensure the safety of our comrades.
Here are some safety tips for overlooking potential dangers that may ruin your celebrations.
COVID-19 Safety
Social distancing is the key to prevent the dispersal of the noxious Coronavirus. While arranging family gatherings on the fourth of July, ensure that all your guests are fully vaccinated.
Here is how to ensure safety against COVID-19:
Disinfect the area at which you are planning an in-house gathering.
Wear masks and gloves while cooking the food.
Arrange the sitting plan maintaining 6 feet distance.
Avoid shaking hands with others. You can greet each other with elbow bumps.
Assign cooking and serving activities to specified persons.
Do not invite people to your home who have not got vaccine shot yet. People who had contacted a COVID-19 patient in the last 14 days should also be avoided.
Coronavirus variants are diverse in nature. And with time, the COVID-19 variants are getting stronger. It means that whether you are vaccinated or not, you still have to follow the COVID-19 precautionary guidelines.
Fireworks Safety:
Independence day is incomplete without fireworks. So, despite attending public fireworks, try to arrange at-home independence fireworks. But, be certain that you comply with the safety precautions.
Here are the safety tips while handling the fireworks:
Let no child lit the fireworks. Keep mischievous kids away from such an activity.
Make sure you light the firework pointing in the right direction.
Keep a supply of water close in the case of an emergency.
Ensure the person who lights the fireworks is wearing safety goggles.
Ignite only one firework at a time.
Store the fireworks in a safe and dry place.
Enjoy your independence day fireworks show at home. Ensure that there are no pets and kids wandering in the area's proximity where you are lighting the fireworks.
Grilling Safety:
Who would miss barbeque on independence day? Well, no one! Unfortunately, grilling fire sparks burn more than ten thousand homes every year on average in the United States.
To avoid fire incidents, here are some safety tips to follow:
Avoid grilling indoors. Always arrange barbecue grilling in the backyard.
Supervise while grilling. Please don't leave the grill on after its use.
Avoid adding charcoal starter fluid over the burning coals.
Make sure that kids and pets are away from the grilling station.
Avoid placing the grill near tents, camps, or anything that could catch fire.
Always use long-handled tools while grilling.
Grilling barbeque on independence day is more like a tradition to US residents. The only way to have a safe barbeque party is by ensuring no flammable material is present near the grilling station.
2- Teach Kids The History of July 4th:
Your child must know the history behind independence day sacrifices. Parents must explain the chronicle of July 4th to their kids and tell them all the traditional activities to celebrate the nation's freedom. As a parent, it is your responsibility to inform your kids all about the parades, hotdogs, and fireworks. Parents should leverage the independence day opportunity to teach kids the true meaning of freedom. We must tell kids that freedom does not mean to set yourself free from all the liabilities, but it means to make responsible choices. Parents can take their kids to a historical site and describe the critical national events.
3- Arrange a Small Gathering:
As limited gatherings are allowed by health organizations, people can set up a small independence day party for friends and family. You can get DIY 4th of July decoration ideas from the internet. Decorate your house and prepare meals to celebrate independence day at home. If you don't know what to cook, you can always take help from the internet to explore independence day recipes. Lit the barbeque grill and make some hotdogs to enjoy independence day 2021 traditionally.
4- Track Loved Ones with Mobile Tracker App:
On the fourth of July, if you or your loved one is planning to go outside, make sure to have a mobile tracker app installed on personal cell phones. On independence day, people do visit water parks and picnic places. July 4th comes in the middle of summer every year, so why not go to a beach or some other fun place to celebrate it?
The outside world is still potent to carry the Coronavirus. That is why we must be vigilant regarding the safety of our loved ones. Always track your loved ones using mobile tracker apps like TheWiSpy. In addition, parents must install mobile tracking apps on their kids' devices and keep their eyes on them during the holidays.
Fortunately, TheWiSpy is offering a flat 20% discount on all its subscriptions. So parents can avail of the mega independence discount and make sure their kids meet trustworthy people on holidays.
Conclusion:
Indeed, the 4th of July is a day to celebrate freedom anticipated throughout the year. Unfortunately, the independence day 2021 parade has been canceled due to the global pandemic. However, we can organize independence day activities with good forethought and celebrate the 4th of July with serenity. Plan your independence day activities by following the safety guidelines recommended by WHO and CDC. Also, ensure your kids' whereabouts with the world's leading mobile tracker app TheWiSpy.
Hurry up! Get TheWiSpy license at 20% less price. The offer is valid till Independence day.
Coupon Code: Indepen2021