Easter & COVID-19 – Here is How to Monitor Kids and Celebrate Easter 2021 Safely
Posted in Events and Deals by admin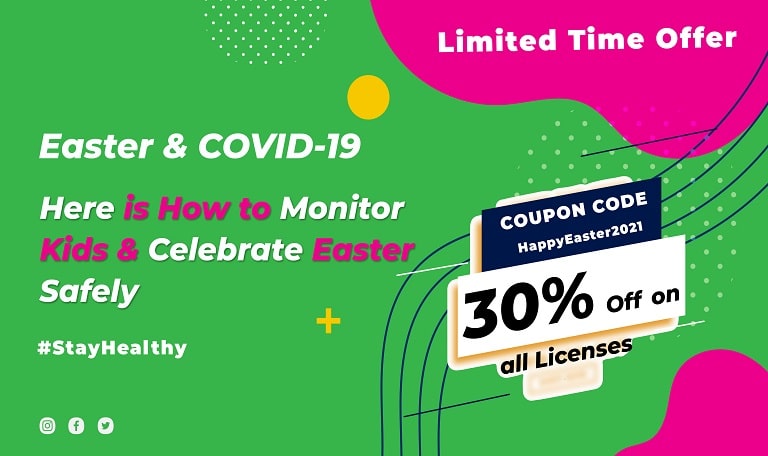 The surge of the Coronavirus has already twisted our holiday season. Now that the third-wave of COVID-19 is spreading inevitably, it is on us to ensure the safety of our loved ones during the upcoming festivities. Easter 2021 is not far. Many people have received vaccination shots against the deadly COVID-19.
But does that make us celebrate Easter with our friends and family?
For those vaccinated, yes! You can celebrate Easter and have in-person gatherings, but you still have to follow the SOPs.
In this article, we are going to unveil 5 secure and joyous ways to celebrate Easter 2021. Thoroughly read this article as we have a little bonus for you in the end to make your Easter the safest.
Let's get started.
Easter & COVID-19 – Here is How to Monitor Kids & Celebrate Easter Safely
We all celebrated Easter 2020 in a very harsh and restricted environment. Easter 2021 is going to be a bit different. Yes, over 33 million U.S citizens have fully or partially received the vaccine. More than 10% of the U.S population have been vaccinated completely.
If you plan to arrange in-person gatherings on Easter 2021, you need to make sure you're doing it right.
Easter egg hunting is a joyful activity among children. But is it safe to let kids go outside and interact with people and objects?
Well, keeping kids indoors during Easter is not the solution. You need to give your children some space and allow them to enjoy the Easter egg hunt by following preventive measures.
Here is what you can do to make your Easter more cheerful during the third-wave of COVID-19.
Send Easter Cards to Those Who are Away:
Traveling is not safe during a pandemic. If you are thinking of meeting your family this Easter, it's time to consider one more time. No doubt, if you are vaccinated, there is still a chance to interact with COVID-19 carriers. Coronavirus variants have surprised medical professionals as well. And traveling can make you interact with public transport, gas stations, airports, etc.
So why take a chance?
However, you can send your greetings to your loved ones by sending them Easter cards. Design your Easter cards and send customized regards to your friends and family.
Arrange Easter-themed Activities:
Easter is a fun holiday for kids, adults, and older people. It is a chance for all of us to rejoice in the times of the global pandemic. We all should have one motto this Easter, and that would be; celebrating Easter to the fullest to forget all the sufferings from the past year.
So, here is what you can do this Easter;
Decorate your home. Cheer up the surroundings by creating Easter-themed props and ornaments. A redecorated home will surely bring happiness to your household and those who come to visit you on the Easter holiday.
Organize Virtual Easter Gathering:
As traveling is something, we should avoid this Easter, we all must organize Easter celebrations via virtual gatherings. Invite all your friends and family over a virtual lunch/dinner and share happiness with each other. Group video calls unite you with your loved ones sitting at the other corner of the world.
Create Fancy Easter Baskets:
Easter baskets and egg hunting is something every kid loves. We know that the pandemic still continues. But we must not forget that outdoor activities are allowed even during times of pandemic. Customize fancy baskets for your kids and organize an Easter egg hunt so that kids can celebrate Easter and its festivities.
Monitor Your Kids while They are Outside:
Kids run and play during the Easter egg hunt. There are possible chances that your child might lose track while chasing for Easter bunny eggs.
Don't worry.
Children nowadays have cell phones of their own. Parents can easily track their kids using a child monitoring app like TheWiSpy.
Flat 30 % Off. Use Coupon Code: HappyEaster2021 BUY NOW

TheWiSpy kids' monitoring app is the best choice among parents for tracking children and controlling their online plus physical space. It can help parents monitor the whereabouts of their children. Kids' tracking ensures parents that their children are safe outside. Similarly, parents can set geographical restrictions and get alerts whenever their kids breach the safe boundaries using parental controls.
Using such an app, parents can find out their kids' Easter plans. Moreover, parents can discover the friend list and possible locations their children plan to go to this Easter.
If something is missing in your Easter plan list, it is undoubtedly a parental control app.
BONUS: Make a List of Things You Should Avoid during Easter 2021:
If your family is completely vaccinated, you all can enjoy Easter day without getting worried about catching the virus. But, if only a few family members are vaccinated, or you are going to invite people who have recovered from COVID-19, you must follow the preventive measures.
Here are a few tips for your safe Easter holiday;
Wear a mask. Make sure that the mask is not loose and covers your chin and nose adequately.
Keep your mask on you except when drinking or eating.
Maintain at least 6 feet distance from each other if you are not vaccinated.
Avoid handshakes, hugs, and direct contact with any person.
Never avoid someone who has symptoms of COVID-19. If you invite people who just recovered from the COVID-19, make sure everyone follows the SOPs strictly.
Avoid indoor gatherings. Try to organize outdoor lunch and dinner because it is the safest measure you can take.
If you are willing to organize an indoor lunch/dinner, make sure the area is aerated, having a good air passage. Choose the room that has more doors and windows.
Assign cooking and serving duties to specific persons. Make sure the person cooking the food or serving the dishes is wearing a mask and gloves.
Do not allow guests in the kitchen. The person cooking the food must be the only one present in the kitchen area.
Ensure proper sanitizing of the kitchen and whole dining area before the guests arrive.
Before the food is served, ask the guests to thoroughly wash their hands (at least for 20 seconds). Replace regular soaps and hand wash with antiseptic ones.
Don't forget to place sanitizer bottles (with 60% alcohol) on the dining table.
Checkmark the list and you are all ready to celebrate Easter with the fewest chances of spreading the disease.
Concluding Thoughts:
Easter 2020 was like a rollercoaster ride for all of us. But, today, things have become much optimized with the launch of the COVID-19 vaccine. Many people are now entirely or partially vaccinated, reducing the chance of spreading the deadly Coronavirus in society. However, you cannot leave your kids on their own. Easter egg hunting is a tradition, and kids do love this activity. As a concerning parent, you must keep an eye on your child during the egg hunting activities. And, nothing can help you better than TheWiSpy kid's monitoring app.
Get your child monitoring software today and enjoy 30% Off on all Licenses.
Limited Time Offer: Flat 30% Off
Coupon Code: HappyEaster2021