5 Free Parental Control Apps That Will Amaze You
Posted in Digital Parenting by Julie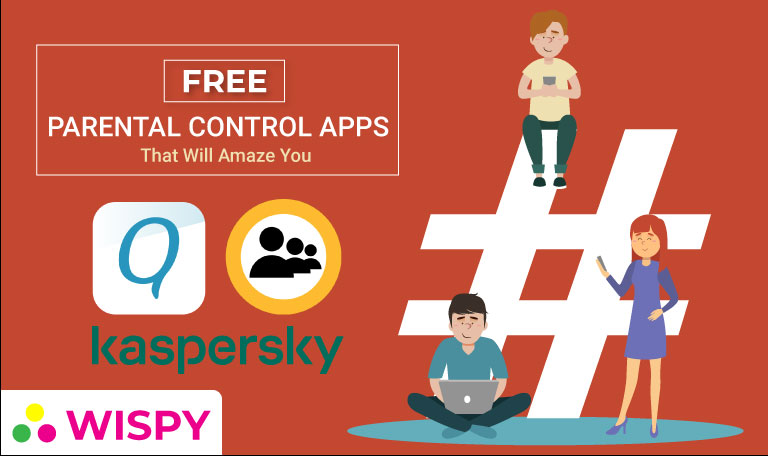 The use of free parental control apps in advanced era of today has made everything digitalised. Now, that kid's of modern time have no idea how life would be without mobile phones and the internet. Children of the modern age spend more time online rather than doing any other physical activity. For parents, kids using too much of the internet is quite alarming.
Do you know why?
Because the internet is full of content that might harm your children directly or indirectly. Explicit content, cyberbullying, online predation, dating apps, violent videos, addictive games, etc. are some of the notorious threats to exploit the well beings of children nowadays.
But, with the assistance of technology, parents can now control the device usage of their kids by using parental control tools. Such software helps parents to block unwanted media, content, games, etc. from the screens of their kids, and create a safer digital environment.
Let's discuss the 5 top free parental control apps you have, and see what parental controls do to safeguard the online space of children.
5 Amazing Free Parental Control Apps:
The easiest way to monitor and control the online space of your child is by using a parental control app. Because parents only need to download the software in their kid's devices to reveal what their digital environment is.
Here are 5 top free parental control apps for Android, computers, and tablets, that will amaze you by advanced features.
TheWiSpy
Qustodio
KidLogger
Norton Family Premier
Kaspersky Safe Kids
Let's discuss each of these free parental control apps in detail to discover the amazing features they offer.
TheWiSpy:
While mentioning top parental control apps, nobody can forget mentioning TheWiSpy app. Because with its outstanding usability and advanced features, TWS android remote control app have become the premium choice of parents around the globe. TheWiSpy is a comprehensive parental control app that offers state-of-the-art features to monitor and manage kid's devices.
Why is TheWiSpy App Best for Parental Controls?
TheWiSpy app is a power-packed parental control tool compatible with a variety of latest Android OS. With a free 5-days trial, TheWiSpy offers ultimate parental control features to ensure every kid uses digital space safely.
Here are some stunning Android parental controls features of TheWiSpy app:
Call Recording
Call Logs History Tracking
Surround Recording
Social Media Monitoring
SMS Tracking
Geofencing
GPS Tracking
Screen Time Monitoring
App Monitoring
Browsing History Tracking
Wifi Logs Tracking
Multimedia Monitoring
Email Monitoring
TheWiSpy app provides 24/7 customer and technical support services, so they could answer with queries and technical issues on the go. With instant alerts and notifications, parents can get updates on the online activities of their children, secretly.
Qustodio:
Qustodio is a complete app to provide the latest parental control features. Using Qustodio, parents can not only control the screen usage of kids, but they can also monitor and get notified on their child's online activities.
Why is Qustodio the Best App for Parental Control?
Qustodio parental controls aim to provide complete access to the phones and tablets of kids. This advanced app is compatible with Android, iOS, Mac, Windows, and Kindle. The free version of Qustodio app enables parents to set screen usage limits. It also block pornography, and filter unwanted explicit content from the mobile devices of kids.
Here are the top features of Qustodio app for Android, Windows and Mac:
Social Media Monitoring
Apps and Games Blocking
Pornography Blocking
Screen Time Restrictions
Family Location Tracking
Call & SMS Tracking
Youtube Monitoring
Qustodio app sends extensive reports on the mobile and tablet usage of kids. Parents can easily supervise the digital activities of their growing teens with such an incredible parental control app.
KidLogger:
KidLogger is the best parental control tool to monitor what your children type on their phone. Because, with its extensive parental control features, the app retains its position among top parental control tools. KidLogger is well-known for providing screenshot and keystroke monitoring. By such features, parents can keep a check on the typed messages, notes, and passwords of their kid's devices.
Why is KidLogger the Best Parental Control App?
KidLogger provides location and camera access to the parents so that they can know where their kids have been and what activities they do the whole day. KidLogger app is strongly compatible with Android, Mac, iOS, Windows, Blackberry. This app provides free parental monitoring features to enable easy access to the target devices of kids.
Here are some incredible features of KidLogger app for Windows and Android:
Time Tracking
Screenshot Monitoring
Keystrokes Tracking
Instant Messenger Tracking
Web History Monitoring
Email Tracking
App Monitoring
Browsing History Tracking
KidLogger app actively takes screenshots of the target device live screen. The keystroke monitoring feature of this app makes it unique from other parental monitoring software.
Norton Family Premier:
Norton Family Premier offers robust parental control features to ensure the online safety of kids in the cyberworld. The Premier option of Norton Family provides a range of parental controls to safeguard teens and tweens from online threats. Moreover, the app is easy to install and manage, making it the most favourable parental control among parents.
Why is Norton Family Premier the Best Parental Control?
Norton Family Premier offers 30 days of free trial for parents who want to create a safer digital environment for their children. The app is compatible with Windows, Android, Mac, and iOS.
Let's have a look at the astonishing features offered by Norton Family Premier:
Screen Time Monitoring
Web Supervision
Browsing History Tracking
App Monitoring
Video Monitoring
Remote Access to Lock the Device
Email Tracking
With Norton Family Premier, parents can get weekly or monthly reports on the mobile phone usage of their children. Also, the app provides remote access to the target device, enabling parents to manage and control the digital space of their kids.
Kaspersky Safe Kids:
Kaspersky Safe Kids is the best app to take control of your child's cell phone and tablet. The app is designed to help parents with real-time mobile phone monitoring to relieve parents from the red flags of cyber threats.
Why is Kaspersky Safe Kids the Best Parental Control App?
The thing that makes Kaspersky Safe Kids a unique parental control app is its advanced content filtering options. The app can run on Android, iOS, Windows, Mac. Parents can get a free trial of this app to enjoy basic parental control features.
Here is what parents can do with Kaspersky Safe Kids:
Content Blocking
App Usage Tracking
Web Filtering
Age Restrictions
Screen Time Management
GPS Tracking
Social Media Monitoring
Now, Kaspersky Safe Kids ensures that every kid stays safe from the harms and dangers of the online world. With instant alerts, parents can keep eyes on what their kids do online and offline.
Wrapping Up:
Technological innovations have modernised parents of the present age. Now, Parents do not need to worry about the online environment of their kids. Because They can use advanced free parental control apps that relieve them about the digital usage of their kids. Don't get anxious about your child's wellbeing and start controlling their cell phone usage of your kids now.