5 Tips to Protect Kids on Halloween – TheWiSpy Parental Guide
Posted in Events and Deals by Julie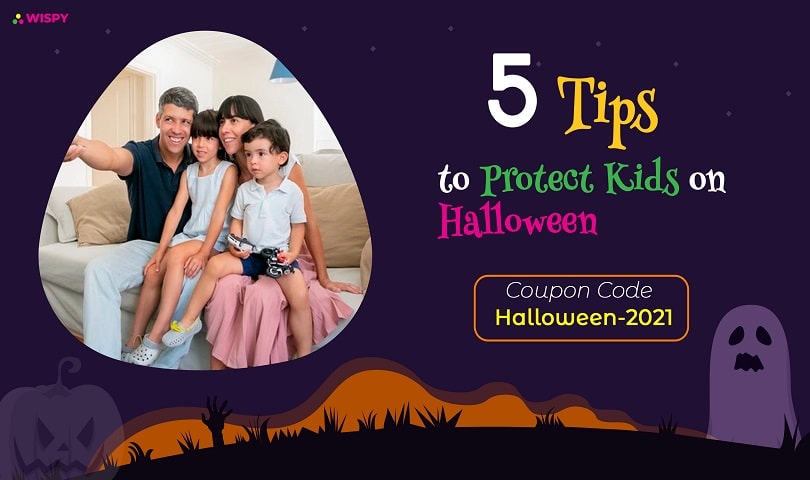 Are you ready for Halloween 2021 with unique pumpkin carving ideas and trendy Halloween costumes?
The chilliest day of the year 2021 is around the corner. For kids, Halloween is all about candies and scary night hunts. But, for parents, it can actually turn into a spooky night.
31st October can be a haunted day for families, especially when they don't look after the kids wandering around the street trick or treating.
Times are long gone when witches and warlocks stories scare kids. Now, children are more vulnerable to physical threats than any horror scene.
Though, Halloween is a recreational day to take a break from yourself, pretending to be your favorite theme character. But, still, you need to be vigilant regarding kids' security.
Here, we will share 5 parenting tips to protect kids on Halloween.
Let's dig in.
5 Tips to Protect Kids on Halloween – TheWiSpy Parental Guide
At present, remote areas with poor lighting are more cursed than a black cat crossing the street.
Ghosts don't give a sheet, but humans do!
On average, around 41 million kids go out for trick or treat. But, as per a recent survey, 70% of the parents admit they don't join their kids trick or treating on Halloween.
Halloween is supposed to be a happy and joyous day when we all dress up in our Halloween costumes and knock on doors for trick or treat.
Halloween can become children's worst nightmare if they experience any mishap during dangerous hunts or games. Kids can get injured, fall by a heavy costume, get lost while trick or treating, or get their stomach upset by eating too many candies.
The following are some dreadful stats of common Halloween accidents that every parent should know.
Slip and trip injuries because of heavy or sight obstructing costumes.
Cuts from pumpkin carvings.
Food poisoning by eating too much candy.
Traffic accidents due to drunk drivers
Shock or concussions due to trauma.
Dehydration by staying out for long hours.
Eye or skin irritation due to poor quality face paints, makeup, or contact lenses.
Unfortunately, parents are responsible for such dreadful accidents on Halloween.
Here are some shocking facts involved in jeopardizing kids' safety on Halloween.
65% of parents do not discuss Halloween safety measures with their kids.
12% of juveniles aging 6 or more trick or treat unaccompanied.
82% of parents fail to put visibility aid or reflective light on their kids' Halloween costumes.
86% of adults drink alcohol on Halloween, and drunk drivers cause 52% of car accidents.
Kids are twice as likely to be injured or killed in a traffic accident on Halloween.
Halloween can be the spookiest day for your kid if you do not follow the safety protocols.
Let's discuss 5 safety tips to protect your children from getting hurt or injured on Halloween.
1: Pick an Appropriate Costume:
Your kid may forethought Halloween costume ideas for the entire year. But, as a parent, you must pick a safe kid's Halloween costume.
Design a costume that is noticeable, flame retardant, and perfectly fits your child. Too long costumes can make kids trip and fall, resulting in serious injuries, including bone fractures. Also, remember that car accident are very common on Halloween. That is why it is essential to choose costumes with bright colors. If your child wishes to dress up in a dark-colored costume, you can put reflective tape on it, so your kid gets visible while crossing the road and avoid getting into traffic accidents.
If your child is wearing a Halloween costume with a mask, make sure the mask does not obstruct the peripheral vision. Costume masks impair vision, especially during the night. So, it is better to play the safe side and pick the right mask for your child.
2: Use Quality Face Paints or Makeup Products:
Kids love face painting. Poor quality face paints or makeup products can cause rashes, irritation, or burn your kid's skin. Before face painting, make sure to have a patch test by applying a little paint or makeup on a small spot of your kid's skin (arm or hand) to ensure the cosmetic does not react and harm the skin. We advise you to use quality face paints or makeup products for the sake of your kid's safety. If you were thinking of buying cheap makeup, drop the idea right away.
In the case of contact lenses, make sure your child is comfortable wearing those lenses. If your child feels any irritation while wearing them, you can ask them to remove the lenses immediately, or it will cause damage to their eyes.
3: Don't Let Kids Eat Too Much Candy:
No parent wants their kid sugar high, especially at an event like Halloween. So, it's better to monitor your child's sugar or candy consumption. Parents rarely join kids on a trick-or-treating adventure, but they can instruct children to control their candy consumption.
Ask kids to avoid eating candies at once after collecting. There is a serious reason behind it: Halloween and night hunts are ideal for sexual predators and harassers to exploit kids. Such perpetrators can tamper candies with illicit drugs such as Rohypnol (known as date rape drugs) to physically or sexually assault young teens.
Make sure you educate your child on the simple principle; not to eat anything from strangers. Then, they can collect candies from neighbors and family friends.
4: Restrict Trick or Treat Time:
Trick-or-Treat is a nocturnal activity; make sure your kids don't stay out for long. A lot of terrible things can befall during the night. It's not ghosts that scare parents but humans. So, it is ideal for letting your child start trick or treating adventure early noon so they will be back before dark. However, parents need to be vigilant, especially when countless offenders actively search for vulnerable kids.
5: Use a GPS Tracker:
In some cases, parents don't bother to trick or treating with kids; in others, kids don't want their parents to supervise them all the time. And mostly, such age groups include teenagers. So, if your teen wants some freedom on Halloween, give them some liberty.
Don't worry; we are not advising you to let your kids on their own on the spookiest night of the year.
Here is the pro tip; install a GPS tracker on your teen's phone so that you can trace their whereabouts actively. You can also geo-fence remote areas and receive instant notifications when your child enters a dangerous zone using a GPS tracking app.
TheWiSpy is an excellent parental control app, popular for its GPS tracking features. It is in great demand nowadays as a safety tool for kids on Halloween.
Update: TheWiSpy offers mega discounts this Halloween with a flat 30% off on all its subscriptions. Halloween Sale is valid till 8 November.
Conclusion
Halloween is a worrisome time for parents. But with our Halloween safety tips, you can make it secure and noteworthy. Child safety is the top priority for parents, and you can keep your kids safe on Halloween with the parental guide mentioned above.
Hope that we will have a spooky good time