Everything about Employee Monitoring You Need to Know
Posted in Employee Monitoring by admin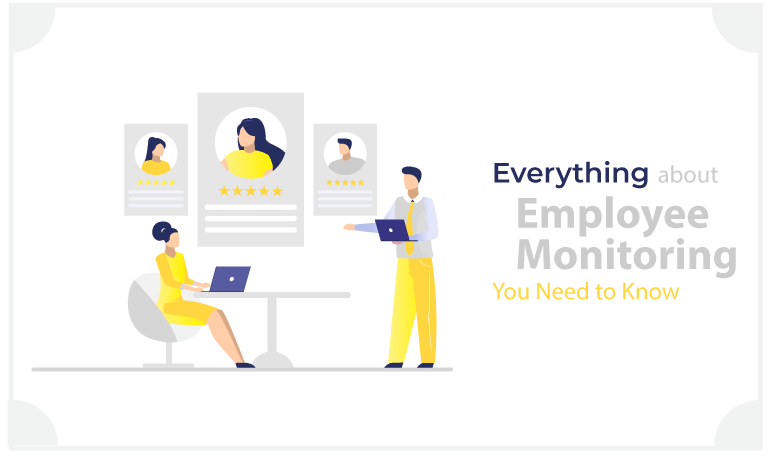 Employee surveillance is a critical and evergreen topic among enterprises. Though you have a start-up or established venture, keeping tabs on staff performance and activities is a must. However, it is always important to monitor employees. Companies use several methods for staff surveillance; some do it manually, while others prefer employee monitoring apps for that purpose.
If you own a business, keep reading. This article is going to assist you a lot.
So, let's begin!
What is Employee Monitoring?
Employee monitoring involves the practices to gather work-related information about staff members. Companies monitor their resources by keeping eyes on their tasks, activities, and location, etc.
Employee monitoring is necessary to keep the workplace persistent. Certainly, no business wants to risk its confidential information. That's why companies need to take precautionary measures for data safety.
Allow us to share some reasons regarding employee surveillance so that you can get a clear image of this practice.
Why Do Companies Need to Monitor Employees?
Businesses take years to flourish. And no venture can risk its credibility just because of a deceiving employee. It is on business owners to protect their company from the menace of corruption.
And yes! Only employee monitoring can save a business from getting compromised.
Staff surveillance gives the following positive outcomes:
It increases employee productivity
It helps businesses to secure their corporate information
Businesses can easily catch deceiving employees and take legitimate actions against them.
Studies show that more than 50% of employees use the internet for personal entertainment during work hours.
Well, companies should take serious notice regarding the activities of their staff members.
Most businesses have now started considering employee surveillance for better productivity and security.
Are you seeking ways to start employee monitoring?
Continue reading to explore more!
How Can You Monitor Your Employees?
There are plenty of ways to ensure that your employee is working productively or not. To ensure staff loyalty, businesses monitor corporate computers, emails, internet usage, and many other activities of employees.
Every company generates reports on the performance of each employee so that the companies can evaluate the net productivity.
Here is how you need to monitor your Work Phones and PCs:
Work Phones:
Read Sent & Received Messages
Monitor Call Logs
Track Location
View Internet Usage
View Multimedia
Work Computers:
Monitor Computer Screens
View Browsing History
Read Sent & Received Emails
Monitor Corporate IDs of Employees
View Stored Files
Well, as you can see that businesses have to monitor every employee activity digitally. So, why not utilizing staff monitoring software that can do all the tasks?
Technology has progressed much in the surveillance and monitoring field. Now, there are multiple apps available in the marking ensuring effortless and advanced employee monitoring.
Employee monitoring software is the ultimate solution for enterprises of all levels. These apps are specifically designed to help employers to keep eyes on their staff members. Based on intelligent and advanced technology, employee surveillance apps help businesses to evaluate work performance and record miscellaneous activities of their employees.
The story doesn't end here. The online market is full of various software ensuring the best employee monitoring, but are they committing the truth or just using catchy lines for marketing purposes?
No worries! The later article covers the top best employee monitoring software to help you out keeping eyes on your resources.
Best Employee Monitoring Apps:
Are you in search of the best employee tracking app?
Or, Are you tired of recording your employee performance manually?
Stop hassling around.
The following are some top-rated employee surveillance software to help you with high-tech staff monitoring:
· TeraMind:
TeraMind is a well-known employee monitoring software. It offers diverse features to ensure better staff surveillance effortlessly. The user-friendly interface of TeraMind employee monitoring app makes it favorite among enterprises.
With TeraMind employee monitoring app, you can;
Monitor internet usage of staff
View employee productivity
Track stored files
Read emails
Record PC sessions
The software helps businesses to record, monitor, and evaluate staff performance efficiently. Amazingly, TeraMind provides insider risk management to secure your business from fraud and corruption.
· HubStaff:
When it comes to employee time tracking, Hubstaff is the best available option for you. It offers easy installation and a user-centric interface.
Top Features of HubStaff includes:
Track time
Take screenshots
Generate payroll
Monitor timesheets
Track GPS location
Monitor employee activities
Monitor URLs
View apps usage
You can install HubStaff employee monitoring software on work phones and computers. It is compatible with both Android and iOS operating systems.
· DeskTime:
DeskTime allows you to track the work computers efficiently. You can monitor what your employee has been doing on work PC during duty hours.
DeskTime offers the following features:
Daily timeline monitoring
Screen monitoring
Screenshots capturing
DeskTime enables enterprises to keep track of time and view every digital move made on work computers by their resources.
· TheWiSpy:
TheWiSpy offers the ultimate mobile and desktop tracking features. For employee monitoring, TheWiSpy is the best software with great user-friendliness. You don't need to get technical knowledge to get started with TheWiSpy.
Here are some most popular employee monitoring features of TheWiSpy:
Employee Performance Monitoring
Remote Access to Work Phones 7 PCs
Catch Deceiving Employees
Non-intrusive Employee Tracking
TheWiSpy enables employers to view and monitor everything on the company-owned devices. You can listen to call recordings, read messages, track GPS location, view emails, monitor browsing history, and monitor many other digital activities without any suspicion.
· StaffCop:
StaffCop, as the name indicates, is an app specially designed to keep eyes on staff members. StaffCop helps ventures to make sure that their company information is safe with their employees.
Let's take a look at some of its features;
Monitor work productivity
Employee time tracking
Ensure data security
Remote access to target devices
There are both free and paid versions of this app available online.
Summary:
Companies rely on their resources, yet a single deceiving employee can shatter the business reputation. For better protection and security of your business, it is a must to track every employee using staff surveillance software.
Don't compromise your business, and start tracking your employees.