Is It Legal for Employers to Track Personal Cell Phones of Staff?
Posted in Employee Monitoring by Julie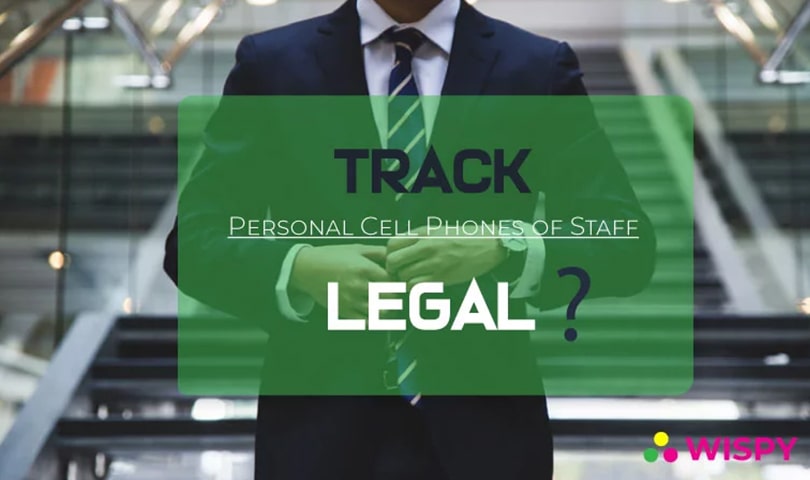 Can I track the personal cell phones of my employee? Is it legal okay?
Many business owners come with such questions just because they are concerned about the protection of their confidential information.
An employee is like a brick and these bricks make the foundation of a venture. But if any brick gets cracked, the whole business will demolish.
Monitoring employees is not only important but necessary. Companies should make sure that their workers are loyal and perform their duty devotedly. Moreover, it is significant to keep eyes on your staff so that you can catch deceiving employees and save your company from a major loss.
Buy Now >>
Can I Legally Track Personal Cell Phones?
Now let's come to the answer to the question mentioned above.
Yes! If you are an employer, you can legally monitor the "work phones" of your staff members. In case you want to track personal cell phones of your employees, let us tell you it is a non-legitimate activity. Staff monitoring apps do not encourage people to stalk or spy someone, but these apps are developed to ensure the protection of secret information of any business.
Nevertheless, if you spy on cell phone without their knowledge, you might face serious consequences if the phone owner complains.
No one wants to go through legal penalties and make the worst of their lives.
So, why put yourself in such distressing complications when you can legitimately monitor your employee's cell phones.
All you need to do is install Employee surveillance software in every work phone owned by your company before you give these devices to your employees. Advanced technology has made it easier to hide icons of mobile tracking apps so that the user will not get any suspicion about being monitored.
Don't know how to begin with employee surveillance?
We got your back! Just continue reading this article and explore how to do it.
How Employers Can Monitor Cell Phones of Their Staff?
There are multiple reasons for keeping eyes on employees. And according to a saying that prevention is better than cure, companies should take precautionary measures to protect their vital information.
Who knows that your employee is sharing confidential information about your company with a competitor?
Certainly, every business has a risk regarding private data. Some greedy employees leak internal matters of the company with rivals in exchange for money. Such menace is intolerable for any firm and companies must take precautions to avoid frauds and cons.
Before explaining the way to track personal cell phones of your employees, let's discuss some reasons why staff mobile phone surveillance is important.
Employers can find out if the staff is working or using a cell phone for personal entertainment
To make sure the employee is not in contact with rivals
Business owners can catch deceiving employees with staff surveillance
Management can ensure that employee stays at home on sick leave
To make sure that work phones are not being used for personal interests
For screen time monitoring
To check installed apps and browsing history
Despite threats, staff surveillance helps companies to pick the best employee of the month or year and reward the workers according to their performance. Companies that reward their workers based on their performance tend to have more loyal and passionate employees.
Now, let's come to the main point about how, to begin with, employee surveillance.
Monitor Employee Cell Phones with TheWiSpy Surveillance App
Being an employer, you can go personally to each of your staff members and check if they are working or not. You'd certainly require an app that helps you keep tabs on the activities of your staff.
No need to test random software and create a nuisance, we have a trouble-free solution for you.
Employers can now get all in one app TheWiSpy with exclusive staff monitoring features.
With TheWiSpy, employers can monitor every cell phone activity of their staff members without letting them know. Management can track call logs, listen to call recordings, read text messages, track GPS location, and keep eyes on other activities remotely and efficiently.
With the user-friendly interface, it is very easy to operate TheWiSpy for employee monitoring. The app is strongly compatible with Android devices. As an employer, you can effortlessly fetch all the work phone information through TheWiSpy control panel. The person using the targeted device will get no clue that his/her phone is under surveillance.
TheWiSpy Installation Process:
Installing TheWiSpy to Android phones, owned by your company, is very simple. The complete process to set up TheWiSpy in your work phones is described below.
Step 1: Create TheWiSpy Account:
First, you need to sign up for TheWiSpy account. Just go to the official website and purchase the registered license. Note that; always use a unique combination of characters to create your account login key. You can purchase a monthly or yearly subscription.
Step 2: Set up & Install:
Next, you require physical access to Android device so that you can install the software in it. Remember, you cannot set up TheWiSpy remotely in any Android device.
Step 3: Start Monitoring:
Once installed, you can open your account dashboard from any browser and start monitoring the digital activities of your employees.
What Are You Waiting For?
Get TheWiSpy employee monitoring software, and evaluate the performance of your staff members. This is to mention that for multiple devices, you require multiple licenses. In case you use one license to monitor more than one device, the app may not work properly.
So, gear up and keep your employee surveillance game strong.
Wrapping Up:
Concluding from the above-mentioned information, we can say that TheWiSpy employee monitoring software is a must app for enterprises of every scale and size. TheWiSpy cell phone monitoring app is not limited to employee surveillance but one can also use it for personal data backup and kid's monitoring etc. So, do you think a cell phone monitoring app can save your world?