How to Implement Employee Monitoring Software in Your Workplace
Posted in Employee Monitoring by Julie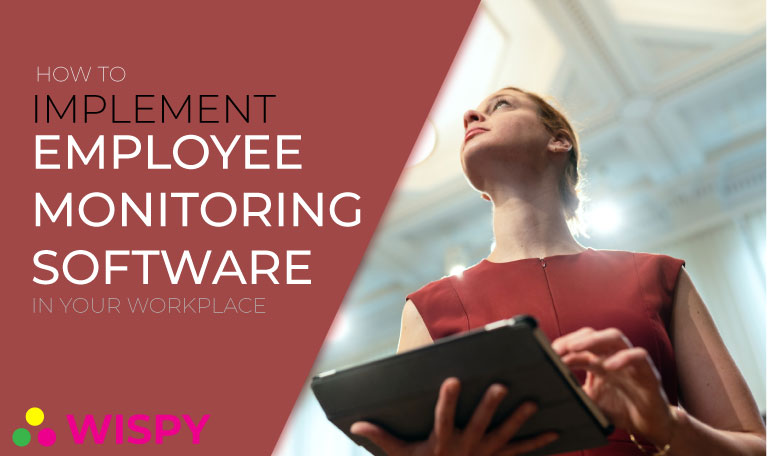 Implement employee monitoring software may seem like something a business would do if it did not trust the people working with them. Yet it's essential to note that many advantages come with the installation of monitoring equipment in your business.

For example, you can find an employee committing a mistake. You address it right away or add to in your employee notes. Furthermore, bring it up in your next performance review meeting. Statistics show that 96% of employees want to hear both positive and constructive feedback regularly. 

Nevertheless, installing an employee monitoring system is challenging. It may result in potential trust breakdowns and privacy concerns from employees within the workplace.
That being said, here are 5 things to take into account before implementing an employee monitoring solution. Ensure that you create a positive standard for what is appropriate at the workplace. 

Identify Goals to Implement Employee Monitoring Solution
Conducting risk assessments and finding the answers to specific questions is important. Such as why you are considering tracking employees is essential before implementing system. More often than not, employers begin with one particular goal in mind, which may be sound. They do not realize the amount of information these programs collect and subsequently get into trouble.
Moreover, you also need to be aware of what the employees or IT team will be able to do with it. Creating a clear purpose statement and guidelines on how to and how not to use the software internally. Make ensures that your IT team avoids collecting sensitive data such as healthcare information.
Besides your goals to implement employee monitoring app, setting well-defined business objectives is also essential that is solely targeted at fixing underlying issues. This helps you prevent financial losses and sees to it that you do not miss certain aspects of your business that need to be monitored.

Choose the Right Software
With so many types of employee monitoring solutions in the market today, you'll want to understand which features are nice to have and which ones you need. A solution packed with all the features under the sun will usually be more expensive. It should have a steeper learning curve compared to the one that offers fewer tools.

In most cases, the employee monitoring software cost may depend on several factors. Those factors include particularly its features, functionalities, and ease of use. Striking the right balance between effectiveness, comprehensiveness, and affordability is critical if you're on a budget.

An excellent employee monitoring tool should be able to reduce costs, enhance productivity. It centralize the investigation process of any issues, and improve the overall business process. Consider this list of employee monitoring software from FinancesOnline to find a solution that is suitable for your needs. You may also want to consider the software provider's track record for customer service. They provide help and tech support in case you ever run into a technical issue.

Learn about Legal Requirements
The law recognizes multiple reasons why a business might want to track staff. Mainly focus on setting out principles for conducting such monitoring. Monitoring laws often vary depending on the country or state.
If you have employees spread out throughout various states. It is your responsibility to follow the statutes specific to the state where your employee works.

Depending on how you implement your employee monitoring system, you might be taking additional privacy obligations.
The popularity of laws such as the General Data Protection Regulation and the California Consumer Privacy Act surge up in popularity, so has the risk of mishandling sensitive user information. 

Understanding ethical and legal risks that come with implementing and utilizing an employee monitoring solution. It is essential in preventing hefty fines, bad press, or worst, a complete business shutdown.
For best results, consult with a lawyer about the implications of legal staff monitoring. That includes gathering potentially sensitive employee information as part of the employee tracking policy.

Talk to Your Employees
The implementation of an employee monitoring system will inevitably raise some concerns in your workforce. This is why you must be transparent and explain the direct purpose of such a tool for everyone. Employer should make it easier for employees to adapt to the changes.

Additionally, it would help if you left some time for questions and feedback. Accept and address any queries or concerns they may have. Make sure to leave a safe space where they can freely share their opinion about software implementation.
Other than that, you may also want to consider sharing the monitoring results with them and provide a system where they can appeal decisions about career related to the data gathered. This ensures complete transparency which is a crucial ingredient in increasing employee acceptance of a new process or policy.

Establish an Employee Monitoring Policy
Another critical step before implementing an employee monitoring system is creating a comprehensive employee monitoring policy that will serve as the basis for the data you will be tracking.
This policy should clearly define the employee's need to be monitored, your purpose of collecting their data, and the person who will have access to it.

What's more, the document should provide in-depth details on which issues you intend to resolve with monitoring. Make it clear in your policies what devices you are tracking and how are you monitoring them. Having a written workplace monitoring policy guarantees that you're protected, and your workers are educated.

Use simple and straightforward language that any of your employees understand and take into account that not all of them are tech-savvy. Likewise, make sure that you require employees to read and sign your monitoring policy to ensure that they are made aware of company regulations upfront.

Monitoring Employees Effectively

Monitoring is a complex and sticky undertaking. For businesses, it means centralizing efficiency and enhancing employee proficiency. On the flip side, employees might view it as a sign of anger, increased stress levels, and thoughts of mistrust. That being said, businesses must communicate an employee monitoring system to their team members to ensure that the implementation process goes as smoothly as possible.

TheWiSpy is a mobile monitoring solution that empowers businesses to track computer and online activities of their workforce. Packed with powerful yet easy to use features, the software lets users monitor GPS location, record screens, view text messages, spy calls, and perform keylogging activities. TheWiSpy offers a lifetime free plan and promotional package available for $10 for Android, while subscription plans for iOS devices are available on a quote basis.