5 Golden Hacks to Protect Your Business from Cyber Attacks
Posted in Employee Monitoring by Julie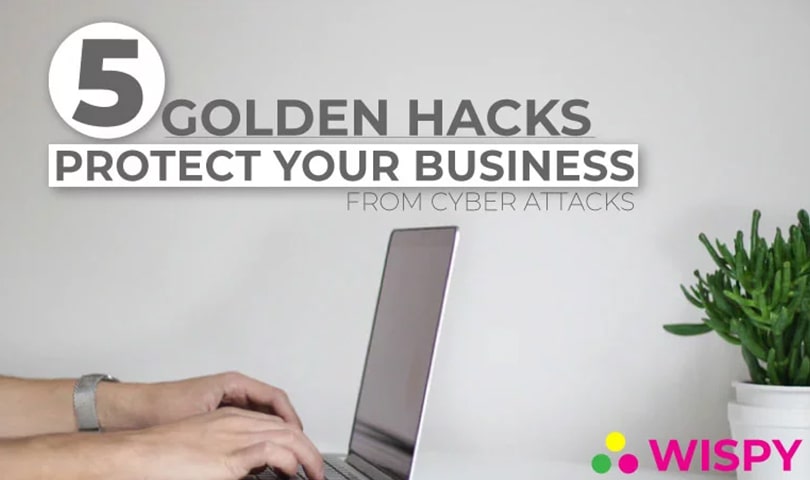 In today's digital era it's quite challenging to protect your business online. Nowadays, companies receive online security threats that can damage their businesses to roots.
Yes, days are gone when businesses got threaten by robbers or thieves. In the present, some geeks with expertise in hacking can steal your corporate information. Research shows that the cybercriminals target small and medium-sized businesses, and the rate for receiving a security threat is 81% in total. Small businesses are vulnerable the most, 43% of the security attacks target startups or small-sized companies.
But How Do Cybercriminals Strike Companies?
Well, there are several types of cyberattacks including; web-based threats (64%), phishing (62%), malicious code attack (59%), denial of service threats (51%).
If you are a business owner, you must be having goosebumps right now.
Are you sure your company is secure from cyber-attacks?
If not, no need to worry. We got you.
This article is for every business owner to help them protect their businesses from online dangers.
5 Golden Hacks to Protect Your Business from Cyber Attacks:
For every business, employees are the building blocks to raise productivity. Your employees indeed work vigorously to make your company successful. But on the other side, cases have been reported in which employees compromise the corporate data for personal interests.
RELATED: Why Should You Start Employee Monitoring Now?
Yes, it is true.
Now, allow us to reveal some golden ways to protect your business from online threats.
1- Keep Your Devices Updated
2- Secure Your Business Emails
3- Back-up and Encrypt Your Corporate Data
4- Educate Your Employees
5- Use Employee Monitoring Software
Let's get started and explain it one by one.
1- Keep Your Devices Updated:
Computer systems hold all your corporate information and are most likely to get attacked by a cyber threat. Businesses should keep all their work devices password-protected so that not even employees can access the delicate matters of companies.
As a business owner, you should protect the hardware as well as the software of your corporate devices. Make sure you update all your business PCs, mobiles, and tablets with the latest software and antiviruses. The best way to stay safe from cyber dangers is by creating your own digital defense system.
2- Secure Your Business Emails:
Businesses should prioritize the security of emails. Most of the corporate discussions are done via emails. This is why it is vital to secure all business emails. Use strong passwords for your business emails and consider email encryption for better protection.
As a business owner, you must have access to every email used to run your company. You can monitor employee emails if you find an employee for compromising corporate data. And if you find anything suspicious, take legal action against the guilty worker.
3- Back-up and Encrypt Your Corporate Data:
Business information is no doubt delicate. The corporate data becomes quite complicated to recover If any company faces a security threat or is attacked by malware. You may permanently lose all your security credentials and other sensitive details.
To save businesses from such loss, it is always better to back up and encrypt everything related to your business. Today, cloud storage has made it more accessible for businesses to secure their data without jeopardizing any hard drive. You can simply put encrypted corporate details on a password-protected cloud and save your business from drowning.
4- Educate Your Employees:
Your business is in the hands of your employees at the workplace. Make sure you set strict security policies, and every worker of your company has acknowledged it. Intentionally or unintentionally, your employee can breach the security code and leak your business details.
Your business details are not only leaked by the bad intentions of a disloyal employee but they can also be compromised due to the non-seriousness of any of your workers.
Yes, downloading a corrupt file of using memory sticks that may contain malware can hack into your business details and make you lose your important corporate data. Before taking any risks, businesses should apply strict contract policies so that in case of any malicious activity, the employee would be questioned legally.
5- Use Employee Monitoring Software:
Employee tracking has always been a good idea to manage and supervise the working environment. Companies can now install and implement employee surveillance software in workplace digital devices to keep sharp eyes on their staff. Technology has advanced so far that keeping anything hidden from anyone today is quite difficult. Business owners and company management should advance their work security systems, desktops, phones, and tablets by installing employee tracking software in all the devices. Staff surveillance makes it easier to monitor your employee digital activities effortlessly. If you manually check-on your resources, you would spend hours and hours doing paperwork.
Here is a little bonus for you. To save your time, we are going to discuss the employee monitoring features of the world's best desktop and mobile tracking app – TheWiSpy.
TheWiSpy employee monitoring app provides businesses with an effective way to manage and control corporate devices. With the help of this app, you can now spy on every desktop and mobile activities your employees do on their work phones. TheWiSpy employee surveillance gives remote access to all your office devices so that you can see who is working and who is not.
Here are some incredible employee tracking features of TheWiSpy:
Desktop Monitoring
Mobile Monitoring
Cell Phone Monitoring
Email Tracking
Social Media Monitoring
GPS Tracking
Geofencing
Contacts Monitoring
Multimedia Tracking
Call Logs Monitoring
SMS Spying
And many more
As far as we recommend is that you should not take risks,when technology helps you protect your business efficiently and securely.
Wrapping Up:
Cyberthreats are no new to the corporate world. Businesses of every size face online security threats, and the rate is increasing every day. Companies should consider protecting corporate data from such menace. For that, there are various ways to help out business owners secure their confidential information. One of the effective ways is the use of employee surveillance software. Staff monitoring enables companies to know if their employees are working dedicatedly or leaking the private details of the workplace. Do you really need an employee tracking app?