5 Golden Ways to Track Mobile Phones
Posted in Mobile Tracking by Julie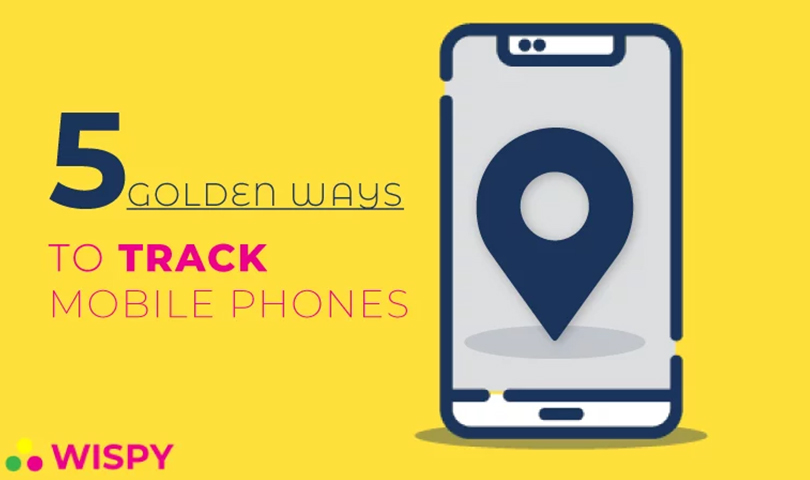 From connecting people with others to track mobile phones and navigate locations, smart devices have smoothed our way of living. Now, our dependency on mobile phones has increased so much that nobody can think about living without a cell phone.
Losing your mobile phone is the worst nightmare. Mobile phones hold our data including; contacts, chats, pictures, and other sensitive details that no one likes to share publicly.
RELATED: Cell Phone Tracking Without the Installation of Software on Target Phone
In the case, if someone's cell phone got stolen or misplaced, the security of the saved personal data comes to risk.
Have you lost your mobile device?
No worries.
In this piece of article, we are going to share some incredible ways to help you find your lost or misplaced cell phone without much effort.
So, let's get started.
Track Mobile Phones – Don't Put Your Data at Risk:
Tracking a cell phone without them knowing is not as difficult as it seems. With a bit of knowledge about mobile tracking, you can find your lost device effortlessly.
Here are the top 5 ways to monitor mobile phones of Android anytime you want.
Track Google Location History
Use Default Phone Tracker
Track IMEI Number
Try Google Photos
Use Android Tracking Software
Let's begin and see how each way helps find lost Android devices.
Track Google Location History:
When it comes to tracking mobile phone device, Google Maps is the ultimate option to find your lost phone. Google maps continuously record your device whereabouts if you activate the GPS location of your mobile or tablet.
Keep in mind Google location tracking is possible only if you meet the following conditions:
Your device GPS is on.
Your device has an internet connection.
You have the credentials of your Gmail account.
If your device has no internet connection, then tracking its live location can become difficult. Tracking mobiles with connected internet and active GPS is like a piece of cake. All you need to do is open Google Maps using your account credentials and monitor your timeline to view the location history. Google Maps enable you to view the location history of your phone to ensure the protection of your smart device.
Use Default Phone Tracker:
Mobile phones are now coming with a default location tracking feature. Operating systems such as iOS and Android offer location tracking application that help users to track their cell phones any time they want.
Examples of default phone trackers include; Find My Phone, Find My Device, etc.
RELATED: Is It Possible to Track Cell Phone with Number?
The user must turn on the location tracking feature for security purpose. By this, you can track your mobile phone any time anywhere. Also, make sure your cell phone must have an internet connection. Otherwise, you can't track your phone.
Track IMEI Number:
Every mobile device has its identity with a unique IMEI number. If you lost your device or got robbed, then tracking the IMEI number can help you find your smart device. The IMEI number of a mobile device is present on the packaging box of your device. Everyone should note the IMEI number of their smart device as a safety precaution. To get the IMEI number of your phone or tablet, you must dial *#06# from your device.
In case someone robbed your phone, you can track the IMEI number of your device by seeking help from the manufacturers. There are several IMEI trackers available in the market, but for efficient mobile tracking, you must go for an authentic method.
Try Google Photos:
You must be thinking of how Google photos can track mobile phones?
Well, in the cases of theft and robbery, Google photos monitoring is ultimate to identify the culprit.
Tracking Android phones connected with Google account is easy as pie. You only need your Google account credentials to access your Google photos. If the person who robbed your phone uses the camera of the device, then you can view all the captured pictures from your Google account. In most cases, the thief is unaware of this trick and carelessly uses the phone as it is not traceable.
Use Mobile Tracking Software:
Mobile tracking software helps people track the whereabouts of their lost smart devices. Several mobile tracking apps are available in the internet market. You can track your iOS and Android devices by installing the leading mobile tracker in it. 
Cell phone tracking helps you to locate your lost device by checking the location history along with active pinpoints.
Another incredible feature related to location tracking is Geofence alerts. Parents can mark safe and unsafe localities using a mobile tracker and get alerts on every time their kid breaches the safe zone.
If you are looking for a cell phone tracking app to help you with location tracking, try the TWS GPS location tracking app.
To save your time, here is a quick review of this mobile tracking solution.
TheWiSpy Mobile Tracking App – Introduction:
TheWiSpy is a mobile monitoring and tracking solution to help you keep track of routine digital activities. Moreover, TheWiSpy offers extensive mobile monitoring features to help you keep tabs on your target device. You can use TheWiSpy cell phone tracker to monitor the digital and physical activities of your loved ones.
People around the globe prefer TheWiSpy over other mobile tracking apps due to its powerful spying features and great functionality.
Here are the most remarkable features of TheWiSpy app:
SMS Spying
GPS Tracking
Geofencing
Multimedia Monitoring
Social Media Monitoring
Email Tracking
Screen Time Monitoring
With such incredible mobile monitoring features, TheWiSpy spy app is indeed the first choice among enterprises who want to spy on their employees.
Not only this, but parents also prefer TheWiSpy phone monitor to spy on the activities of their teens and tweens.
Wrapping Up:
Going somewhere without having your phone makes life incomplete. Tracking cell phones help people to find their lost device. Mobile tracking is an easy way to know the whereabouts of your loved ones.
Companies also track the work phones of their employees to ensure business protection. Hence, from personal to corporate use, cell phone tracking is here to help. Track your device efficiently with TheWiSpy spy app and enjoy comprehensive cell phone monitoring features.