5 Ways To Track My Cell Phone Location with IMEI Number
Posted in Mobile Tracking by Julie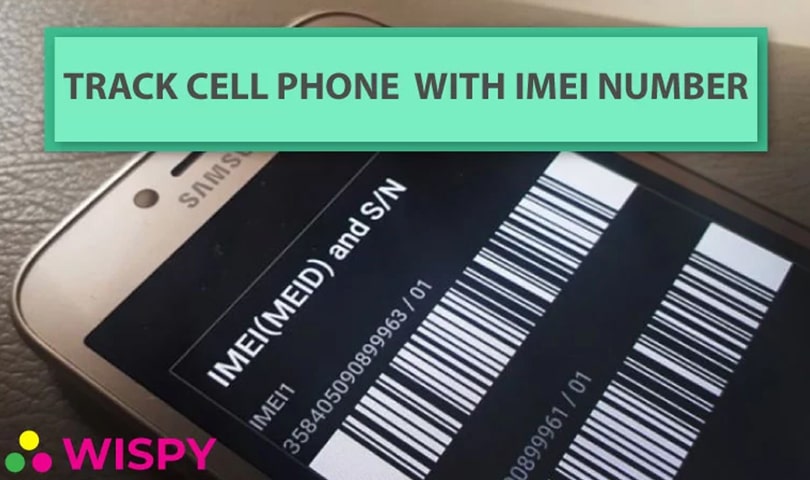 Have you ever lost your cell phone?
Well, if you ever have lost your mobile device, then you must know how terrifying it feels when you have no idea where your cell phone is.
Mobile phones have become an essential part of our lives. From pictures to contacts, cell phones hold our very personal details. In simpler words, we can't live without mobile devices.
Do you know that every year around 70 million mobile devices get lost and never get recovered?
Yes, it is indeed true. People either lost their cell phones by mistake. Or, they get robbed.
To mitigate such a situation, technological companies have provided mobile users with multiple solutions to track down their lost devices.
Do you want to track your lost phone?
Continue reading this article and discover how you can free track your lost cell phone using an IMEI number.
But, what is an IMEI number, and how to track an IMEI?
Let's find it out first.
What is IMEI Number?
An IMEI number, International Mobile Equipment Identity, is basically a 15 digits number that acts as the identity certificate of mobile devices. This unique number is permanent for each device and can't be changed unless your cellular device is counterfeit. It is significant that every mobile user must note and save the Unique IMEI number of their device so that they can track cell phones when needed.
In the case anyone lost his/her mobile device, the very first thing someone should do is contact the service provider and ask them to block your IMEI number. By blocking the IMEI number, no one can reach your device by calling or sending text messages.
But, how can you get your phone's IMEI number?
Don't worry! There are multiple ways to find the IMEI number of your mobile devices.
How to Find the IMEI Number of Your Cell Phone?
IMEI number is the identity of your cell phone. Mobile phone companies license each of their products with a unique IMEI number. And fortunately, such an identity can track the GPS location of lost or robbed mobile devices.
Let's have a look at possible ways to find the IMEI number of your Android mobile phone.
Check Your Cell Phone Box:
Your mobile phone box has your device information printed on it in the form of the model number, serial number, barcode, and IMEI number. Try to look for your phone's IMEI number from your phone box.
Dial *#06# From Your Phone:
The easiest way to get your device's IMEI number is by dialing *#06# from your phone. Once you dial it from the target device, a window will pop up instantly showing the IMEI details.
Check Device Settings:
You can locate your phone's IMEI number through the settings menu. Go to the Settings, tap on "General/System", open About Phone. From here, you can get the IMEI details of your phone.
Look Under The Battery:
Android devices have IMEI numbers printed under the phone's battery. Just take out the battery of your device and look under it, you will find the IMEI number.
Track Cell Phone IMEI Number of iPhone:
The IMEI number of iPhone devices is printed on the backside of the device, or you can find it printed on the sim tray. Moreover, iPhone users can get the IMEI number of their device through their Apple ID that is linked to the target device.
You can detect the GPS location of kids' cell phones if you already know their IMEI number. That is why it is vital to save such details of your phone because accidents happen unalarmed.
Now, let's see how an IMEI number can help us detect our lost cell phones.
How to Detect Lost Cell Phones with IMEI Number?
If you have secured your device's IMEI number before it got lost, consider yourself a genius.
If you lost your phone, you need to inform your local police about it immediately. Police with the help of digital forensics experts can track down the lost or robbed devices by tracking the IMEI number of the device.
If you don't want to involve the police, there is another option available.
The online market is full of IMEI tracking tools. There are several apps available on Play Store that claim to provide IMEI number tracking, but here we are going to discuss the "IMEI Tracker".
Here are some steps to follow:
Open Play Store from Your Android Device.
Search for IMEI Tracker – Find My Device App.
Tap on Install and Download the App.
Once you download the app, you have to add the phone numbers of your trusted people, whom the app can contact when your device gets stolen or lost.
Remember that, you have to install the IMEI tracker on your phone as a safety precaution all the time.
If you haven't, and you know the IMEI number of your phone, just fill in your IMEI number in the app and track your device.
Amazingly, the IMEI tracker app allows you to send command of "getlostphone" from other mobile devices to your lost device. And the app will immediately send you the real-time location of your lost phone.
If you do not have the IMEI details of your lost device, don't worry.
You can still track cell phone IMEI using a mobile tracking app; like TheWiSpy.
Let's see how it works.
How to Track Cell Phone with TheWiSpy Mobile Tracker:
TheWiSpy Mobile Tracker exclusively tracks all activities of the mobile phone remotely. Whether you want the real-time location of your kids or want to know the current location of your employees, TheWiSpy IMEI tracker efficiently helps to track GPS location. And the app provides you with a detailed report regarding the location history of your device.
Here is what you should do:
Get TheWiSpy Subscription.
Install TheWiSpy app in your target phone.
Track Location from Web-Based Control Panel
Buy TheWiSpy App Now >>
You can use this app to track your personal cell phones. The incredible thing about TheWiSpy app is that you can remotely shut down your lost mobile device. No one can unlock without having a password.
Isn't it fantastic?
Conclusion:
Things get lost; no big deal. But losing something that holds your personal details such as mobile phones, can be traumatizing. The good thing about today is, you can track down the location of lost mobile phones using its IMEI number, or a third-party app like TheWiSpy. So, act smartly and recover your lost devices with the help of technology.