5 Ways How an Android Spy App Can Save Your World?
Posted in Android Spy by admin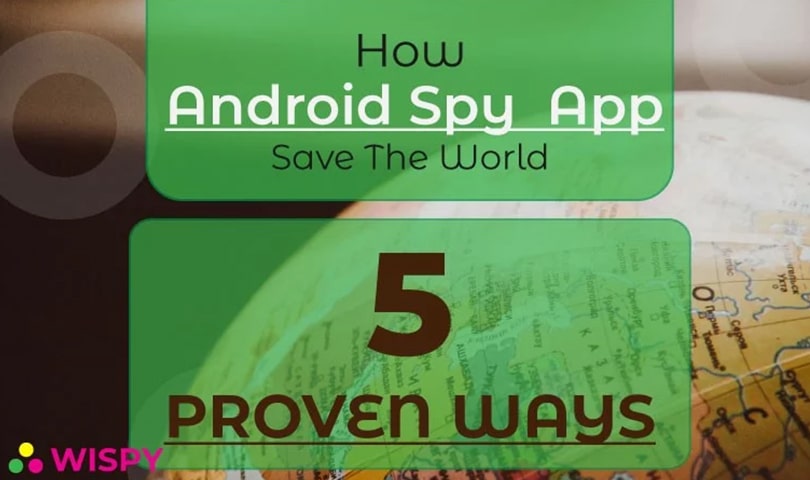 You must be wondering how an Android spy app can help you?
Well, in many circumstances, an Android monitoring app can save you from many dangers.
Do you know how?
Let's reveal it.
The need for Android spy apps is rapidly increasing with the passing time. Today, mobile devices have become a necessity in our routine lives. From learning to entertainment, we all are busy on our mobile phones or tablet.
Do you know that as per the Google stats, Android OS has over 2 billion users actively using the operating system monthly?
People spend more than 4 hours using their smartphones. Well, as technology improves, new and new features will engage the audience and we will become more dependent on our mobile devices.
Today, we encourage our kids to learn digitally. Digitalization has indeed eased many of our tasks, but many people are unaware of the harmful effects of mobile devices.
If you look around, you will see every other kid addicted to the smartphone or tablet. Using too many screens isn't good for a child's mental and physical health. Despite this, there are too many online dangers that can harm juveniles. 
Not only kids but businesses are also at great risk to encounter cyber threats. There are so many cybercriminals waiting to attack the vulnerable to get benefit from them.
Before we discuss the advantages of Android spy apps, let us throw light on some of the most potential online dangers.
Read Also: Top 10 Android Monitoring Apps in 2021
How Android Spy App Helps to Prevent Cyber Dangers?
The online world is very cruel when it comes to cybersecurity. Scammers and hackers are constantly trying to breach the privacy of teens and businesses for blackmailing purposes. Teens and tweens are more susceptible to victimized by cyberbullying, online predation, and explicit content etc.
Here are the details of some most potential cyber crimes for your awareness;
Cyberbullying:
Kids face bullying at some stage of their lives. This miserable activity has now been done via social networks. Cyberbullying is a serious crime that makes people feel that they are worthless. The results of cyberbullying are daunting, including; lower self-esteem and even suicidal attempts.
Online Predation:
A nuisance that one should never ignore, online predation involves molesters or sex addicts reaching out teens and demanding sexual favors. Online predators actively search for vulnerable kids, blackmail and threatened them for sexual advantages. In the U.S, 1 in every 5 teenagers is at risk of online sexual predation.
Explicit Content:
The internet is the hub of bad content that can be accessed by anyone. Among such content, pornography is the most wicked of all. No parent wants their kid to watch explicit images or videos. But, with internet freedom, you can't guarantee if your child gets addicted to bad content or not.
Hacking:
Data breach is common among businesses. Hackers actively try to steal the corporate information of enterprises so that they can blackmail the companies.
Lethal Crimes:
It is common to post your pictures on social media. Even we post check-ins of our current location publicly. Well, such type of activities invites psychopaths to our profiles. Stalkers can be really dangerous. You never know who follows your routine and plans to harm you in any way. Cases reported that criminals following social media profiles committed serious crimes including; rape, kidnapping, robbery, and even murder.
That was just a glimpse of what the online world can do.
But, as it is said, every problem comes with a solution.
And, the solution to avoid cybercrimes is to stay alert of the online activities of your loved ones.
Now, here is the part at which Android spy apps benefits.
Let's see how.
How Android Spy Apps Can Save Your World?
Android monitoring apps come with a lot of advanced features that allow you to remotely monitor and manage your target phone or tablet. Such spyware helps people to create a safer digital environment for their loved ones. Businesses are also leveraging the benefits of Android trackers to monitor work devices.
But, how exactly Android spyware is helpful?
Here is the answer!
Monitor Kids Anytime You Want:
Parenting has never been an easy task. And, with the tough work routine, it is very difficult to keep eye on your kids all the time. Digital parenting is known to be the best solution when it comes to monitoring kids. All you need to do is to install the Kids monitoring app on your child's phone or tablet and you are ready to discover the online space of your kid. You can see where your children go, who they contact, what they do on social media etc. The interesting part is, with the Android spy app, parents can monitor their kids remotely and secretly. No need to ask your teens about their daily routine over and over again. Just a few clicks and you are all set to monitor everything.
Track GPS Location of Your Loved Ones:
One of the best features of Android spy apps is GPS tracking. Parents can easily track the location of their kids digitally by installing an Android location tracking app on their phones. Not only parents, but employers can also track the work phones and find out the real-time location of their employees.
Android spying apps provide GPS tracking along with active pinpoints and location history. Such apps can also be used to track the lost Android phones or tablets.
Set Parental Controls:
As a parent, you must know how the internet can harm your kid. To keep your children safe from cyber threats, you need to set digital limitations to their mobile devices. Android monitoring apps help parents to limit screen time, inappropriate websites, addictive games, etc. For parents, an Android spy app is the ultimate option to monitor and control the kid's smart devices.
Spy on Work Phones:
The use of Android spyware in work phones is getting common each day. Businesses are aware of the possible threats that can cause big loss including; dishonesty, data leak, etc. Hence, employers track and monitor Android work phones to make sure their resources are working with full dedication.
Watch Over Elderly or Sick People:
Android monitoring apps have proven to be the best when it comes to watching over elderly or sick people. Such apps offer a geofencing feature that sends instant alerts when your target device owner enters or leaves the marked area. You can easily track your elderly family members in case they lost or require urgent help.
BONUS: TheWiSpy – All in One Android Spy App
Android spy apps that offer all in monitoring are very rare in the online market. TheWiSpy is an exclusive Android monitoring tool that provides extensive spying features, compatible with a range of Android devices. It is a secure mobile spy application that is trusted by a number of people around the world.
So, when are you getting your Android monitoring App?