uMobix Review 2022 [Updated]- Everything You Should Know About uMobix App
Posted in TheWiSpy alternatives by admin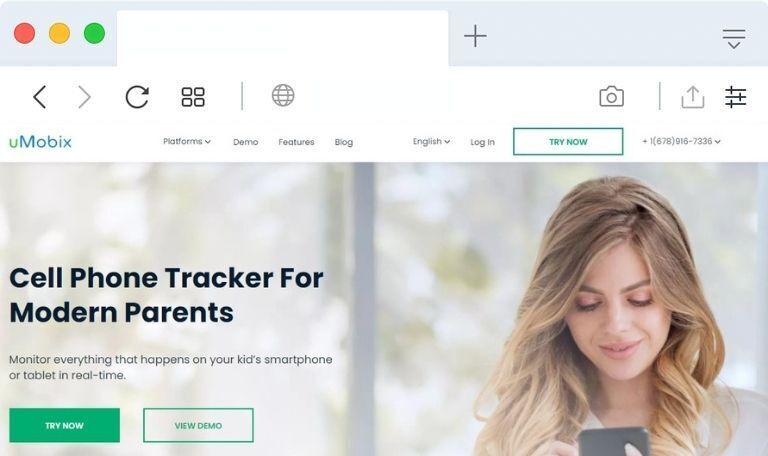 Parents with growing kids know how much it aches when their teens hide their cell phones in their presence. Most of the kids who are secretly involved in illicit activities try to conceal their phones whenever their parents are around.
If your teen does that, too, relax!
Because today we are going to review the uMobix app that is known to be a good kids' monitoring software.
We have already reviewed several mobile spy apps; each spyware is unique in its way. Let's have a look at the special features of the uMobix app and see how parents can utilize such fantastic child monitoring software.
uMobix Review 2022 – Everything You Should Know About uMobix App:
uMobix app is an innovation of high-end technology that empowers parents to keep an eye on kids' mobile activities. Apart from school/college, kids wander around in parks, gaming zones, and other places. Parents can keep track of their kids whereabouts by monitoring their cell phones. The uMobix is an exclusive spy app that every parent need at present.
uMobix has already gained many satisfied clients so far. Trustpilot reviews of the uMobix app are quite impressive, with a 4.3-stars rating.
Splendid. Isn't it?
This uMobix review is going to be a bit comprehensive. You can navigate the review by the following key points.
What is uMobix?
How uMobix Works?
What Sort of Devices is Compatible with uMobix?
What Features Does uMobix Offer?
How to Install uMobix on Kid's Phone?
What are the Subscription Packages of uMobix?
Continue reading and get the details on the points mentioned above.
What is uMobix?
uMobix falls in the category of top-selling spy apps. Comparatively, it is the latest mobile phone tracking app with state-of-the-art mobile tracking and monitoring features. You can use the uMobix app as a mobile tracker or utilize its features for kids' monitoring. The app is designed for parents who stay curious about the digital well-being of their teens. The uMobix helps you spy on Android and iOS devices in real-time. It means that you can record whatever your child does on his/her mobile phone or tablet.
How uMobix Works?
Getting started with the uMobix app is easy as it does not require any complicated hacking attempts. The uMobix app needs to be installed on the target device. However, you require one-time physical access for it. Don't worry; it only takes 5-10 minutes to install and configure uMobix on a target device. You can get the app from the uMobix official website. First, you have to purchase the app license and install the app on the phone/tablet you desire to monitor. Once uMobix starts its operations, it records everything that happens on your target device. With uMobix online control panel, the end-user can monitor the recorded details remotely.
If you want to know how the uMobix dashboard works, you can try its live demo from the official website.
What Sort of Devices is Compatible with uMobix?
uMobix is a spy app for cell phones. Android devices that run OS versions four and above are compatible with uMobix. In the case of iOS devices, every iPhone and iPad are supported by the uMobix app. So, no worries, if your child has an Android or iOS device. Just pick it up and install uMobix on it.
What Features Does uMobix Offer?
Spyware apps can help you monitor your children when you are not around. But, if you invest money in scam spy apps, you'd find nothing but regret. Scam spy software can blackmail you and demand ransomware. Obviously, no one would want their personal details in the wrong hands. If you are looking for a monitoring app for kids, make sure you rely on one that offers practical features.
Here, we are going to review the uMobix feature list thoroughly. Continue reading and find complete details on uMobix features and uses.
Call History Monitoring
Track call history and discover the contact details of the callers. View timestamps, dates, and call duration without letting your target phone/tablet user know.
Text Message Tracking
SMS and text message monitoring can reveal many things about a person. Parents can use this feature to discover if their teens are involved in sexting with others. Moreover, reading text conversations helps you explore the secret text abbreviations used by your kids and peers.
Social Apps Monitoring
Social apps hold millions of accounts. Everyone, including teens and adults, is active on social apps like Facebook, Instagram, etc. You can monitor the social apps of your kids to find out their online friends' circle.
GPS Location Tracking
Kids wander around in parks or playgrounds in their free time and even after school. To safeguard children from kidnappers, parents must track their whereabouts. GPS location tracking is a convenient way to track the location of kids remotely. The uMobix GPS tracking feature is only available for Android devices.
Photo/Video Gallery Monitoring
Multimedia monitoring enables you to view saved photos and videos from the target device's media gallery. You can watch recorded videos, captured pictures, and other multimedia files from the gallery directly.
Browsing History Monitoring
Parents who doubt their kids watching porn should start tracking children's internet history. Browsing history monitoring also assists parents in developing cyber etiquettes among teens and tweens.
Other Features
uMobix other features include; keylogging, contact book monitoring, messaging apps tracking, notification alerts, device info, etc. Whether it is an online activity or offline mobile media, you can track everything with the uMobix app.
How to Install uMobix on Kid's Phone?
Installing uMobix on your kid's phone is easy. As mentioned above, you need to purchase a uMobix license first. Once you register with uMobix, it will send you an email with installation instructions.
The uMobix installation process for Android and iOS is different.
Let's reveal how you can install the uMobix app on Android and iOS devices.
uMobix Installation on Android:
To install uMobix on an Android phone or tablet:
Hold the target device and unlock it.
Open the browser and add the download link sent to you via email by uMobix upon registration.
Download and install the uMobix app.
Configure the app following recommended settings.
Hide the app icon, and your Android installation process is complete.
uMobix Installation on iOS:
For uMobix iOS installation, you must know the Apple credentials of your target phone/tablet. The minute you provide Apple credentials to uMobix. Your target device will receive a code that you require to complete the setup process. Indeed, uMobix iOS installation requires physical access to the Apple target device.
What are the Subscription Packages of uMobix?
uMobix offers flexible subscription packages. You can avail of basic and full subscription packages.
Here are the details of the uMobix subscription packages.
uMobix Android Subscription:
Basic Plan
1-Month Package: $29.99
Full Plan
1-Month Package: $59.99
3-Month Package: $99.99
12-Month Package: $179.88
uMobix iOS Subscription:
Basic Plan
1-Month Package: $29.99
Full Plan
1-Month Package: $49.99
3-Month Package: $79.99
12-Month Package: $149.99
uMobix Review – Verdict:
uMobix is a new name in the spy app industry, yet it has attained a good ranking among competitors. With lots of satisfied customers, uMobix has proved to be the ultimate solution to monitor kids and employees.
So, if you are considering buying a uMobix, it's time to make a decision.
We hope that this uMobix review has delivered the main points regarding this app's features and functionality.
Keep your kids secure and track them even in your absence with the uMobix app.
READ ALSO: TheSpyBubble Review, Highster Mobile Review, HoverWatch Review