How to Train Kids to Use the CyberSpace Safely?
Posted in Parental Control by Julie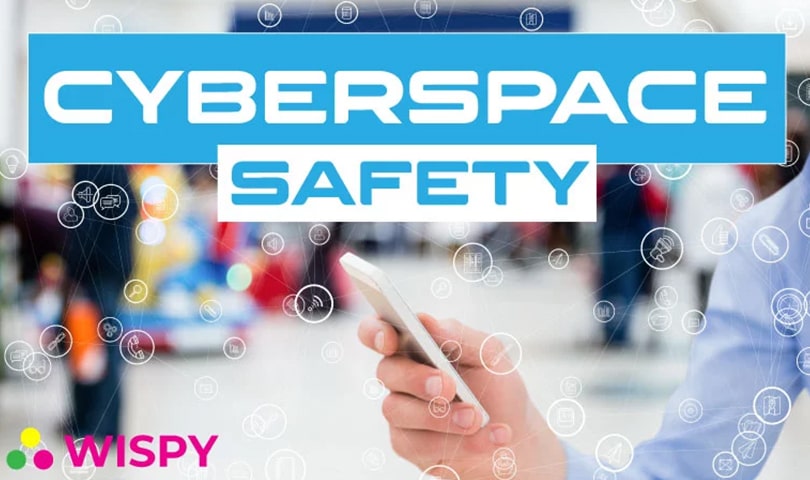 The internet is an ideal space for kids to learn new stuff about everything. From school projects to moral lessons, the internet can benefit kids in many ways. However, parents should train their kids to use cyberspace safely. The reason is the dark side of the internet which contains content that no parent wants their child to watch.
Parents must keep themselves aware of cyber threats. Cyberbullying and online molestation have become the most common internet dangers that may harm your child's mentality. Likewise, the internet contains hazardous content including; violent games, explicit media, lethal challenges, etc.
You will be amazed to know that today around 95% of American teenagers have their personal smartphones. A study by the Pew Research Center showed that 45% of teens stay online consistently.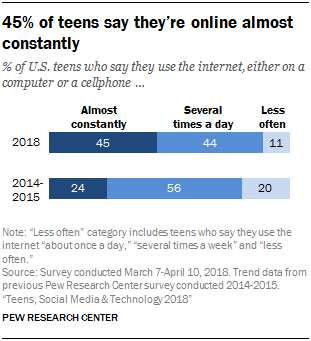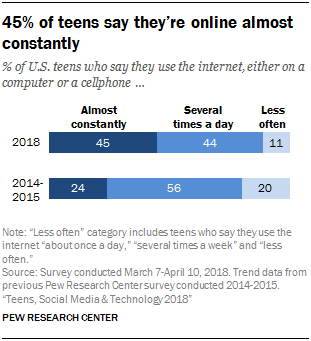 Staying online for long hours might keep your kid updated with the latest news, but it has more negative side effects than the positive ones. Bad posture, poor eyesight, mental pressure, etc. are the most common health issues with kids who spend hours on their smartphones.
You don't have to sit back and worry. Instead, you can teach your kid to use the cyberspace safely.
Here are some effective ways to train your children how to use the internet with no trouble.
How to Train Kids to Use CyberSpace Safely?
Children are innocent, unaware of the harsh reality of the online world. They see the internet as a source of entertainment where they can play games and watch cool stuff.
Before you give your child internet freedom, make sure you train them on how to use cyberspace safely.
Let's discuss how you can do it.
1- Talk About Cyber Dangers:
Cyber dangers are countless, including online harassment, bullying, molestation, sexual content, etc.
Do you know that a cyberbullying victim is 1.9% more prone to commit suicide?
Parents should be attentive to the increasing rate of online dangers. The only way you can keep your child from online threats is by talking about the nuisance. Teach your kids how bad such online threats can harm their well beings and make them aware of all the possible outcomes. You can discuss the hideous stories of cyberbullying victims so that your child avoids communicating with strangers. Sit down with your kid and help them understand the cons of the online space.
2- Tell Your Kids How To Secure Their Personal Information:
What you post online indeed stays in the online space forever.
But, what if you delete it?
Well, you can't guarantee that someone will not take a screenshot of your personal stuff. People, who stalk others, save their personal details and pictures, edit it and use it against them. Put every negative aspect of the internet in front of your kids and make them aware of the potential cyber dangers so that they secure their personal information. You can develop a habit among your kids to post things online in user privacy, so they can use cyberspace safely. Because, it is always risky to post check-ins and personal images publicly, who knows if you have a stalker?
3- Discuss Malware and Phishing Attacks:
All that glitters are indeed not gold. There are thousands of hidden links scattered on websites that may hold phishing or malware attacks. If your child opens such URLs, then it may harm your child both physically and mentally. So to make sure that your loved one use cyberspace safely, parents must teach their kids that every shining thing on the internet is not always here to benefit them.
Security concerns are vital, and children should learn how to overlook malware and phishing attacks. Parents should discuss the outcomes of phishing and hacking attacks with their children to create a safer online environment.
4- Teach Them to Respect the Internet Audience:
As mentioned above, cyberbullying is a nuisance. As a parent, you would never want your child to become a bully. Educate your children to respect the internet audience in order to use cyberspace safely .
Kids should learn how to behave with the internet audience, as the online communities also have humans like us.
It is significant for your kids to avoid engaging in activities that involve hating comments or bullying because that may hurt someone's feelings. Instruct your children to behave properly on the internet and help them develop empathy toward other human beings.
5- Develop a Habit to Ask Permission Before Installing New App:
The online world is full of several educational, entertainment, and gaming apps. Though educational and learning apps can help your child to discover many things, make sure that your kid asks your permission before installing a new app. There are thousands of apps that are not legitimate and contain malware or explicit content.
Likewise, financial fraud is yet another trouble when it comes to fake apps. That is why your kid must install apps with your consent.
Now, let's have a look at some tips that help parents to create a secure digital space for kids.
Tips for Parents to Create Safer Online Environment for Kids:
To all the parents around the globe, it is time to get smarter with digital knowledge. Note that, as a parent, you can only create safe environment for teens to save your child from the hazards of the internet.
So, here are some effective tips for you;
Put Desktop in Common Room of the House
Keep Check on the Browsing History
Set Some Rules Regarding Internet Usage
Ask Your Children about Their Online Friends
Monitor Online Activities of Your Children
You must be thinking about how you can monitor your child's online space?
Here is the solution.
Bonus – TheWiSpy Kids Monitoring App:
Monitoring the digital space of your children is not a difficult task if you have kids monitoring software like TheWiSpy. With such an app, parents can remotely monitor their kids and spy on all the online activities of their children.
Here is what you can do with TheWiSpy kid's monitoring:
Listen to Call Recordings
Read SMS
Monitor Social Media
Listen to Surround Recordings
Track GPS Location
Geo-Fence Localities
Spy on Multimedia
So, what are you waiting for while you can effortlessly monitor and manage the digital space of your kids?