5 Powerful Tips to Spy on Someone's Android Phone
Posted in Android Spy by admin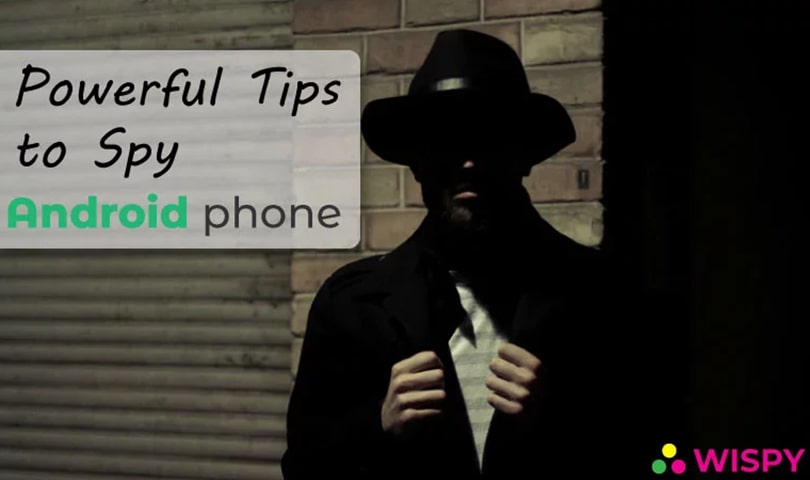 Do you want tips to spy on the Android phone of someone?
Today, most people are curious to know what's happening in the Android phone of their loved ones.
The demand for Android phone spying is increasing with the increasing use of mobile phones. People are curious to explore the digital space of their loved ones just to make sure they are safe online. The internet world comes with several potential cyber threats that include; hacking, spamming, cyberbullying, adult content, sexual predators, etc. No one wants their kids or family members to get victimised by any of such online dangers. To stay alert, people seek technological help so they can spy on Android phones or tablets of their loved ones and make sure they use the internet safely.
Do you also worry that internet dangers can harm your family?
Don't be worried. This article is going to reveal some powerful Android monitoring tips to spy with advanced cell phone monitoring and tracking.
So, let's get started.
5 Powerful Tips to Monitor Someone's Android Phone:
Spying on the Android device of someone is a complicated task. Whether you want to spy Android phone of your kid or employee, you should always make sure that you do it with their consent. Note that, cell phone spying is illegal if you do it without the consent of the target device user. However, permission is not required and mobile monitoring is legal for parents who want to keep eyes on the online activities of their kids to ensure their safety.
Spying on Android devices can make you feel strong and weak at the same time because you can control your target device and there is also a risk that you might breach the privacy of someone.
So, to help you with non-intrusive Android spying, here are some sneaky powerful tips to spy on Android phone you should know.
Make Sure You Have Legitimate Reasons for Spying
Go for a Trusted and Reliable Android Monitoring Tool
Back-Up your Data
Keep Login Information Safe
Spy Target Device Proactively
Now, let's dig into details and see how these Android spying tips will help you to monitor your target device.
Android Spying – Do You Have a Legitimate Reason to Spy on Someone's Phone?
Spying on someone's phone is an intricate task. You are not only breaching the privacy of the target user but it can also create major trust issues and ruin your relationship with the spied person. To keep everything clean, ensure that you have the legal reasons to spy on someone's cell phone.
You must be thinking of how spying someone can be legitimate?
Well, to some extent Android spying is legal.
Here are the reasons that support cell phone spying:
Parents can monitor Android devices of their kids to make sure they are secure outside by tracking their location. Also, parents can legitimately spy on the online space of their children to make sure no cyber threat can harm their kids.
If you are an employer, then you have the legal right to spy the Android work phones of your employees. Employers can spy on the digital activities of their resources including; cell phones, tablets, desktops, etc. to make sure that the business information is in safe hands and nobody is compromising the corporate details.
Always remember that whether you spy your kids or employees, you have to acknowledge the target user about the mobile monitoring practice. Otherwise, mobile phone monitoring will be considered a breach of privacy. People who want to spy Android phone of their spouse must know that monitoring your partner's phone is illegal everywhere.
Once you have the legitimate reasons, you can utilize these powerful tips to spy on any Android device you want.
Android Monitoring Tools – Which One to Choose?
Spying on Android phone with less hassle requires a perfect Android monitoring app. Today, the digital world is filled with software that claims to provide the best Android spying solution. You can easily get an Android spy app to help you with kids or employee monitoring.
But before you make any decisions regarding which Android spyware would be best for you, here are some things that make a cell phone monitoring tool reliable.
Security
Advanced Features
Remote Control
Stealth Mode
Authenticity
You can listen to call recordings, read messages and emails, track GPS location, spy on internet browsing history etc.
Here are the top leading Android monitoring apps in 2021:
Spyzie
TheWiSpy
XnSpy
CoCoSpy
mSpy
 Spying on someone's phone with the help of a mobile monitoring tool is much beneficial than snooping in the target device physically.
Back-Up Your Data:
The amazing thing about mobile monitoring apps is that you can use its multiple features to completely control and spy on the target devices. Android monitoring apps help you back up your data on the cloud server which you can access anytime anywhere. So, in the case of mobile stealing or robbery, you can access your target device and recover and save all your files at a secure server. Also, you can remove all your confidential details remotely whenever you want.
Keep Your Login Information Safe:
Android tracking apps fetch all the data from the target device and uploads it on a web server from where you can access all the digital activities remotely. Compromising the login details of your Android monitoring tool can cost you a lot. The online world has so many potential threats, and hacking and blackmailing are one of them. To overlook such cyber dangers, you must keep your login credentials safe. Try to avoid logging in with your Android monitoring tool to multiple devices. Always use your authenticated device to monitor someone's cell phone.
Spy on Android Devices Proactively:
Android monitoring tools come with a variety of features. You can use an Android spy app to keep eyes on your loved ones. Also, Android snooping apps help you track lost devices and back up your confidential data. So, spy proactively and enjoy the latest ways to spy Android devices.
Wrapping Up:
Today, every person concerns the online as well as offline safety of their loved ones. The increasing use of the internet and digital devices has increased the chance of encountering cyber dangers. Thus, it is always better to keep eyes on the online environment of kids so that no cyber threat can harm them.
Fortunately, modern problems come with modern solutions. Whether you are an employer or parent, exploring any mobile device is only a few clicks away with the help of powerful tips to spy target device. All you need to do is get reliable spyware.
We hope that the above-mentioned tips helped you find an authentic Android monitoring app.
So, when are you getting your Android surveillance app?