Spyzie Review 2022 [Updated] – Should We Look for an Alternate?
Posted in TheWiSpy alternatives by admin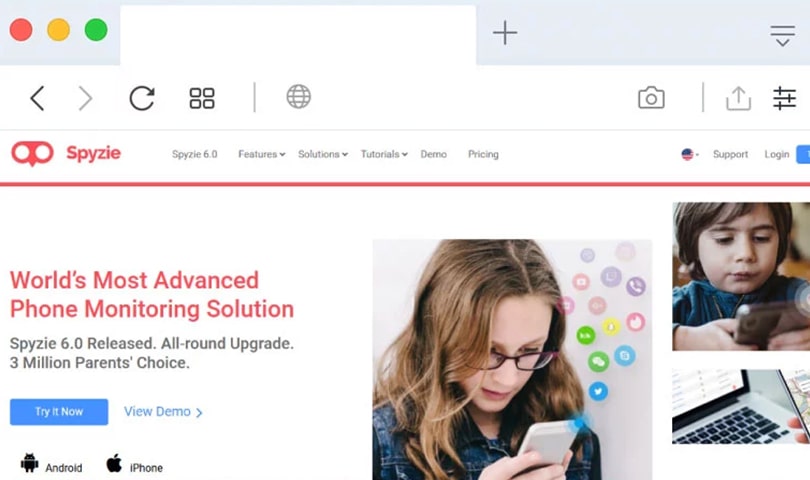 Spyzie is a well-reputed mobile phone monitoring app. Recently, Spyzie has stopped processing new requests leaving its customers in disguise. It has been reported that Spyzie official website is under maintenance since April 2020.
Long time, isn't it?
There is no recent announcement regarding whether or not Spyzie is resuming its services. Moreover, if you try to reach the website of Spyzie, you will be redirected to famisafe.wondershare.com. However, the support page of Spyzie website is accessible. Already registered customers of Spyzie can only access its dashboard.
Spyzie has not only cancelled new subscriptions but it also stopped the license renewal services. So, if your Spyzie license is about to expire, it is time to back up app the monitored data from the dashboard.
Indeed, it is bad news for those who want to avail the advanced monitoring features of Spyzie app.
But, who knows when Spyzie will resume its services?
In this article, we are going to review the best known mobile monitoring and tracking software Spyzie.
Let's find out details on Spyzie cell phone monitoring app and see what makes it so demanding in the spy app market.
Spyzie Review 2022 – Should We Look for an Alternate?
Spyzie app was launched in 2007, as the most powerful mobile monitoring and tracking solution. The app is efficient enough to fetch all the ongoing and saved details from the target cellular device. As per recent customer reviews, Spyzie gained a 1.9-stars rating at Sitejabber.com and a 2.9-stars rating at Trustpilot.com.
Being an eminent spy software, Spyzie has over 1,000,000 customers across 190 countries.
We all are waiting and hoping for Spyzie to revive its services so that its customers can once again enjoy high-end mobile surveillance.
Fingers crossed!
Until then, let's foresee everything in this Spyzie review.
What is Spyzie?
How Spyzie Works?
Is Spyzie Compatible with both Android & iOS?
What Features are Offered by Spyzie?
How to Install Spyzie on Your Target Device?
Is Spyzie Expensive?
Continue reading and find details on each point above mentioned and get a detailed review of Spyzie app.
What is Spyzie App?
Spyzie is a well-tailored spy phone app, popular for providing advanced spying and tracking features. Using Spyzie, you can monitor cell phones, tablets, and other mobile devices.
Spyzie can be used for multiple spying purposes;
Monitor kids even if they are not around.
Track employees during work hours.
Back up personal data from stolen devices.
Spyzie attained a leading position in top cell phone tracking apps. With its terminated services, no wonder why parents and businesses are facing much trouble monitoring kids and employees.
How Spyzie Works?
Spyzie works just like other best mobile spy apps reviews including TheOneSpy, mSpy, FlexiSpy, etc. If you want to monitor a target device, you must install the Spyzie app on it. Once installed, Spyzie starts fetching details from the target device. Also, the app uploads the recorded information on a web-based control panel. Using the dashboard, you can access all the spied details remotely.
Isn't it fantastic?
With remote access, parents can track the GPS location of kids. Moreover, businesses can start monitoring employees in real-time.
Is Spyzie Compatible with both Android & iOS?
Spyzie is a versatile spyware that works flawlessly on both Android and iOS devices.
Here are some details on OS compatibility of Spyzie app.
Spyzie for Android OS: Spyzie is compatible with cell phones and tablets that run Android 4 or plus.
Spyzie for iOS: Spyzie supports iPhone and iPad that run iOS 8.0 or higher.
However, if you find any confusion regarding the compatibility of your target phone/tablet, you can always contact Spyzie customer support team.
What Features are Offered by Spyzie?
In a nutshell, using Spyzie, you can track everything happening on your target device. The app offers a lot more spying features to give you complete reports on the ongoing digital activities of your target phone/tablet.
Here are some exclusive features of Spyzie app;
View Call History – You can monitor details on incoming and outgoing calls. Spyzie call history tracker helps parents to ensure kids' safety in the digital world.
Read Sent & Received Messages – You can now read SMS and iMessages of your target device. As a parent, nothing can help you better to discover if your child is involved in double meaning text conversations or sexting like menaces.
Track GPS Location – GPS location tracker enables you to trace the active location plus location history of your target device. You can track lost phones, trace kids whereabouts, and follow the route history of work phones remotely.
Watch Multimedia – Using Spyzie, you can view all the saved multimedia files of your target device. Parents can monitor teens' phones remotely and view all the photos, videos, audio files etc., secretly.
Monitor WhatsApp Chats – Spyzie allows you to read WhatsApp chats, monitor shared files, and view whatsapp conversations secretly. WhatsApp spying enables parents to know if their children are being trapped by online deception or other cyber threats.
View Browsing History – By monitoring the browsing history, you can find if your loved ones or kids are addicted to pornography. Moreover, browsing history can reveal businesses if their employees are deceiving them.
App Monitoring – Installed apps reflect the interests and needs of mobile users. By monitoring installed apps, you can explore if your loved ones or teens are dependent on dating apps or gambling games, etc.
Other exclusive features of Spyzie include contact monitoring, surround recording, calendar monitoring, and many more. Spyzie is an all-rounder mobile spyware to help you keep eagle eyes on your kids, partner, coworker, employee, etc.
How to Install Spyzie on Your Target Device?
Installing Spyzie on your target device is simple. But, you need to make sure that you can access the target device physically. The reason is crystal clear, no spy app offers remote installation and so does Spyzie.
Here are the easy steps to get started with Spyzie app;
Get Registered with Spyzie:
Although Spyzie has recently terminated its registration services, you may need this installation guide when Spyzie revives its subscription.
First, you need to purchase a Spyzie subscription. For that, go to the official website and click on Sign Up.
Provide your email and set a password for your Spyzie account.
Now, choose the OS version of the target device you wish to monitor.
It's time to purchase the license, Select the pricing plan and click Buy Now.
Once you paid for the subscription, you will be redirected to a form that will ask you to provide details about your target user. Provide the details and click proceed.
The first step is completed. Now let's move forward to the second step.
Setting Up Spyzie:
The process of setting up Spyzie on Android and iOS is quite different.
Here are the details on how you can set up Spyzie on Android and iOS devices.
On Android Device:
Disable Play Protect. Open Playstore > Tap Hamburger Menu > Open Play Protect > Tap on gear icon > Disable or Toggle Off Play Protect.
Pick your target device and open the browser.
Now enter the Spyzie download url, and download the APK file of Spyzie app.
Once downloaded, install Spyzie on your target device.
Allow mobile network access permission.
Now, read the EULA and privacy policy. Tap agree to continue.
You will be asked to allow specific permissions. Allow permissions and proceed.
At last, you will be asked to hide the app icon. Hide it and let Spyzie work on stealth mode.
Spyzie configuration on Android phones is completed.
On iOS Device:
If you want to monitor Spyzie app on iOS devices, there is no need to follow an installation process. Also, you do not require physical access as you can monitor iOS devices remotely.
Here are some requirements to monitor iOS devices with Spyzie app;
You must know the Apple Credentials of the target iOS device.
Make sure that iCloud backup and syncing services are turned on.
The target iOS device must be jailbroken.
Make sure you pass the 2FA step.
You can simply provide iCloud credentials and start monitoring Apple devices with Spyzie. But make sure the requirements above mentioned are fulfilled.
Spyzie Dashboard:
After setting up Spyzie on your target device, it's time to log in to the dashboard and monitor everything. Just log in to your Spyzie account by any device other than the target one. Once you access the dashboard, you can avail all spying features and monitor the digital activities remotely and secretly. Using spyzie, you can send remote commands and control your target device without leaving any clue.
Is Spyzie Expensive?
Spyzie app is worth its pricing. The app offers advanced mobile monitoring tools empowering you to keep eyes on your loved ones' digital space.
Here are the details on Spyzie pricing plans;
Premium Edition:
1-Month License – $29.99
3-Month License: $39.99
1-Year License: $89.99
Ultimate Edition:
1-Month License – $39.99
3-Month License: $49.99
1-Year License: $99.99
Note that Spyzie has stopped its services nowadays. It can be predicted that, once continued, Spyzie can revise its pricing plans as per the company policies.
Spyzie Review – The Verdict:
Well, you must get a detailed review of the Spyzie app from this article. The spyware is, no doubt, efficient enough to fulfil all your spying needs. With thousands of waiting customers, it is still unclear when Spyzie will continue its services.
Till then, you can use alternative spy apps, like TheWiSpy, FlexiSpy, Minspy. Stay safe and keep your kids secure utilizing high-end mobile monitoring services.