How to Spy on Android Devices without Rooting
Posted in Android Spy by Mike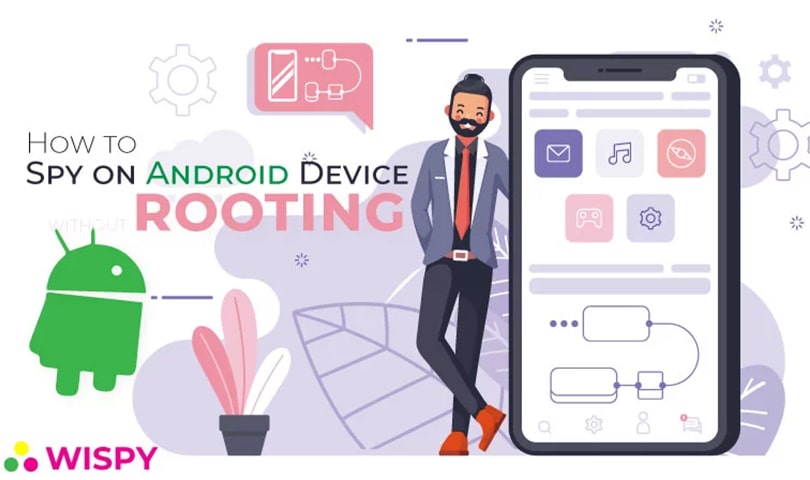 Do you want to spy on Android devices without rooting?
Well, we all are searching efficient and easy ways to monitor the Android phones of our loved ones or employees. Rooting is sort of a tricky process. And no one has, indeed, the technical knowledge to root Android devices.
So, what should be done if not rooting the target Android device?
We will come to that, but first, you should know what is Android rooting is and why people consider rooting cell phones for spying purposes?
Android Rooting – What It Is?
Rooting is a process of getting complete access to a cell phone. In other words, rooting allows you to have control over the operating system of your target device. For instance, rooting an Android device helps you install illegal apps, change or alter the programming code of the OS etc. With Android rooting, you enable alternate everything on a mobile phone, even the system files. Rooting is special access that gives you permission to modify and delete the system files.
Obviously, in standard mode, you can not interact with the operating system of a cell phone. But, with rooting, the fate of your target phones lies in your hands.
Rooting Android phones are as similar to jailbreak iOS devices.
If you are planning to root your Android phone, then please be sure to have technical knowledge about the procedure. Rooting is not an easy process, and if you do any mistake, your mobile device can be compromised.
Is Rooting Necessary to Spy Android Phone?
In standard mode, Android devices are designed to protect the running operating system. You can not perform any activity on a standard mode that makes the OS vulnerable. But with rooting, all the restrictions that keep the operating system secure can be cleared so that you can get complete access to the device firmware.
Rooting indeed helps to spy on Android devices, but the process requires too much technical knowledge.
Apart from being tech-savvy, there are a lot of risks involved in the rooting procedure.
Must READ: Is it legal to Monitor Android Device?
Here are some threats that you can face while rooting your target Android phone.
Your phone will lose the warranty.
The Android OS of the target device will crash and become unstable.
Security of your target device will be jeopardized.
Are you looking for an easy solution to spy Android phones?
Don't worry. We are getting there!
Is It Possible to Spy on Android Devices Without Rooting?
Yes, spying on Android phones without rooting is possible.
But, for that, you will require a third-party app, like TheWiSpy. The internet world offers many Android monitoring solutions to provide you with efficient tracking and monitoring features for Android phones and tablets.
Nobody wants to risk their cell phones security by attempting false rooting tricks. That is why using an Android phone spying app would be an incredible option for you.
How to Spy on Android Devices Without Rooting?
As mentioned above, if you fail in the rooting process, your phone will become nothing but a dummy. So, if you lack technical knowledge, never go for rooting the Android device. Instead, you can install Android spyware to monitor your desired phones or tablets.
You must be wondering how an Android spy app can help you?
Well, technology has become so advanced that you can now remotely monitor and spy on Android devices without any suspicion.
Isn't it incredible?
With an Android monitoring app, you can get detailed information about your target device.
Here is a list of amazing features offered by top Android tracking apps without rooting;
Call Recording
Call Logs History Monitoring
Social Media Monitoring
GPS Location Tracking
Geo-Fencing
Surround Recording
Multimedia Spying
Email Tracking
And many more
To avail innovative and high-tech Android monitoring solutions, always go for top free hidden spy apps for Android. Mentioning the best Android spyware, we must include TheWiSpy app for providing state-of-the-art Android spying and monitoring features.
Now, let's reveal how you can spy on Android devices phones without rooting with TheWiSpy app.
How to Monitor an Android Phone with No Rooting – TheWiSpy Guide:
Monitoring Android phones with TheWiSpy app is as easy as pie.
You have to follow these simple steps to explore the digital space of your target android devices without rooting the device.
1- Get TheWiSpy License
2- Install TheWiSpy in Your Target Device
3- Open TheWiSpy Dashboard and Start Monitoring
Yes, only 3 steps can take you to the hidden details of your target device. Just make sure you use the app for legitimate purposes only, e.g. to monitor kids or employees.
Android Rooting v/s Android Spy App – Which Is Better?
Let us get this straight if you are good at doing tech stuff and have the technical knowledge then you might go for rooting. But, in most cases, you don't have any tech expertise you should never risk your smartphones by trying the rooting process.
Well, for parents who want to keep eyes on their kids, using an Android monitoring app is the ultimate solution. With easy installation and tracking steps, parents do not require any technical assistance to spy on their kid's devices. Likewise, you can not root all of your company-owned phones, neither you can remotely install a spyware app on all the work devices but monitor Android phones remotely.
Why Android Spy Apps Require Rooting
Note that many Android spy apps require rooting to run advanced monitoring features including; social media monitoring, IMs monitoring, etc.
For basic Android tracking features, spyware does not ask to root the device. In simple words:
You must root your Android device when necessary. Otherwise, there is no need to risk the operating system.
Summary:
Rooting an Android phone is a complicated procedure, whether you do it for spying purposes or some other reasons. Though it is not impossible to root Android phones. All you need is some technical expertise, and you are all ready to go. However, there is always an easy way out to spy Android devices – spyware apps.
Among the top names of surveillance programs on android, TheWiSpy offers ultimate monitoring and tracking solutions for a variety of Android mobile versions. No need to follow time taking installation procedures because TheWiSpy allows you to start tracking Android devices with three simple steps. So, if you are a parent or employee looking for spying solutions for Android, TheWiSpy app is for you.