5 Reasons Why You Should Get an Android Spy App
Posted in Android Spy by Mike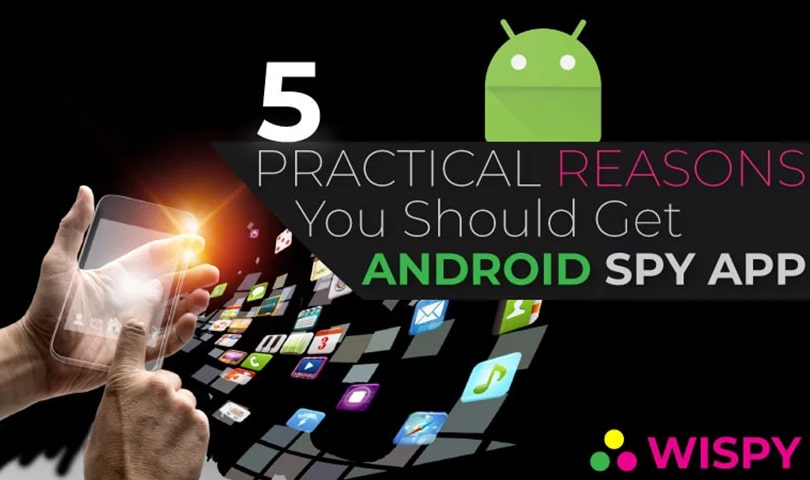 Cybersecurity has become the talk of the town since the evolution of technology. Likewise, the demand for Android spy apps is increasing with time.
Do you know why?
Well, we all know that the majority of the people among us are Android users. Using smart devices has become usual in our lives. From grandparents to teens, they all use Android devices.
If we talk about cybersecurity, then there are a lot of loopholes in the online world that can shatter our lives. Some of the common cyber threats include; online predation, cyberbullying, explicit content, hacking, scams, etc.
To avoid and tackle such online dangers, we must take safety precautions to save our personal and confidential information from getting leaked or misused by cybercriminals.
Interestingly, top monitoring apps for Android have been in great use to ensure data safety online. Not only parents but business owners call for Android tracking tools to keep eyes on their kids and employees.
In this article, we are going to cover the reasons to explain why Android spy apps are getting popular and how such monitoring tools are going to help you.
So, let's begin.
5 Important Reasons Why You Should Get an Android Spy App:
To make sure that your family and business is secure online should be your utmost responsibility. Kids are innocent, unaware of the fact that the overuse of smart devices and the internet can threaten their wellbeings. On the other side, the corporate industry faces security threats daily.
The first step to boost your cybersecurity is keeping eyes on the internet surroundings of your family and business.
Thanks to the ever-evolving technology for providing us with digital monitoring tools. Android, being the most used OS, is monitored by a considerable amount of people. The Android spy has made it much easier to keep eyes on kids while you are not with them. Also, Android spying enables businesses to keep track of their work phones.
Are you a parent worried for the whereabouts of your teens?
Or, being an employer, you find it strenuous to keep track of your work phones?
Don't worry!
Just start monitoring Android phones of your target user, and make sure they are safe online and offline.
Here are some practical uses of Android monitoring software you should know:
Enables Parents to Monitor Teens:
Keeping track of the routine activities of your children has become a difficult task with ongoing job responsibilities. Our tech-savvy teens hold their smart devices wherever they go. Parents can simply install the Android spy app physically on the smartphones of their kids. So they can remotely keep their eyes on their daily tasks.
An Android spy tool helps parents to monitor all the digital activities happening in the personal phones and tablets of their children. With an Android monitoring app, parents can watch out with whom their kids meet, talk, or text all day. Also, parents can track the GPS location of their children anytime they want.
If you are a parent, finding it hard to keep up with both job duties and parenting, then installing Android spyware to track childs phone is the best option you have.
Helps Companies to Detect Unfaithful Employees:
The employees of any business are like pillars to hold the venture. Companies trust their resources with confidential corporate information. Though employees take the business to the peak of success, remember that any silly mistake or dishonesty can drown the venture too. Nobody can guarantee whether their employees work dedicatedly or not. Cases have been reported in which the data leak or breach was done by company resources.
Businesses should work smartly. Employers must install Android monitoring apps in all the work devices before handing them over to employees. With an employee monitoring app, employers can find out whether their workers are at the office or not. Also, by monitoring the screen time the management can tell if the employee spent duty hours working or playing games, etc.
So, are you ready to track your employees with Android spyware?
Ensures Online Safety of Loved ones:
The internet is full of cyber dangers. Kids, even elderly family members get victimized by hacking or scams. Teens are most vulnerable to receive mean comments on social media. Nuisances such as cyberbullying, online molestation, adult content, etc. can harm your loved ones despite your knowledge. It is always better to take precautionary measures when it comes to cyber threats.
Well, you can save your loved ones by installing Android spyware on their smart devices. With remote monitoring, people can now use a GPS location tracker, listen to call recordings, hear surround recordings, read text messages, monitor social media, and spy on many other things to make sure that their loved ones are safe online.
Allows Parents to Control Their Kid's Screen Usage:
As a modern parent, you must know how too much screen usage affects your child's grades. Children are so busy using smartphones and tablets that they have almost forgotten that they are compromising their studies. Too much screen time has gloomy side effects on brain functioning and causes anxiety, poor vision, headaches, etc.
By spying on Android phones and tablets of kids, parents can now control and manage the kid's devices. Android parental controls allow you to restrict mobile phone or tablet usage screen by setting time limitations.
Offers Remote Mobile Tracking:
Have you ever thought, what would you do if your mobile phone got stolen or lost?
None of us would like to compromise our personal data like that. Amazingly, people can use the best mobile phone tracking apps for personal use so that they can track Android phones (personal or kid's) whenever needed. The remote access provided by Android tracking apps enables you to backup and remove your saved data from the target device.
Isn't it great, how tools like Android monitors can help us save from online dangers and create a safe cyber environment for our families and businesses?
We hope that the upcoming technology will bring more apps and software to help us browse the internet safely.
Wrapping Up:
The technical world indeed provides us with a lot of privileges. There is also a dark side of technology that nobody discusses. It is great to leverage the advantages of technology. But at the same time, we should consider the side effects of it too. To overlook the dark side of the internet, you should monitor what's happening in the smart devices of your kids and employees. For complete control and monitoring features, we recommend you TheWiSpy Android spy solution. TheWiSpy is trusted among people around the globe for child monitoring and employee surveillance. What's your opinion about spying on Android devices?