6 Things to Consider While Purchasing Android Spy App
Posted in Android Spy by Mike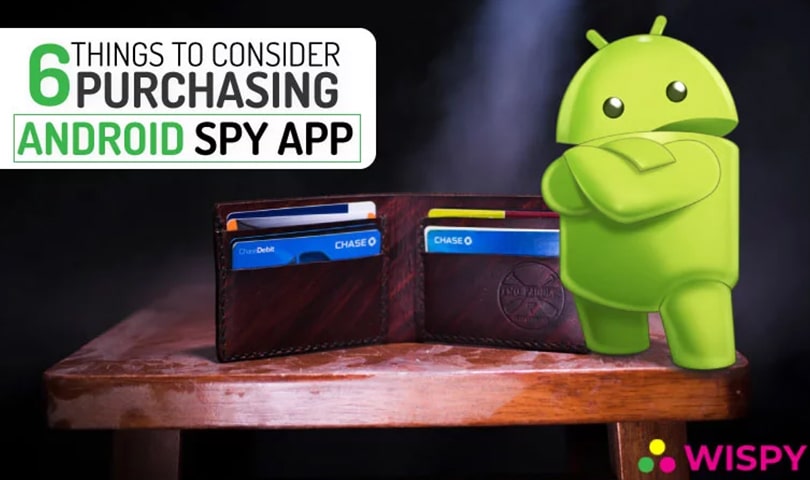 Are you considering purchasing Android spy app to track your kids?
Well, living in a progressively digital world where everyone has an online presence, it is necessary to keep track of your loved ones.
Choosing the right Android spyware to monitor kids and employees is like a challenge for parents and business management. With a number of options available, it is quite tough to select reliable software for monitoring Android devices. If you are a newbie to the spying world, you must be confused about differentiating a rich and poor Android spyware.
Well, most of us think that spying a cell phone requires lengthy coding and technical work. Spy apps have revolutionized the ways we used to operate to monitor a cell phone.
If you are thinking of purchasing a mobile monitoring app, there are a few things to consider before you go for it.
Let's reveal some insights about cell phone spyware that enable you to choose the best spy tool to fulfil your spying needs.
6 Things to Consider While Purchasing Android Spy App
Mobile spyware uses surveillance technology and helps us extract all the saved and ongoing digital activities of a target device. When monitoring cell phones, we put our trust in the operating android spy app. You can find anything while snooping in a cellular device. Consequently, it is considerable to ensure that you choose a reliable tool for it.
In the case you use a scam spy app, we would hate to break that there is a big chance that all of your data can get leaked or compromised.
So, never take the wrong turn, just to save a few bucks.
Here is a complete purchasing guide to spy app for Android that will help you get the right app with robust functionality and reliability.
A Detailed Guide on Purchasing Android Spy App :
Investing money in the wrong spy app can cost you a lot. And to be honest, the internet market is full of scam spy app vendors. There is not only a security threat, but terrible quality spy apps can waste your money and time. Due to such reasons, you must choose a secure and reliable spyware app.
Here, we are about to point out the top attributes of an authentic Android spy app.
Let's have a look at some main qualities that nobody should overlook while purchasing Android spyware.
Check The Compatibility:
Compatibility is the key to the functionality of any software, whether it is a spy app or other digital tool. In the case of Android spyware, you must not ignore the compatibility status of the app. Obviously, you can't use an iOS compatible app for Android devices and vice versa. There are several spy apps available that either support Android or iOS devices. Cross-platform spy apps are also available to help you track multiple operating systems.
How to Choose The Right Spy Software?
The best way to make sure that spyware is adaptable with your target device is the official source of the spy app provider. You can get such details from the official online site of the spy app vendor. Or, you can contact their customer support to make sure that their spying tool is compatible with your target phone/tablet.
Once you ensure the compatibility of spyware, you can check the other aspects of the spyware as well.
Don't Compromise on Features:
Right after compatibility, the thing that matters a lot in the tech world is app features. Hidden Android spyware offers the option to hide the app icon so that the target user can not detect the presence of spyware in his/her phone.
Make sure the app you choose for your spying purpose provides a complete set of tools to monitor and track your target device.
How would you know that spyware offers wholesome features?
Well, the foremost objective of spyware is to make everything happening on the target device visible to the end-user.
Here is a list of advanced features that best free spy apps for android offer:
Call Tracking
SMS Monitoring
GPS Location Tracking
Geo-fencing
Mic Bug
Spy Cam Bug
Screenshot Capturing
Social Media Monitoring
Call Logs Tracking
Contacts Monitoring
Email Tracking
Keylogging
Content Filtering
App Blocking
Screen Time Monitoring
Multimedia Spying
And many others
By considering these capabilities, you can have an idea of what features are necessary to complete a spy app program. Choose the surveillance app that suits best for your spying requirements at affordable rates. Otherwise, you will lose your money for no good.
Test The Sync Speed:
A spy app is worthless if its features do not respond timely. The purpose of using Android spyware is to get instant updates of the ongoing digital activities. A robust spyware app features must retaliate quickly so that the end-user can receive continuous updates on what's happening in the target device.
To test the sync speed of efficient Android spyware, you must go for its trial version.
Remember that, not all spy apps offer trial versions. You can read reviews, customer satisfaction stats, etc. to ensure that the app features run precisely.
Don't Overlook Rooting/Jailbreaking Process:
Rooting is a process to bypass all the security obstructions configured by Android OS. Similarly, jailbreaking is terminating the software restrictions that have been set by Apple devices.
Mobile spyware intrudes into the operating system of the target device. Many spyware available in the online market requires rooting or jailbreaking to function flawlessly.
When you root/jailbreak your device, you make it more susceptible to malware attacks. That is never a good option.
No worries!
In the spy app market, there are efficient apps available that provide fully-functional basic features without rooting or jailbreaking the target device. But to avail the advanced features, you need to root or jailbreak your target phone/tablet.
It all depends on your spying requirements.
Seek Affordable Rates:
Just like quality features and compatibility, the price of software is also eminent. Always find a spyware app that offers advanced features within affordable rates. There are a bunch of expensive spy apps available online that provide lesser features. But nobody can blame them.
As a user, all you need to do is a little research, and you can find a cost-effective spying solution.
On average, spy apps cost between $30 to $40, depending upon the range of features. The prices get cheaper if you select a monthly or yearly plan.
So choose the spy app that meets your budget.
Read the Sale Services Carefully:
The quality that makes any software provider service reliable is the sales service and refund policy. Obviously, when installing an Android spy tool, we entrust the app with all the delicate details of the target phone. Whether it is your kids' phone or employees' device, no one would like to compromise the personal information of someone.
Before you purchasing Android spy app tool, make sure you read its sales policies. Go through every detail, including; after-sale services, privacy policy, and refund policy.
Once satisfied with all the information provided by the app provider, you can purchase the spyware confidently.
The Final Words:
The global demand for spy apps is booming with progressive technology even during COVID-19. But, most people are oblivious of the quality attributes of reliable spyware. Just a little market research and you will be able to choose the best Android spy app.
We hope that the above-mentioned traits of spy software will help you get your desired spy software in no time. Always keep in mind that whatever spyware you choose, you won't use it for offensive activities. Keep your spying purpose legal and enjoy the world of remote mobile surveillance.