5 Reasons Why You Must Utilize Parental Controls?
Posted in Parental Control by admin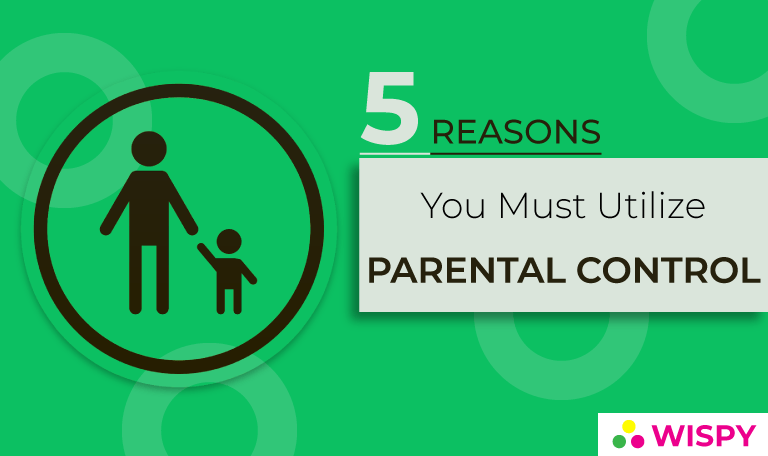 Does your kid use a mobile phone or tablet? Have you experienced parental controls in teens digital devices?
Of course!
We live in the modern age of digitalization. Technology has made kids smarter than ever before. Learning and education are accelerated with the help of smart devices.
Though the tech world helps kids learn faster, as it is said that excess of everything is bad.
If you look around, you may notice gadgets everywhere. From tablets to game consoles, to personal smartphones, we all are surrounded by such devices.
You may give your child a tablet for learning purposes and find him/her wasting time on games and apps.
What would you do then?
Well, providing your children with smart devices is not bad as long as you supervise their digital activities. Unsupervised usage of smartphones and tablets might get your kid into trouble.
But thankfully, there is the leading parental monitoring software available in the market to help you monitor and manage the phone and tablet of your children more effectively. Parental controls help parents restrict screen time and control app usage to create a safe digital environment for their kids.
Do to want to control your child's digital space?
Or you think controlling your kid's digital environment is a bad idea?
Let us uncover some benefits of parental controls that might make you understand its importance.
5 Reasons Why You Must Control Your Child's Digital Space?
Parents often ask their kids about their online friends and activities. But, some stubborn teenagers find it interrogative and get annoyed by such questioning. Luckily, with the help of digital parenting apps, parents can now monitor and control everything happening on their child devices.
We know that your concern about your child's safety. Here are some great benefits of parental control software you should know.
Secure Digital Environment
Better Brain Health
Track Your Kids
Prevent Cyber Threats
Restricted Inappropriate Content
Hang on! This doesn't end here. Allow us to dig details of each benefit so that you can get a clearer image regarding the benefits of parental controls.
Utilize Parental Control For Secure Digital Environment:


The Internet is not a safe place for kids, especially teens that are always curious to explore new things online. No matter how many times you tell them how to use the internet safely; there would be still a chance that they might mess it up.
Generally, you can find anything on the internet. Apart from improper content, who knows that your kid might befriend a sexual predator?
The software for Parental control enables parents to block inappropriate apps and suspected contacts online. All a parent wants is the safety of his/her children. That is why more and more people prefer parental control apps to monitor every digital activity of their kids.
Utilize Parental Control For Better Health:


Do you know to spend too much time on mobile devices damages health?
Too much screen time can negatively affect your child's brain. Kids are now getting addicted to smart devices. The overuse of mobile phones and tablets not only harms the brain but affects every part of the body. Hence, children develop bad posture, headaches, and eyesight issues at a very young age.
Keep in mind that mobile phones and other smart devices emit electromagnetic radiations that can impair brain and body functioning. Parental control apps help a lot in restricting the screen usage of children. Time management is a key feature of such apps because parents can remotely limit the screen usage of their children.
Utilize Parental Control To Track Your Kids:


Parental monitoring apps have relieved parents in many ways. For instance, the majority of us get anxious when our kids get home late. Parents cannot always be with their kids all the time. But thanks to the technology that has enabled GPS tracking much easier.
Now, parents can check the GPS location actively including current locality, pinpoints, and location history. Besides location tracking, geo-fencing is also a great feature of parental control monitoring software. With geo-fencing you can mark the safe and unsafe zones on the map so then whenever your child enters the restricted zone you'll be notified.
Utilize Parental Control To Prevent Cyber Threats:


Being a working parent is quite a challenge. It is hard to keep eyes on every activity of your child.
Do you know who your kid meets?
Are you aware of your child's social circle?
Well, you can't interrogate your kids all the time. Not only it breaches their privacy but it also makes them annoyed. But knowing everything about your child's life is a must. Parents should be aware of the people that meet and influence their kids.
Note that your kid can expose to cyber threats if you allow them to use unsupervised and unlimited internet. Juveniles get attacked by cyberbullies, sexual predators, and blackmailers online.
So, don't put your kid's life at stakes.
There are several apps available that offer amazing parental controls so that parents can monitor everything happening in their child's life. The sole purpose of such software is to ensure parents that the kids are safe even in their absence.
Utilize Parental Control To Restricted Inappropriate Content:


Internet addiction is common among teenagers. To stop excessive use of smart devices, parental control apps help efficiently. Parents can restrict certain apps and content unsuitable for their children.
It is observed that blocking improper content and apps results in improved academics. Kids focus more on their education when they are allowed to use mobile devices for a limited time.
So, install a parental control app in your child's device and save your kids being preyed by the digital world.
Which Parental Control App is The Best?
Parents often get confused when choosing the best parental control software. Let us help you with that.
TheWiSpy is an efficient app, well-known for its Android parental control features. Its user–friendly interface helps parents to easily control their child's device. With great popularity, TheWiSpy never ceases to inform parents of the whereabouts of their children.
Try the app and manage your kid's mobile usage now.
Conclusion:
The need for parental controls increases with the advancement in technology. As kids spend most of their time using gadgets, parents need to monitor and manage their screen usage. Parental control apps are an easy way for parents to keep their kids safe from digital harms. Do you use parental controls on your kid's device?