All About YouTube Kids – Why Is It Better Than Original YouTube?
Posted in Parental Control by Julie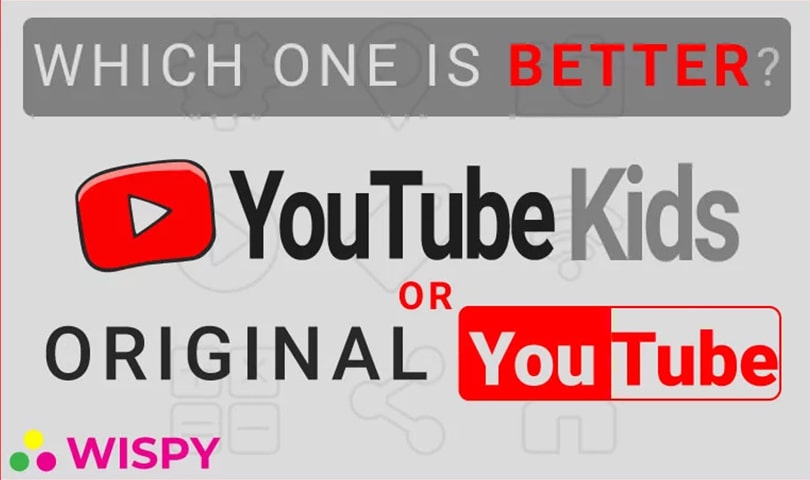 Does your child stick to YouTube Kids all day?
Do you worry that your kid might find inappropriate content on YouTube?
YouTube is a universal platform for video sharing and uploading. Launched in 2005, YouTube gained popularity like wildfire. Today, this platform ranks number 1 in the category of arts and entertainment with 32.64 billion visitors. 70% of the viewers access YouTube from their smart devices.
Amazingly, 1 billion hours of content is being watched daily on YouTube.
YouTube contains every sort of content. Among children, 80% of the kids watch YouTube either for learning purposes or to watch cartoons. Parents worry if their kids encounter videos that do not age-appropriate for them.
So, is YouTube really secure for kids?
How can parents filter content on YouTube?
There are two ways to restrict age-inappropriate content.
Use YouTube Restrictions Settings
Go for YouTube Kids
In this article, we are going to discuss both of the above-mentioned ways to help parents limit the bad content from the screens of their kids.
YouTube Restriction Mode – Parental Control Guide:
Kids never get tired of YouTube. It all starts with watching poems to viewing cartoons or educational videos. Children are developing addiction towards video content that haunts parents to the core.
But, no worries.
YouTube developers understand the anxiety among parents and provide YouTube content restriction mode. Using such an option, parents can easily free filter explicit content from the screens of their kids.
So, here are the steps to restrict YouTube for Kids:
Open YouTube app or website.
For the app, tap on settings and activate the restriction mode.
For the website, you just need to click on your account and scroll down the options. You'll see the option. Activate it and you are all set.
YouTube Kids – A Better Option for Children of Younger Age:
YouTube Kids is another incredible option for parents to limit the video content for their kids. It was launched in 2015 and is designed to deliver age-appropriate content for younger children ranging from 0-12 years. YouTube Kids app is compatible with iOS, Android, and Smart TVs.
With whimsical features, the app allure children and deliver age-appropriate content.
The app is children-friendly. This means that YouTube for Kids deliver a lot of space to explore with catchy sounds, layout, and navigation.
Kids love this app. And parents are relieved by such a filtered option.
You must be thinking, what sort of videos do YouTube Kids offer?
Content that is present on YouTube for Kids includes cartoons, toys reviews, nursery poems and rhymes, etc. "ChuChu TV" is one of the most demanding kids' channels for providing rhymes and songs. This channel itself has 16.8 million subscribers.
There are many other educational channels available on YouTube Kids that offer animated content suitable for the age of every child.
Incredibly, this fully-fledged app offers parental control options as well.
Let's have a look at the parental control features of YouTube Kids application.
With YouTube Kids, parents can approve trusted sources of child content that their children can watch. The collections approved by parents restrict other content from the screens of children.
You can generate individual profiles/accounts for your kids.
Parents can deactivate the search function of the app. Kids can not search for anything by themselves and are only allowed to watch the videos saved by their parents.
Using this app, you can set a timer to control the screen usage. Parents can set the timer for video watching, and the app automatically stops the content when the selected time limit reaches.
Only parents can clear the watch history
Likewise, search history can also be deleted.
Also, parents can control recommendations by pausing watch or search history. This means that anything that your child searches will not appear in the recommendation section.
The solution is itself a parental control and monitoring app for kids. But there are still some concerns that parents should consider.
Parental Concerns About YouTube Kids:
YouTube is a vast platform for providing video content worldwide. There are some YouTube restrictions for parental concerns regarding the cybersecurity of children.
Let's discuss two of the main issues that make YouTube Kids more secure than the original app.
Advertising:
Ads are like uninvited guests. Parents worry if any inappropriate advertisement comes on the screens of their kids. Ads do get displayed on YouTube Kids. But unlike original YouTube, the children-specific app displays age-appropriate advertisements.
Data Collection Policy:
YouTube Kids does not ask for personal data collected from children. Any personal details including name, address, contact details are off the table. But this app gathers "watch web history" information to suggest recommended videos. Also, it collects device information as well.
Inappropriate Content:
YouTube for Kids, however, displays safe content for children. But, there has been noted that some videos show inappropriate content that can harm kids' mentality. Parents found disturbing content related to a suicide attempt on YouTube Kids.
Well, that is alarming. Isn't it?
If you think it is not safe for children then what would be?
We have the solution.
Parental control app!
Let's have a look at TheWiSpy parental control solution.
TheWiSpy Parental Controls – A Digital Parenting Solution:
Technology is booming. If you can't find any app providing effective parental control features, you can use a third-party tool for that. TheWiSpy is an efficient mobile monitoring app that offers parental control tools. You can block anything you want from the screens of your kids using TWS app. Content restriction is one of the popular features of this app that is endorsed by parents around the globe.
The Final Words:
YouTube is a beloved platform for both adults and kids. Children spend hours on entertaining websites like YouTube watching cartoons, poems, toys reviews and other content. With the launch of this app, it has become easier for parents to control the online space of children. However, there is some content available that might harm your child. To avoid such a situation, parents can use third-party best parental monitoring apps to ensure kids' safety online. So, what do you reckon is the best option?