How to Hack HTC Mobile Phones? 100% Guaranteed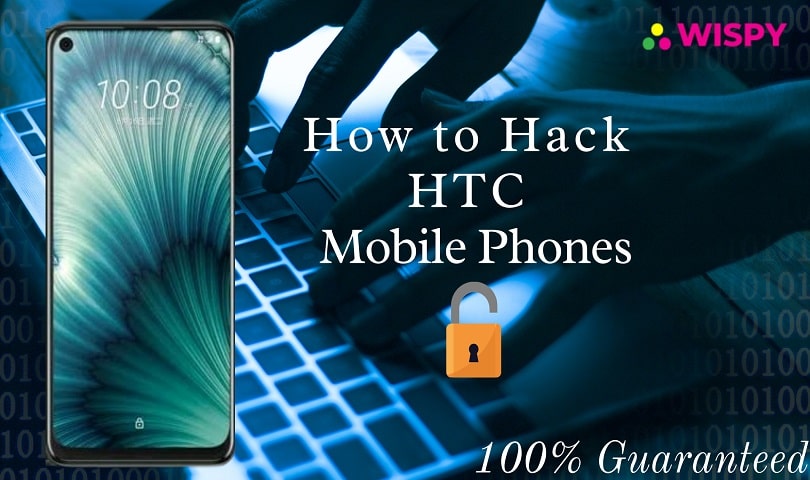 HTC smartphones have always been popular due to their excellent functionality and highly advanced features. HTC smartphones are secure and foolproof. However, with the advent of cybercrimes, cell phone tracking apps have become common. It means you can hack HTC mobile phones if you have the right toolset.
In this article, we will consider potent ways to hack HTC smartphones. Whether you are a tech geek or a naïve tech user, hacking into an HTC smart device is straightforward with the methods mentioned in the later sections of this article.
So, let's cut to the chase and discover how to hack HTC mobile phones with 100% success.
How to Hack HTC Mobile Phones? 100% Guaranteed
Do you want to sneak into someone's HTC device and don't know how to do it?
HTC smartphones are powered by the Android operating system, the most used OS among smart devices.
Hacking into the Android OS of HTC phones is simple yet complicated. Android devices are protected until root. The most convenient way to hack an Android smartphone is rooting, which cracks the system code, giving the hacker access to all the Android phone actions and stored data. However, rooting is a complicated process, and if done wrong or a slight mistake occurs, the target device will become vulnerable to security threats.
Despite rooting, there are other ways to track HTC phones and monitor their digital activities.
Here are some Google-powered apps that you can use to track HTC phones and tablets.
Google Device Manager
Google Maps
Find My Device
The above-mentioned tracking options will only enable you to perform specific actions, such as location tracking, device lock, wipe out data. But, if you want to hack an HTC phone completely and monitor all online and offline activities happening on it, you must use a third-party spy app.
READ ALSO: How to Hack Samsung Phone without Them Knowing
How to Hack HTC Mobile Phones?
If you don't have physical access to the phone you want to monitor, you won't be able to spy on it. People mostly try to sneak into the target device while its owner is away, but that is a risky task. Furthermore, if the target device owner catches you spying on their phone, they will never trust you again. That is why, to hack smartphones, you must use a third-party spy app that will allow you to monitor your target HTC phone remotely and secretly.
So, let's find how you can use a spy app to hack HTC phones.
How to Hack HTC Phones with Android Spyware?
Android hacking apps are digital tools to provide you complete control over your target smart device's online and offline activities. No one can be in proximity to the device they wish to monitor the whole time. To help people with remote spying, Android spy apps are designed. Such spyware apps, once installed, give you access to the target HTC phone. All you need is one-time access and five spare minutes to install the spyware on your target HTC phone.
Here are the installation guidelines to set up and configure spyware software on HTC smartphones.
Choose an Authentic Monitoring App:
Not all monitoring apps deliver the monitoring features you want. If you search the internet for monitoring apps, you'll find plenty of options that might confuse you. Research properly and look for high-end features that fulfil your surveillance requirements. Check for the app compatibility with your target device. You can read cell phone monitoring app reviews to make sure if the Android spy app you chose is authentic.
Get Spyware Subscription:
Once you pick a spyware app to hack your target HTC phone, it's time to get a license for monitoring. Android tracking apps are legal apps that you can't find free on Google Play Store. However, users need to follow the protocol and purchase the spyware license from an authentic source. Without a spy app license, no one can use spyware programs. So, once you select which spyware you want, go to their website and subscribe to it in order to get the monitoring license. Android spy apps offer diverse price plans; you can subscribe to the one that is economical.
Access the Target Device:
Installing a spyware app on a target Android phone only requires 5 minutes tops. Upon registration, the spy app provider will provide users with the installation URL and spyware activation key. Next, check your registered email and obtain the download URL and activation key.
Install & Configure:
In this step, all you have to do is get access to the target HTC phone, open the mobile browser and enter the spy app installation URL on it. Then, the spy app to hack HTC phones will get installed and redirect you to the configuration procedure. Next, you need to activate the license key and set up the app on the target HTC device. Finally, make sure you allow all the permissions asked by the spy app to continue its operations.
Open Dashboard:
The spy app dashboard allows the end-user to view the mobile actions of the device they want to monitor. The control panel or dashboard of an Android monitoring app enables the end-users to use spy tools in order to command activation or deactivation of a specific feature. It provides complete control over the target HTC device. You can monitor what is happening on your target device, and at the same time, you can control and restrict its functions.
The Final Words:
Parents know how challenging it is to manage parenting with a busy work schedule. Also, it is impossible to speed up employee performance if employees use cell phones all the time. HTC phones have a specific fan base. That is why there are only a few solutions available to hack HTC devices. Instead of rooting, you can hack HTC phones using a monitoring app for android phones. So, make things easier, and spy on your target HTC phones by installing a spy app on your target device. Or you can use other Android monitoring functions mentioned above if they match your spying needs.